The New Year's celebrations in Curaçao extend for an entire week, marked by exuberant parties embraced by the locals. If you find yourself on the island during this period, prepare to be delighted by a diverse array of festivities and traditions.
New Year's Eve in Curaçao is celebrated on December 31st. A huge number of fireworks are set off during the festivities that last for a week. Traditional dishes are served and parties are organized all over the island. It is one of the most important celebrations of the year.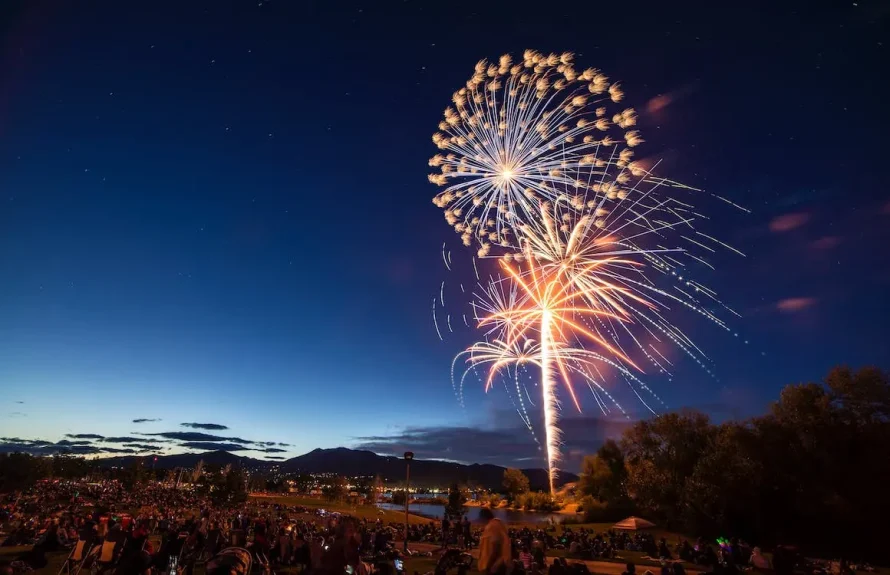 Drive to the firework shows

 
In the lead-up to New Year's Eve, various entities, including large companies, organizations, and neighborhoods, organize impressive fireworks shows. Notably, Kooyman's fireworks show, hosted by the island's largest hardware store, stands out among these events.
Attending these shows often involves navigating through traffic jams, so it's advisable to go early, bring a folding chair and a well-stocked cooler. The firework displays kick off the festive week, offering an amazing start to the celebrations.
Make a reservation for a New Year's Eve dinner

 
For those seeking a more laid-back entry into the new year, making a reservation for a New Year's Eve dinner at a renowned restaurant is a delightful option.
Resorts and upscale dining establishments curate special 5-course menus accompanied by various amuse-bouches and carefully selected wines.
Go to the Pagara Party XXL

 
Lighting pagaras is one of Curaçao's most beloved traditions. Pagaras are rolls of firecrackers that can fill an entire street. It is believed that the smoke and loud bangs scare away evil spirits before the new year starts. In reality it's more of a social event often associated with a party. 
The Pagara Party XXL takes place every year in the Pietermaai district. This pagara runs through the entire district and has a length of hundreds of meters. The Pagara starts in the afternoon and the party with live music and a DJ continues for hours. This is really an incredibble experience and a must visit if you're staying in Curaçao during New Year's Eve. 
Celebrate Dutch New Year's eve

 
Curaçao also observes Dutch New Year's Eve, celebrating at 7 p.m. local time, equivalent to midnight in the Netherlands. The European Dutch community hosts street parties in Punda and Pietermaai, along with celebrations at beach clubs and resorts.
The festivities include countdowns, fireworks, music and dancing. People call their relatives in the Netherlands to wish them happy new year from the tropics.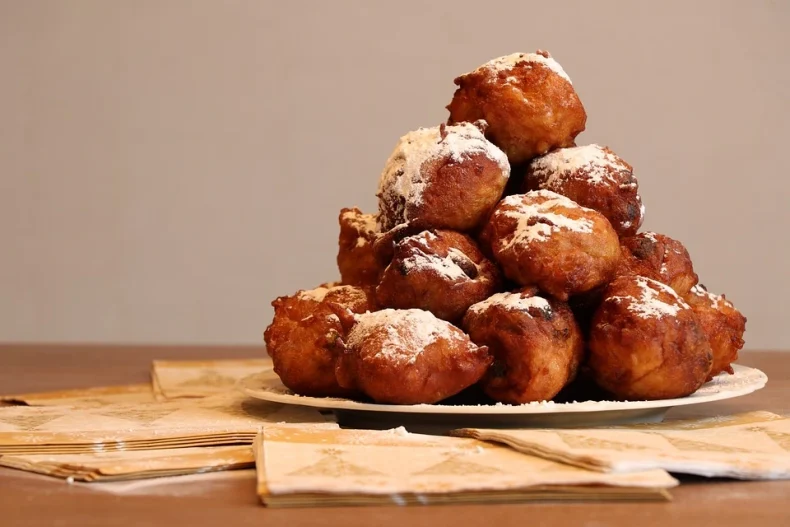 Eat oliebollen with friends and family

 
On New Year's Eve it's time to eat oliebollen. An oliebol is a deep-fried ball of dough, filled with raisins and small pieces of apple. It is a Dutch tradition to eat oliebollen in the days before New Year's Eve until the first day of the new year.  
How to eat an oliebol? You pick up an oliebol in a napkin and you will dip it in powdered sugar for that extra sweet taste.  
Most people make the oliebollen themselves and hand them out at parties. You can also buy them at various supermarkets, shopping malls and bakeries in Curaçao. Ask around and someone will probably know where they sell oliebollen that day. 
Attend a New Year's Eve resort party

 
Dress your best and clink the champagne glasses! Several Curaçao beach resorts will organize a New Year's Eve event for guests and locals to attend.  The resorts provide an exclusive dinner, snacks, live music, champagne and fireworks on the beach.  
Each resort creates its own event, so check in advance what options your resort offers. If your accommodation does not organize a New Year's Eve party, it may be possible to attend a party at a nearby resort.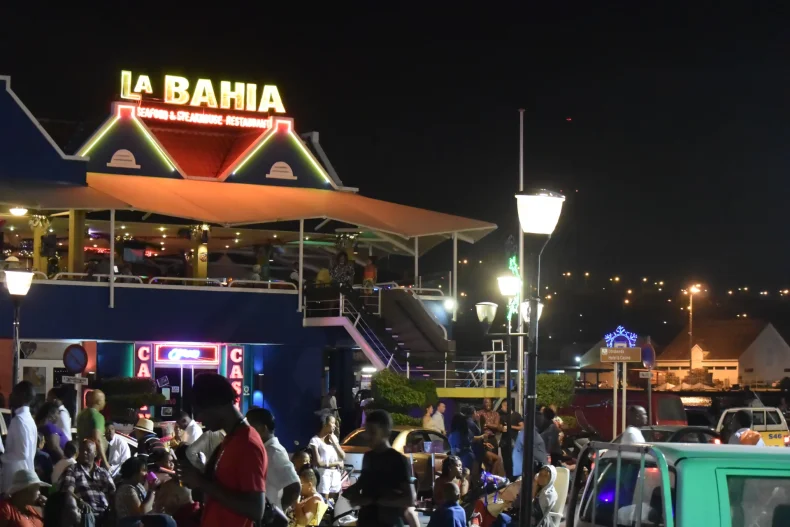 Celebrate New Year's Eve in Willemstad

 
As the clock ticks towards midnight in Willemstad, the main New Year's event unfolds. Families and friends gather at prime spots like Brionplein in Otrobanda and the Handelskade in Punda to witness the breathtaking fireworks over the Sint Anna Bay.
Join the afterparties

 
After midnight, several bars and beach clubs organize an afterparty so that you can party until sunrise. Don't expect a big party as most of the celebrations have already started during the day and there will be parties again during the day tomorrow. The islanders use the night to take some rest until the next party begins.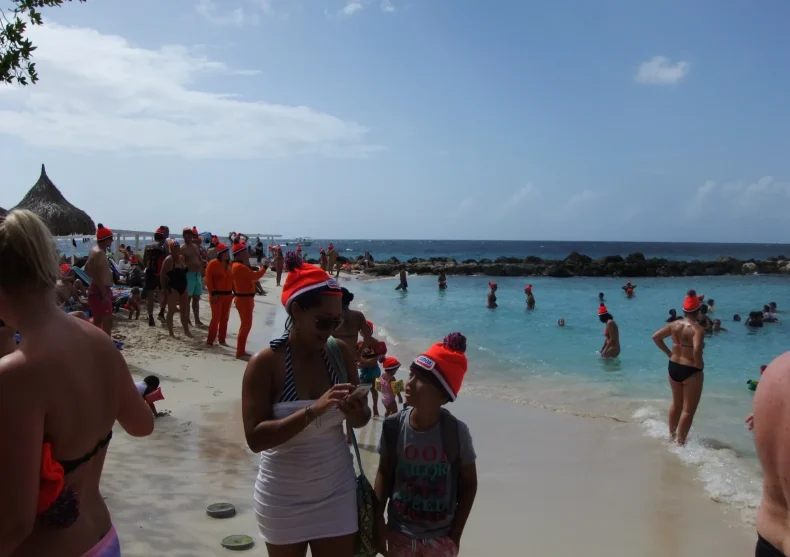 Go to the Nieuwjaarsduik party
The next, and first party of the year is the Nieuwjaarsduik (New Year's plunge) at Beach club Zanzibar in Jan Thiel. Hundreds of people gather on the beach to jump into the water wearing an orange knitted hat.
The participants in Curaçao are wearing orange knitted accessories in tribute to the freezing temperatures in the Netherlands.
Registration to attend the event starts at 9 in the morning and the jump takes place around noon, exactly 12 hours after the turn of the year. Anyone can participate or watch, all nationalities are welcome at the party, just make sure to arrive early!  
Go wild at Fuikdag

 
The most extravagant party of the year takes place at the first Sunday of the new year at Fuik Bay. During Fuikdag, hundreds of boats and inflatables gather in a bay on the east side of the island to party on the water.  
Fuikdag is internationally known and attracts many visitors, including celebrities from all over the world. Boats are reserved for this day a year in advance. It's a day full of drinking, dancing and barbecuing on the boats. Do you want to know what Fuikdag looks like? Check the following video for an impression.