We have visited many places in the Caribbean region, but no island is as diverse as Curaçao. There is so much to do and experience. As a tourist you can enjoy yourself for days with trips, sights and activities. Even Curaçao connoisseurs like us discover something new every time. Partly because of the many local initiatives that contribute to tourism on the island. 
You need at least 7 full days to discover Curaçao. This way you can visit all the highlights and get to know the local culture and sights. It is also important to take your time for relaxation, or as they say in Curaçao: Doing things poko poko.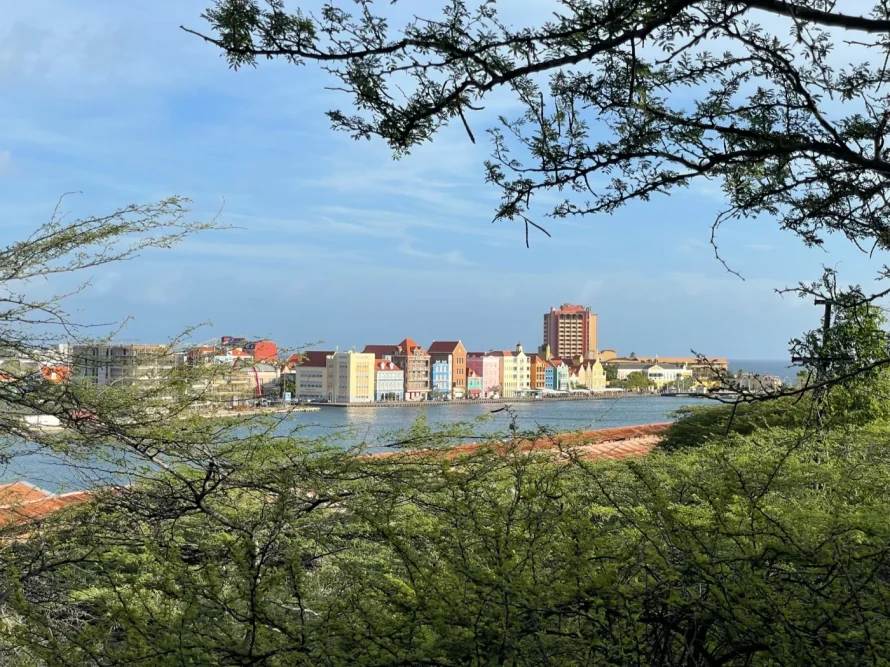 There is a lot of information that is beneficial to know how many days you need in Curaçao. It is advisable to explore the island at your own pace, because that is also an important point to enjoy your well-deserved holiday to the fullest. From our own experience and the experience of our clients, it is advisable to stay at least seven full days without feeling that you have stayed too short.  
Days you need in Curaçao

 
Many tourists will tell you the same thing: it is best to stay at least 7 full days in Curaçao. Staying on the island for seven days allows you to get to know all kinds of sights and highlights: amazing experiences that will turn into forever lasting memories.  
To explore the island and make the most of your holiday, we have created a 7-day itinerary that takes you to the best attractions, restaurants and beaches. You can use this schedule as a guideline for your vacation. 
A Seven Day Itinerary

 
Based on our experience in the local travel industry, we have created a seven-day itinerary for you. This itinerary is packed with popular activities, must-see highlights and insider tips. This way you will get the most out of your Curaçao trip. 
We have put together this itinerary based on the following situation: Your total trip takes 9 days, of which 2 travel days. This leaves you with 7 full days to explore the island.  
To follow this itinerary, you must have a rental car at your disposal for 7 days. More information about why you need a car in Curaçao can be read in this blog.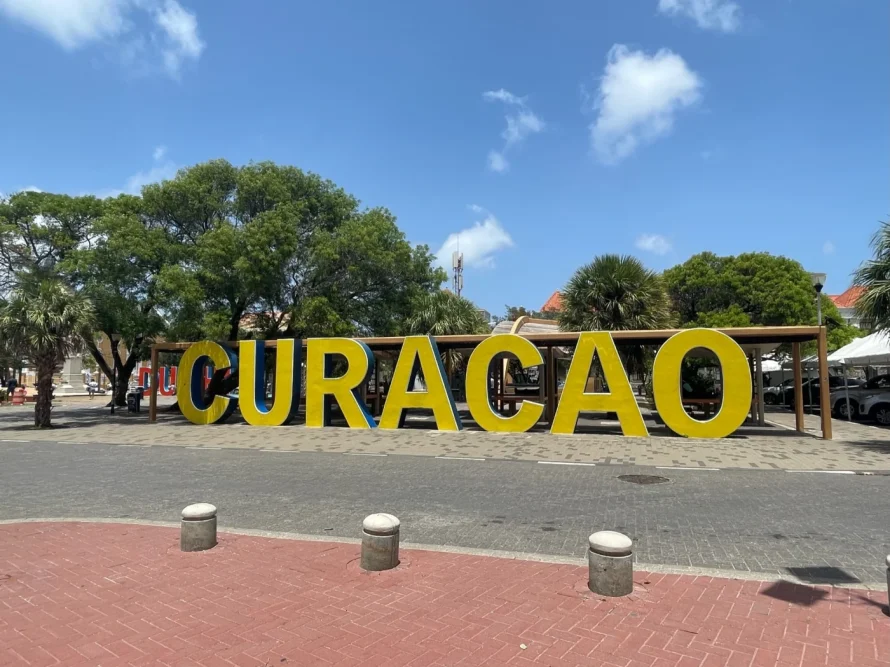 Day 1: Explore Willemstad

 
During your visit to Willemstad, the Sint Anna Bay is not to be missed. This bay connects the districts of Punda and Otrobanda and here you will find the colorful Handelskade and the floating pontoon bridge. 
Insider tip: The Renaissance Mall has a free parking garage. 
There is much to experience in the capital. Walk a route along the beautiful murals in Otrobanda, take a picture at the Dushi Curaçao sign on Wilhelminaplein or visit the local market. 
The cozy streets in Punda are home to shops, art galleries and lively terraces. A fresh smoothie or the local drink 'Awa Di Lamunchi' is served cold here. 
Museums
Would you like to visit a museum? Then I can recommend you to go to the Kura Hulanda Museum in Otrobanda. Kura Hulanda is an informative museum focused on the slave trade in Curaçao, which used to be an important transit spot of slave labor to the Americas. 
The Maritime Museum, The Jewish Cultural Historical Museum and the Curaçao Museum are also excellent options if you are looking for an educational outing. 
Curaçao Rif Mangrove Park 
More of a nature lover? Then the Curaçao Rif Mangrove Park is something for you. The park, located on the edge of the city center, is an oasis of peace. Explore the park by taking the route over the wooden walking trails and bridges. You can also join a kayak tour to discover the mangrove forest. 
Places to have lunch:  
La Bohéme

 

Plein Café Wilhelmina

 

Mundo Bizarro

 
 Places to dine: 
Kome

 

De Gouverneur

 

Perla del Mar

 
Plasa Bieu
For the real Curaçao experience I can recommend you to have lunch in the Plasa Bieu. This covered hall houses 6 open kitchens that all serve various Curaçao specialties. The restaurant owners will be happy to introduce you to the local cuisine. This is one of my favorite spots for a nutritious homemade meal.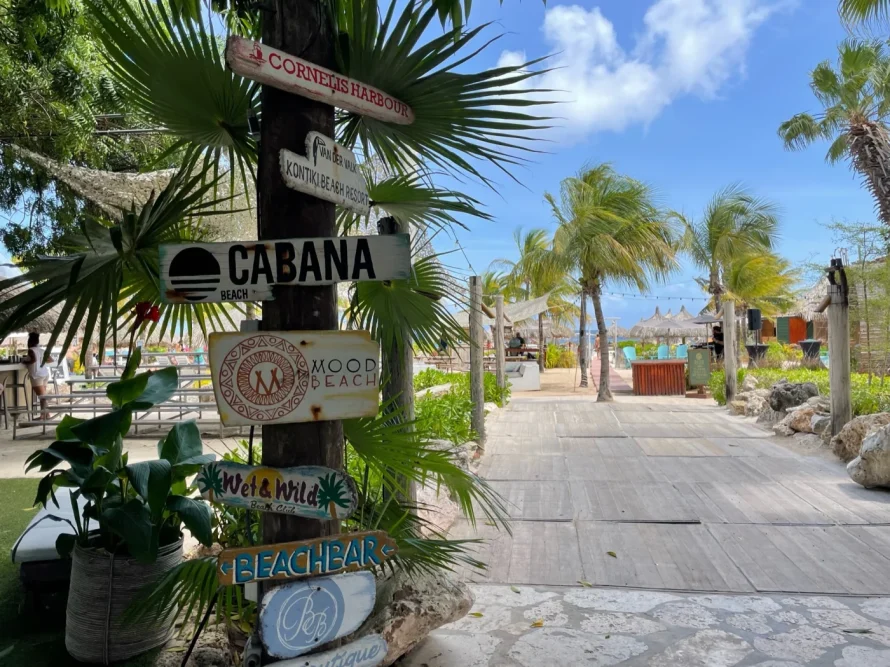 Day 2: Visit Mambo Beach and the Sea Aquarium

 
Mambo Beach is the largest commercial beach in Curaçao. There is plenty to do and experience for all ages. Lounging in the beach club, shopping on the boulevard, dining on the beach and dancing during happy hour. Mambo Beach has it all. 
Mambo Beach is a 15-minute drive from Willemstad. Parking is free of charge. 
Mambo Beach Boulevard
Cabana Beach, MOOD Beach and Madero Ocean club are popular beach clubs where you can relax and swim the whole day. At Madero Ocean Club you have access to the beach, as well as a swimming pool. 
The Happy Hours at Mambo Beach take place on Friday and Sunday afternoons. When the sun goes down you can buy half price drinks and dance the night away at the beach. The Madero Beach Club happy hour is one of the best parties of the week. 
Read our latest blog, Mambo Beach: The Best Boulevard in Curaçao, for extensive information about this hotspot.  
Seaquarium
On the east side of Mambo Beach you can find the Curaçao Sea Aquarium. 
Here you can meet tropical fish, sharks, dolphins, flamingos, stingrays, and many more ocean creatures. during the day you can follow a program in which you learn more about marine life including feeding times with some animals. 
Places to have lunch: 
Hemmingway

 

Chill Beach Bar & Grill

 

Bonita Beach Club

 
Places to dine: 
MOOD Beach

 

Pizza Mare

 

Tandoori Heights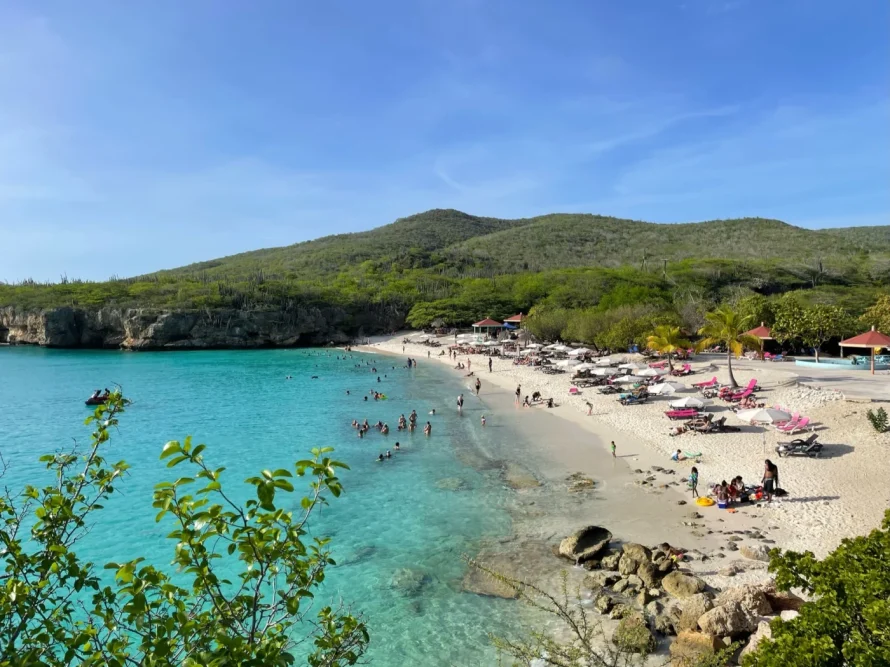 Day 3: Go to Shete Boka, Turtle Beach and Grote Knip

 
Today we visit the area of Westpunt, a village in the westernmost tip of the island. It is important to get up early. This way you can undertake various activities before it gets too hot. 
Westpunt is about a 50-minute drive from Willemstad.  
Follow the Weg Naar Westpunt and make your first stop at Shete Boka National Park.  
Shete Boka National park

 
In the Shete Boka National Park you can get acquainted with a rugged part of Curaçao. Wild waves spew water over the jagged rocks. There are several viewpoints in the bays and you can also visit a cave. Enjoy and discover the lunar landscape around you. 
Swimming with Sea Turtles

 
After visiting Shete Boka, drive to Playa Grandi, where you can swim with dozens of sea turtles around you. It is a well-known attraction, so expect it to be crowdy. It is advisable to bring water shoes and snorkeling gear, but you can also rent them at the spot.  
In our latest blog you can read more detailed information about swimming with turtles in Curaçao 
Grote Knip Beach

 
It's time to go to the next beach. This is not just any beach, this is the most famous beach in Curaçao. You will recognize the view at the top of the cliff from the many travel books and blogs. I'm talking about Grote Knip Beach. 
Grote Knip is a beautiful white sand beach that merges with a clear turquoise Caribbean Sea. Here you can relax on the beach, snorkel and swim. Stay until sunset. You won't regret it. 
Check our blog about Grote Knip to read more about this precious sandy beach.
Places to lunch: 
Jaanchies

 

Playa Forti Restaurant

 

Blue View Sunset Terrace

 
Places to have dinner: 
De Buurvrouw

 

Bali Grote Berg

 

Bahia Beach bar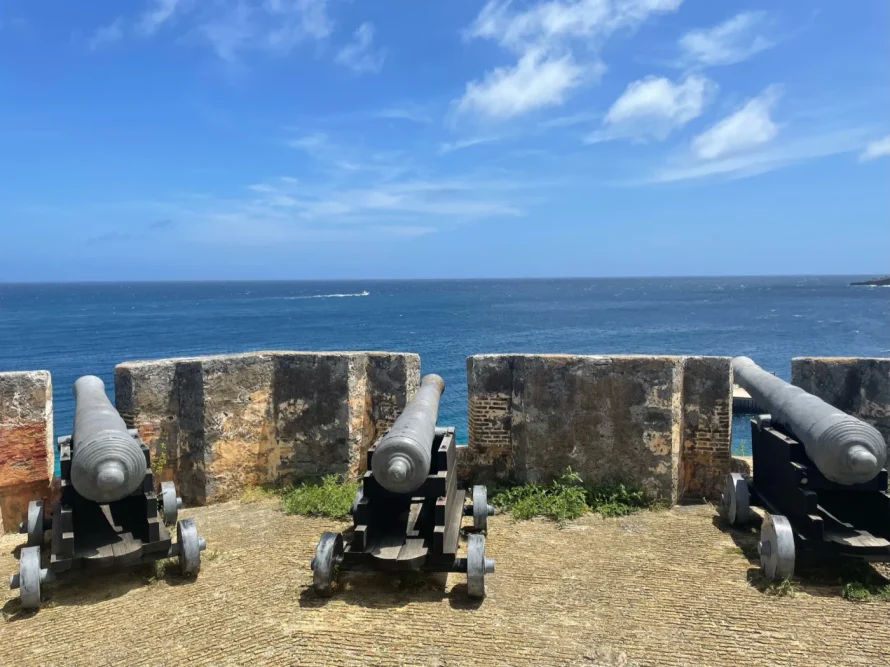 Day 4: Tugboat Beach, Fort Beekenburg, Jan Thiel Beach

 
Today you will stay closer to Willemstad and visit the East side of Curaçao. Your first stop of the day is Tugboat Beach.  
Tugboat Beach

 
At this beach you can snorkel at a sunken Tugboat that lies off the coast in a shallow bay. Corals and tropical fish have transformed the shipwreck into a true underwater paradise. It is a fun and unique experience for all ages. 
Tugboat Beach is one of my favorite tourist spots. That's why I wrote an extensive guide about snorkeling at the Tugboat Wreck. 
Fort Beekenburg

 
Fort Beekenburg is within walking distance of Tugboat Beach. This fort was built in 1703 to protect the Spanish Water. Today you can visit the remains of the fortress and climb the tower. Here you have a beautiful view over the Caracas Bay. 
Snorkeling the wreck and a visit to Fort Beekenburg are free activities. 
Jan Thiel Beach

 
Jan Thiel is about a 10-minute drive from Tugboat Beach. One of the most popular beaches on the island is located in this area. Jan Thiel Beach is comparable to Mambo Beach, but in a slightly smaller form. 
You can swim, relax or end your day with a drink at sunset. There are several restaurants on the beach where you can have dinner under the stars. 
Insider tip: Visit Van den Tweel in Jan Thiel, a Dutch style supermarket. 
Places to lunch: 
Places to have dinner: 
Tabooshh!

 

Zanzibar Beach club & Restaurant

 

Zest Restaurant & Beach Café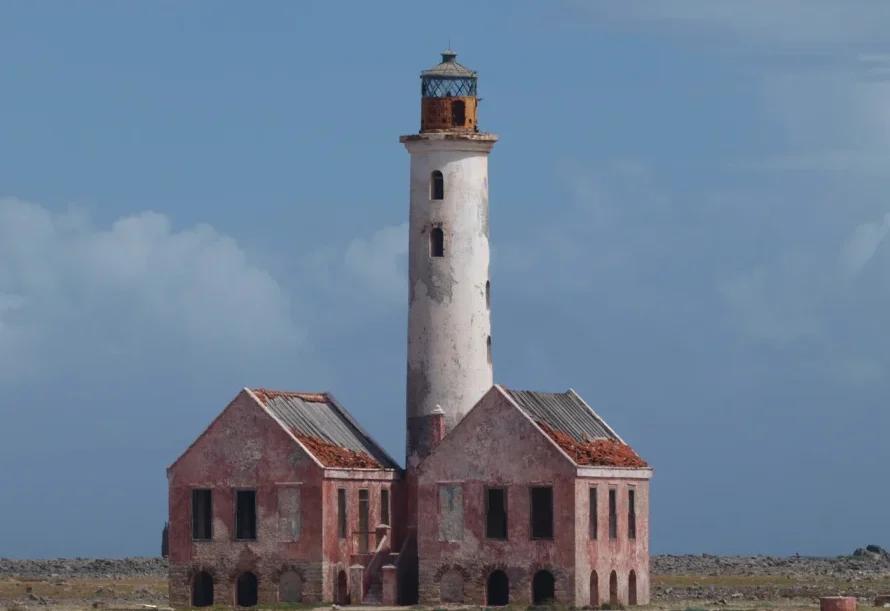 Day 5: Excursion to Klein Curaçao

 
Many tourists call an excursion to Klein Curaçao the highlight of their holiday. Imagine yourself as Robinson Crusoe on a deserted Caribbean Island, with the whitest sand and bluest water you've ever seen. 
The Klein Curaçao excursion starts in the morning. After a one-and-a-half-hour boat tip you will arrive to the island. There's plenty of time to explore Klein Curaçao, relax on the beach or perhaps snorkel with turtles. Barbecue lunch and drinks are included. 
You can visit Klein Curaçao through various tour organizations. Most tourists select their excursion based on the type of vessel and the facilities the companies offer. 
For more information about boat trips to Klein Curaçao you can visit our Tours & Excursions page. 
Places to dinner: 
Landhuis Brakkeput Mei Mei

 

Il Forno Caracasbaai

 

El Gaucho

 
Day 6: Cathedral of Thorns, Aloë Plantation and Ostrich Farm

 
A trip to the North-East side of Willemstad is planned for today. Drive towards the Cathedral of Thorns for the first stop. 
Cathedral of Thorns

 
The Cathedral of Thorns is a work of art made by Herman van Bergen. It is a full building-sized illuminated labyrinth in which several other works are exhibited. 
The Cathedral of Thorns is located on the grounds of Landhuis Bloemhof. In this area you will find even more beautiful works of art and still life. Every little detail gives a new interpretation. The surroundings are beautiful. You can wander around for a while here. 
Aloë plantation

 
After the first stop it is time to drive to the Curaçao Aloe Vera Plantation. This is the place where the well-known Curaloe products are manufactured. 
A guide will take you to the fields and the factory and tells you all about the Aloe plant. You will get an exclusive view of the production process from plant to bottle.
Curaloe products are different from other aloe products because of the high concentration of Aloe vera. It is one of the purest Aloe Vera product ranges in the world. 
Ostrich Farm

 
The Ostrich farm is about a 10-minute drive from the Aloe plantation. A visit to these two tourist attractions is usually combined in one afternoon. 
The Ostrich Farm is a fun outing for the whole family. There is a playground for the children and during the safari you can learn all about ostriches and the other animals on the terrain. You can even feed them! 
Afterwards you can have a drink in the restaurant or buy some souvenirs in the shop.  
Places to lunch: 
Number 10

 

De Dames

 

Delifrance

 
Place to have dinner: 
Ostrich Farm

 

L'aldea

 

Fort Nassau

 
Day 7: Hato Caves, Playa Porto Marie, Flamingo Sanctuary

 
On our last full day in Curaçao we go to the Hato caves in the morning. 
Hato Caves

 
The Hato caves are the largest caves in Curaçao and consist of coral limestone. Unique is that the entrance to this cave is on a higher level. You have to climb no less than 49 steps to reach the cave. This is because the sea level used to be much higher. 
Insider tip: It's hot inside the cave. Bring plenty of water and a small towel. 
Next to the caves is a small park where you can discover the typical Curaçao landscape through the walking route. You may come across a few animals.  
Playa Porto Marie

 
Then it's time to hit the beach. Playa Porto Mari is about a 20-minute drive from the Hato Caves. 
Playa Porto Mari offers everything you need for a relaxing day at the beach. There is a dive shop, a beach bar and restaurant, you can take various walking routes and it is a real paradise for snorkeling. 
This is also the beach where the pigs Willy and Woody live. You can often see them lazing on the beach or in the mud pool next to the parking lot. 
Flamingo Sanctuary

 
Make sure to get to the Flamingo Sanctuary just before sunset. At that time you have the best chance to spot flamingos in the wild. 
The Flamingo sanctuary is a plateau where you have a beautiful view over the salt pans of Jan Kok. This is the natural habitat of the largest flamingo flock of Curaçao. In one of our most recent blogs you can read about Flamingos in Curaçao and where to find them. 
Places to have lunch 
Toko Williwood

 

Playa Porto Mari

 

Karakter

 
Places to dine: 
Koraal rooftop terrace

 

Tomatoes Piscadera

 

Steaks & Ribs Riffort Mall

 
Conclusion

 
It's very difficult to recommend the days you need in such an amazing island, but there is a realistic minimum that applies to the majority of visitors. Time aside, there's just so much to see and do and there are just so many more activities that will make you love Curaçao even more. 
But we have to draw a line and if we look at the experiences of travelers, we can conclude that a stay of 7 full days on Curaçao is enough to get to know the island.  
Hopefully you like your trip so much that you decide to come back again for a new chapter in your Curaçao adventure. New experiences will be waiting for you, because we too are always discovering something new on this beautiful island.