Playa Porto Mari is one of the most visited beaches in Curaçao. It is favored by many tourists and locals for its location and facilities. Spending a day at Playa Porto Mari feels like coming home. The ambiance is relaxed and welcoming.  
Playa Porto Marie is one of the island's top beaches to visit during your stay. That's why we would like to share 10 reasons why tourists love Playa Porto Mari. Will this be your new favorite beach?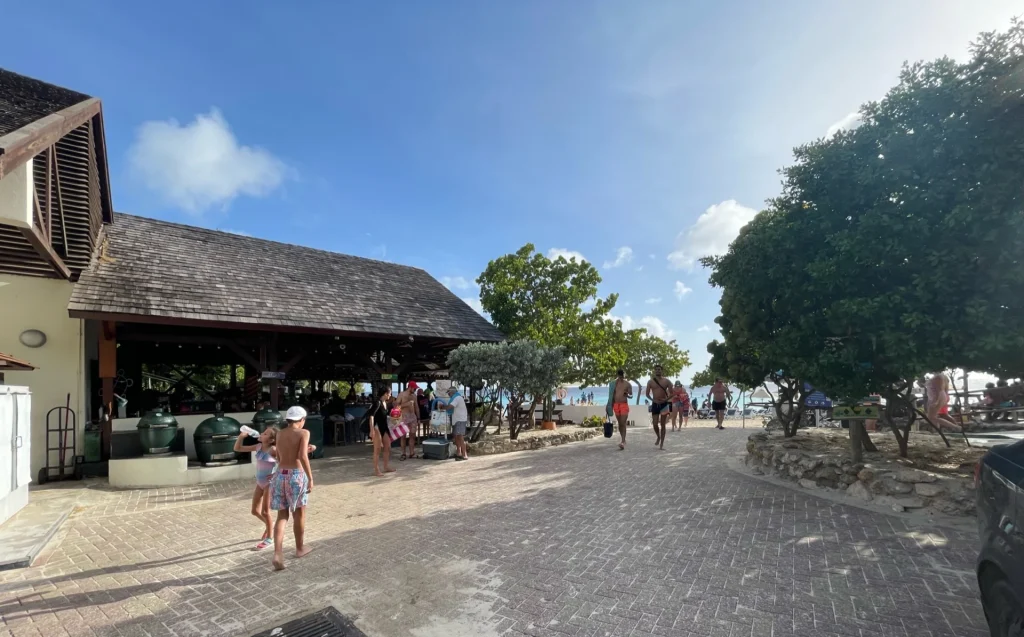 There are many facilities

 
Playa Porto Mari will be your spot if you're looking for a comfortable yet laid-back day at the beach. The facilities at Playa Porto Mari include a beach bar, restaurant, toilets, showers, lockers, and a beach store. 
Lounge chairs can be rented at the beach. 
If you want to explore the reef, you can pay a visit to the diving school. You can also book a beach massage or paint your own souvenir at the workshop.  
Porto Mari offers everything you need for a fun day out with the family.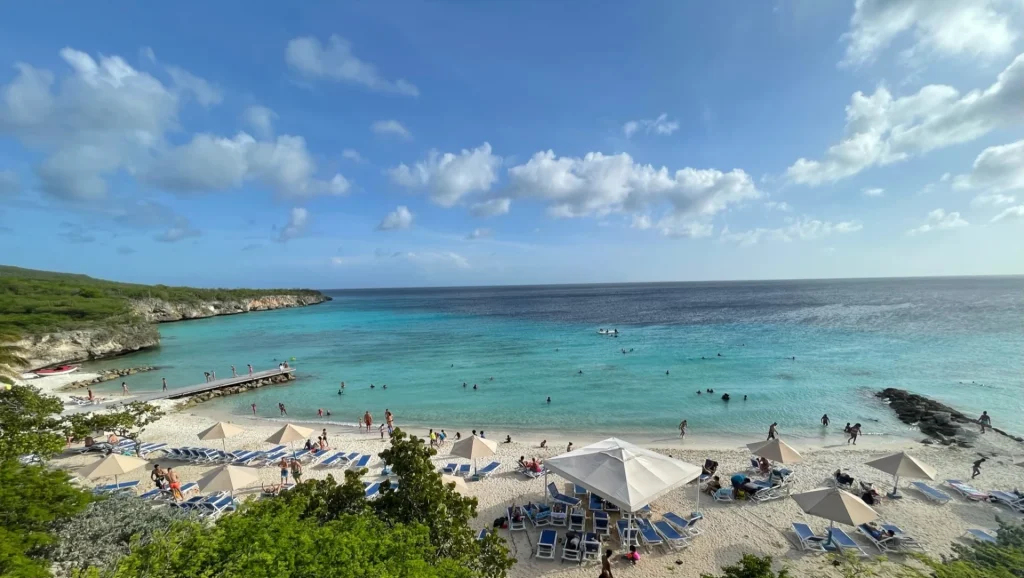 Playa Porto Mari is close to the Cruise Port

 
Playa Porto Mari is a cruiser's favorite. This is not only because of the many facilities but also because of the convenient location. The beach is a 30-minute drive from the Curacao Cruise Port. This is considerably less far away than beaches such as Grote Knip and Playa Piskadó.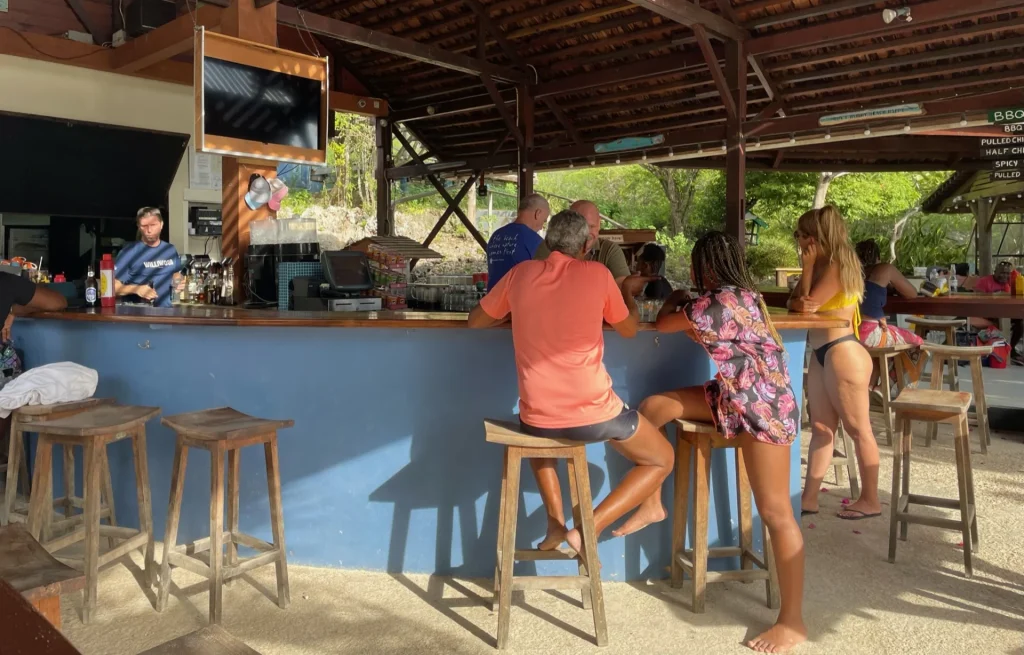 Playa Porto Mari has a great restaurant

 
If you want to enjoy a delicious lunch in between sunbathing, you can visit the restaurant of Porto Mari.  
The restaurant has an extensive menu. You can order small lunch dishes such as various sandwiches, toast, and Dutch snacks. However, they also have various salads and main courses on the menu. 
The restaurant of Porto Mari serves mouth-watering Indonesian dishes. I can highly recommend the bami chicken satay. It is one of my all-time favorites!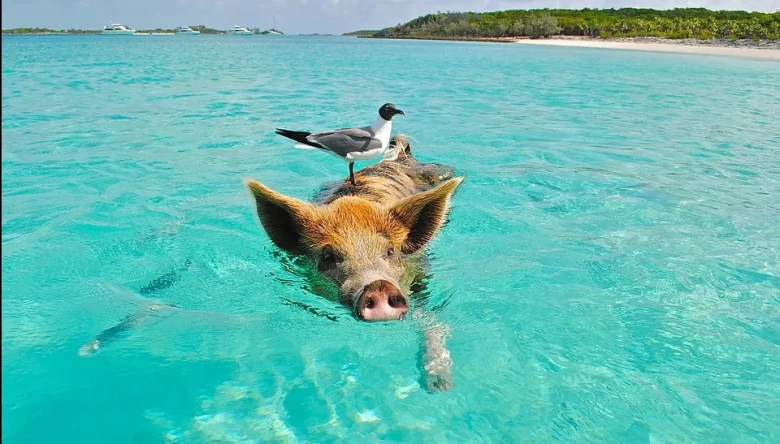 Porto Mari is the Beach with the Pigs

 
Did you know about the pig's Willy and Woody? They are Porto Mari's famous residents since their arrival on the beach a couple of years ago. They simply walked in and never left. 
Willy and Woody are named after the nearby town of Williwood (St. Willibrordus). You can find them chilling at the beach or sleeping in a mud puddle next to the parking lot.  
They sometimes pose for a photo if they feel like it, but keep in mind that pigs are wild animals. Do not touch or interfere with them and don't wake them up when they are sleeping at the beach. 
Also read: 10 Best Things To Do In Williwood 

Porto Mari is a Divers' paradise

 
A carnival of colorful ocean life and a spectacular double reef, that is the diving spot par excellence in Infront of the coast of Porto Mari. The reef at this particular site is considered one of the best in Curaçao. 
If you want to experience a dive at Porto Marie you sign up for a course at Porto Mari Sports dive center. The diving school offers various packages for both beginners and advanced divers.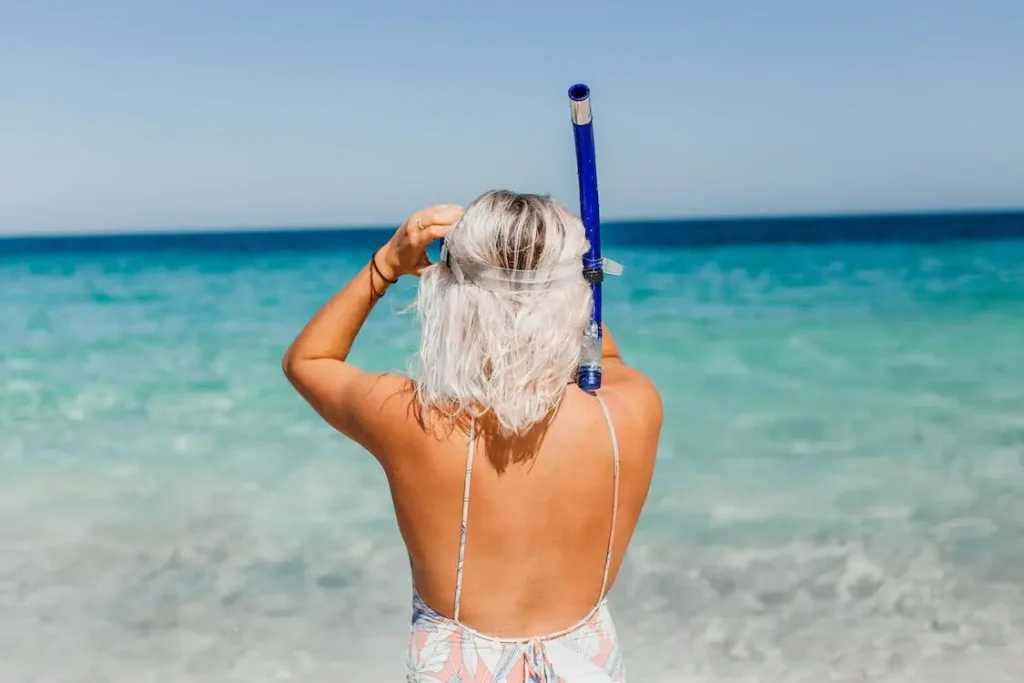 Snorkeling options

 
Good news for those who don't want to go diving at Playa Porto Mari. You can follow the snorkeling trails that guide you to the reef and will show you several reef formations along the way. The first one starts from the jetty in the middle of the beach. The second trail will start from the jetty at the left side of the beach. 
There's plenty of ocean life to see from the surface, so you don't necessarily have to dive to discover the sea creatures and corals. With just a snorkeling mask you're good to go. Don't forget to bring your water shoes. 
I always recommend snorkeling near the rocks. That's where marine life often gathers. 

There are hiking trails

 
Playa Porto Mari is the starting point of 3 different hiking trails.  
The Seru Matteo Trail is a short hike that takes 45 minutes to reach  Matthews Hill. From here you have a stunning view over the bay.  
The Bird-Watching Trail takes approximately 1.5 hours. At the bird watching tower, you will see many of the typical Curaçao birds passing by. You also may encounter goats or wild pigs during your hike on this trail.  
The Historical Trail takes about 2.5-3 hours and will take you from the plantation house of Porto Mari to the storage place. Slaves used to walk this route on a daily base. The ruins from that time leave a deep impression.   
You can create your own souvenir

 
Get inspired by your surroundings and create your own souvenir at the beach of Playa Porto Mari. Enjoy a creative activity and paint your own piece of (drift)wood at Gilmar's hut.  
You can follow a workshop, but if you are not that creative you can also buy a (custom-made) souvenir. Your tan lines may fade away but a souvenir like this will empower a memory for a lifetime.  
Playa Porto Mari is open every day

 
The beach is open daily with December 31st and Carnival Sundays as an exception. Furthermore, you can enjoy Playa Porto Mari 7 days a week from 9.30 am to 6.30 pm. The admission fee to enter the beach is NAFL 5,00 or $3,00 per person. Beach chair rental is not included.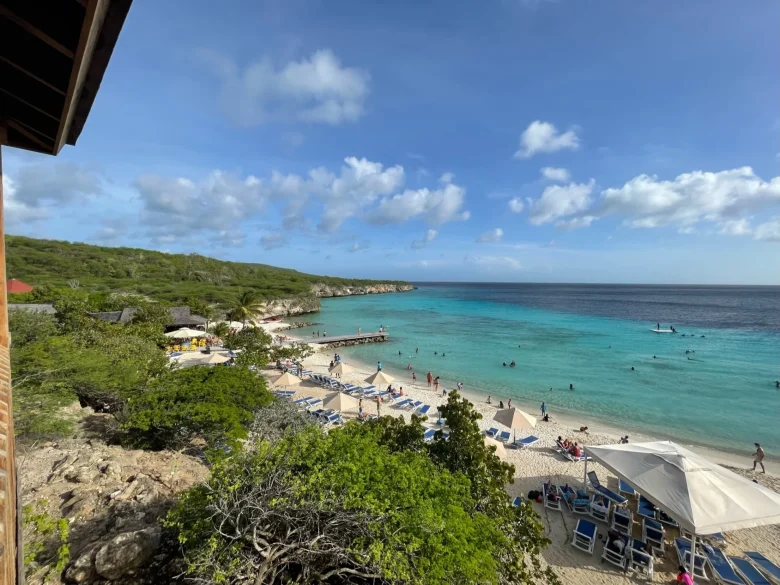 You can book an excursion to Playa Porto Mari

 
Playa Porto Mari is located outside of Willemstad, so if you are staying on the east side of the island or visiting Curaçao by cruise, you will need a car to arrive at this beach. It is also possible to book a tour. 
We selected this popular excursion that includes a pick-up at your hotel or the Curaçao Cruise Port, a visit to the Hato Caves, Swimming with Turtles, Playa Porto Mari, and passing by the Flamingo Sanctuary on the way back.  
It's a full day of fun and you will see a lot of Curaçao during one day. 
Our thoughts on Porto Mari

 
We consider Playa Porto Mari as one of the better beaches in Curaçao due to its facilities, activities, and location. If you don't want to go that far to Westpunt, but still want to enjoy a day outside of town, this will be a good pick. 
The beach can sometimes be a bit crowdy, so if you don't feel like that, you should avoid this beach on a weekend day. Other than that, this beach is definitely worthwhile your visit.