The allure of the sun slowly sinking below the Caribbean horizon is truly undeniable. One of the best ways to experience the beauty of a Curaçaoan sunset is by boarding one of the best Sunset Cruises. 
Curaçao offers a variety of great sunset sails that allow you to experience the island's beauty from the water. Catamarans and sailboats are popular choices for enjoying sunset cruises around the island's waters, making it a calm and tranquil experience.
This Caribbean island has many sides, and is not just known for its stunning beaches and crystal-clear waters; it's also home to some of the most magical sunsets you'll ever witness.
In this guide, we'll take you on a journey through this unforgettable experience, from choosing the best sunset cruises to capturing breathtaking moments as the sun crashes into the waves.
Best Curaçao Sunset Cruise Experiences
Curaçao offers a range of options for the best sunset cruises, catering to different preferences and locations. Join a group tour to share the magic of the moment with fellow travelers. 
Themed sunset cruises, such as sunset fishing tours or local wine-and-dine options, add a unique touch to your onboard adventure. These are our top picks: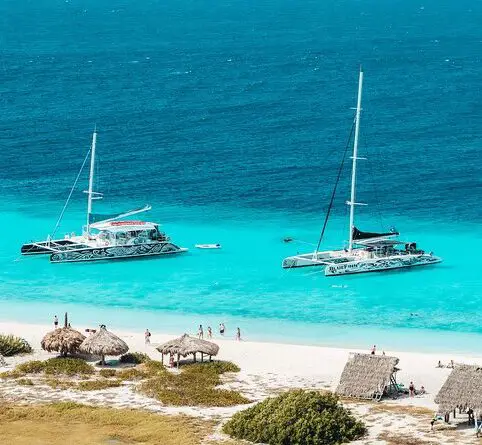 Klein Curaçao Tour
Explore the deserted Island of Klein Curaçao.
Cruise the ocean on a Catamaran
Barbecue Buffet Lunch
Unlimited drinks
Spot turtles and tropical fish
Relax on the Pearly White Beach
Sunset sail on the way back
-> Book This Tour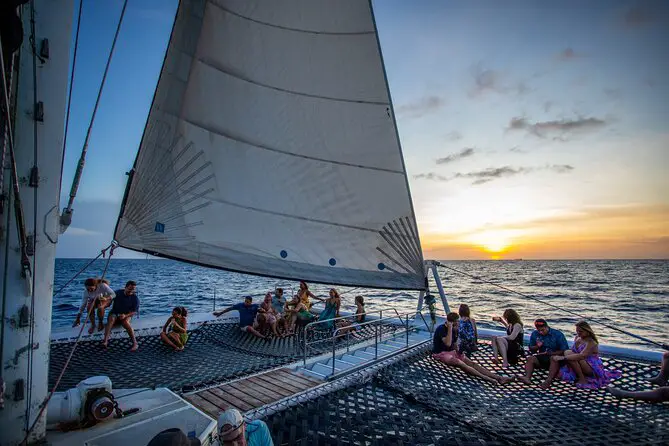 Sunset Sailing Cruise
Departure from Mambo Beach
Drinks, Bites and Music
Cruise up the East Coast
Caracas bay, Fuik bay, and Spanish Water
2,5 Hours Sunset Cruise
-> Book This Tour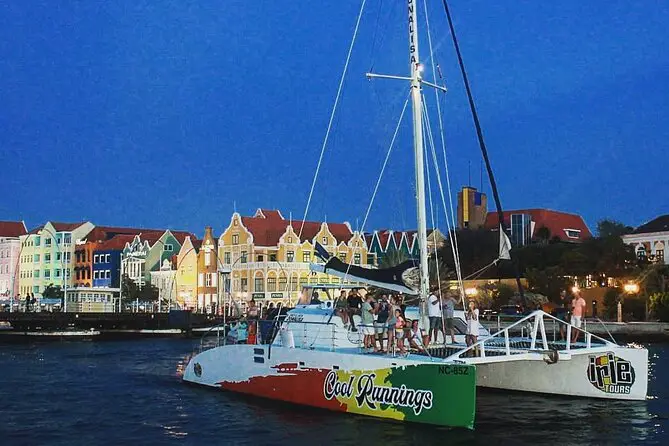 Happy Hour Sunset Sail
Departure from Caracas Bay
Sunset sail to St. Anna Bay
Mesmerizing view of Willemstad by Sea
Open Bar and Finger food
2,5 Hour Sunset Cruise
-> Book This Tour
Sunset Cruises and Sails in Curaçao
Before we dive into the world of sunset cruises, let's set the stage by exploring what makes Curaçao's dusks so special. 
Located in the southern Caribbean, Curaçao enjoys a tropical climate with plenty of sunshine year-round. This idyllic weather sets the perfect backdrop for the main event – the sunsets. 
The island's unique geography, surrounded by the Caribbean Sea, enhances the vibrant colors that paint the sky during dusk. 
While you can enjoy Curaçao's sunsets from various spots on the island, I believe that a Sunset Sail offers a bucket-list experience.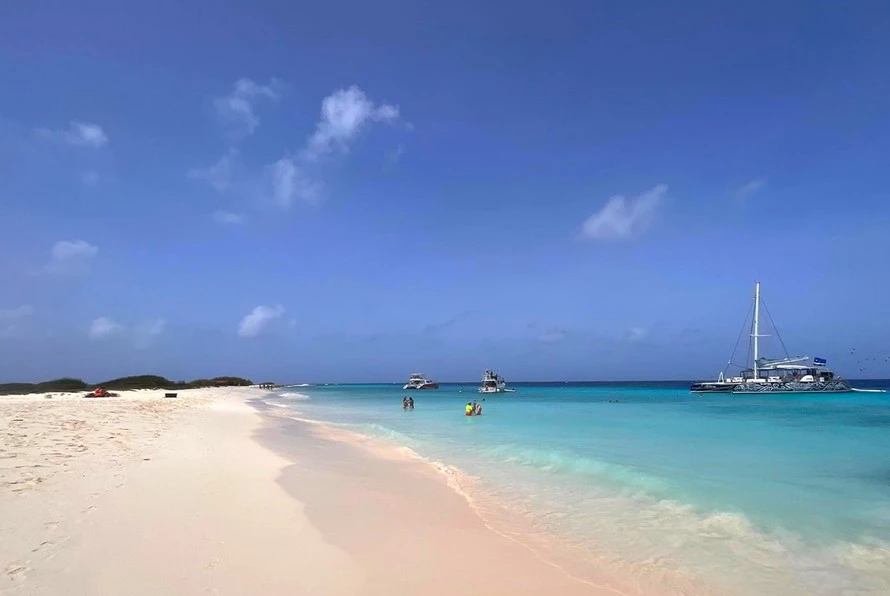 Klein Curaçao Catamaran Boat Trip
We'll begin our adventure with a full-day excursion to the uninhabited island of Klein Curaçao. Throughout the day, you'll have several opportunities to explore this pristine slice of Caribbean paradise, featuring glistening white sands, fantastic snorkeling spots, and an abandoned lighthouse waiting to be discovered. 
As the afternoon approaches, you'll be treated to a mesmerizing sunset sail on your return to the main island.
The sunset experienced while sailing back over the tranquil waves to the island is genuinely breathtaking. It's like getting two activities (island visit and sunset sail) in one excursion!
We've enjoyed this tour with our friends and family numerous times, and we highly recommend it as one of the must-see highlights during a vacation in Curaçao.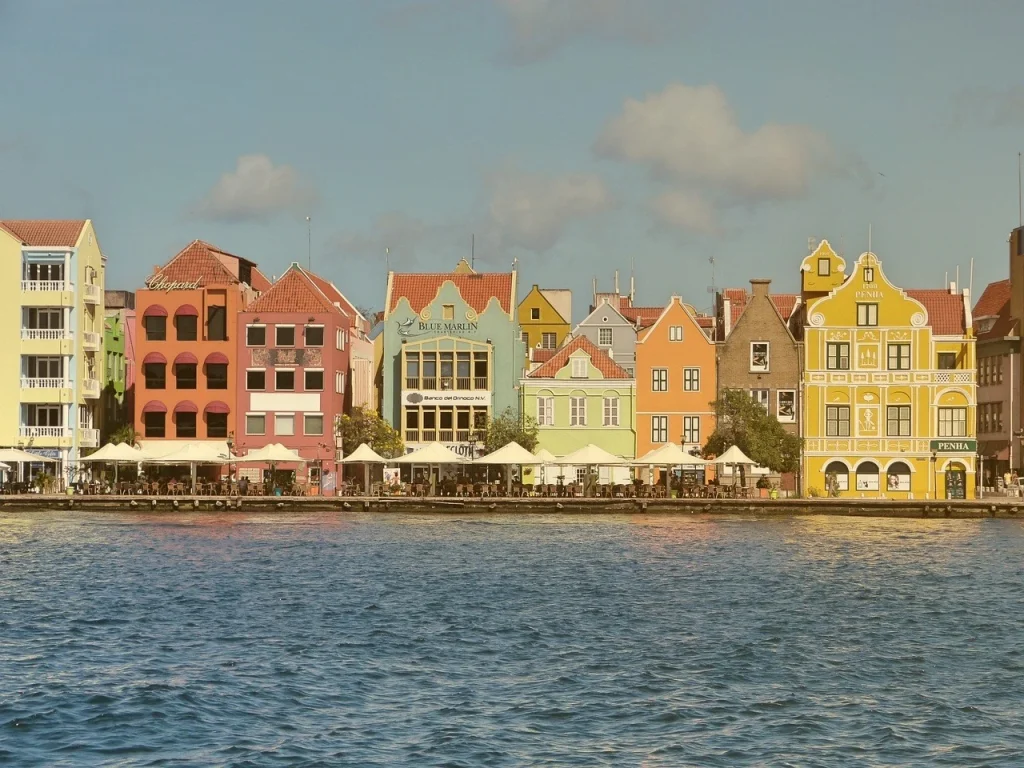 Happy Hour Sunset Sail
Wrap up another beautiful day in paradise with a relaxing cruise on the Caribbean Sea as the sun sets on the infinite horizon.
Hop on the catamaran, find a comfy spot, and enjoy a drink from the open bar along with some tasty snacks while you watch the dusk settle and the sky change colors from blue to yellow, orange, and pink.
Embark on a 2.5-hour sunset cruise starting from the picturesque Caracasbaai, sailing towards the stunning St. Anna Baai. Here, you'll enjoy a captivating view of Willemstad's charming harbor.
We love this route for a sunset sail, as the island's capital comes alive with thousands of lights as night falls, creating a mystical yet inviting view over the vibrant city.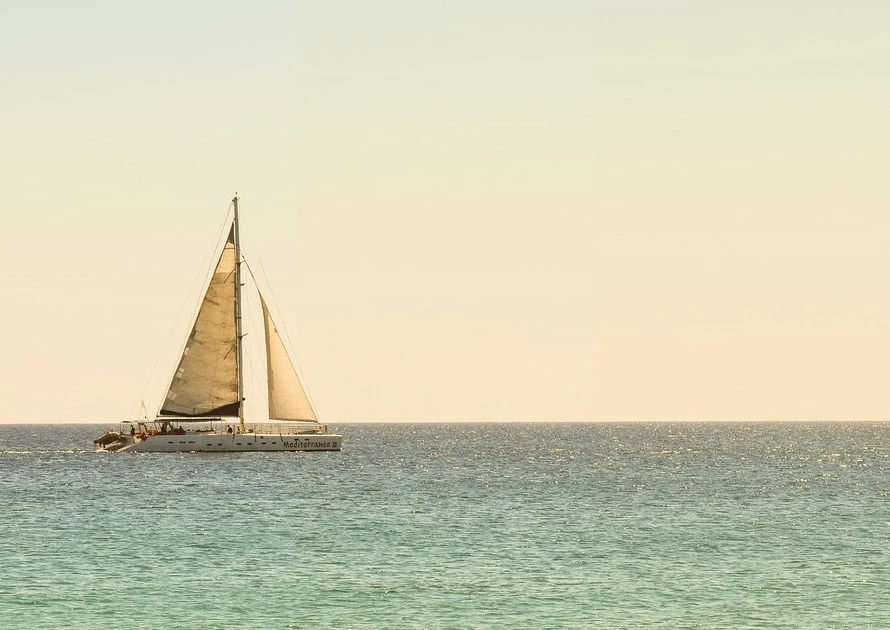 Sunset Sailing Cruise with Drinks and Bites
Embark on a peaceful sunset sail departing from Mambo Beach near Willemstad. Climb aboard a catamaran and set sail into the sunset. 
Enjoy the scenic views as you cruise along the East Coast treasures, pass by Caracas Bay and Fuik Bay, and circle the picturesque Spanish Water waterfront.
We particularly love this sunset sail because the east side of Curaçao boasts some of the most amazing views. After the cruise, you can extend your night by visiting one of the happy hours and parties at Mambo Beach.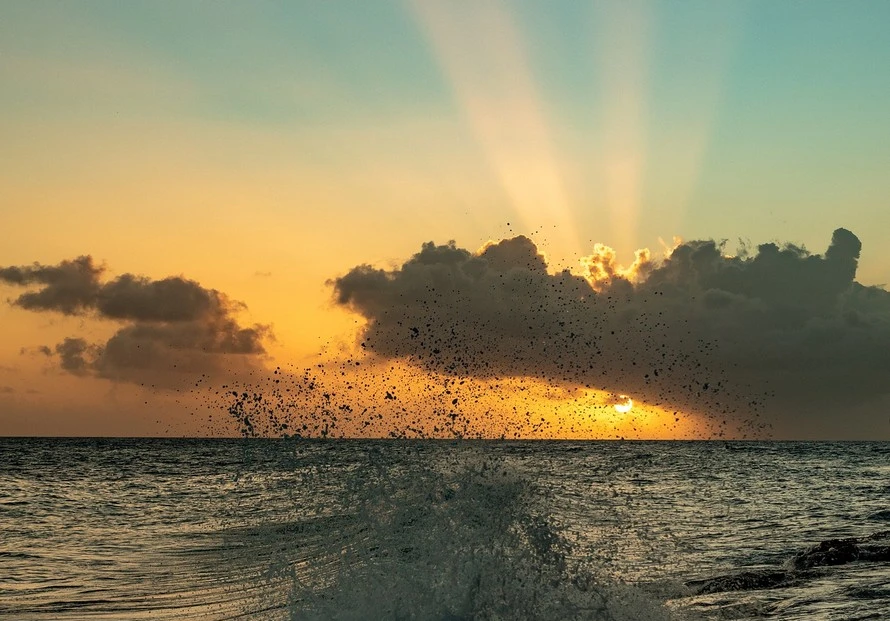 Spanish Water Sunset Cruise
Discover the relaxation you've been yearning for in the Caribbean with this sunset cruise along Curacao's Spanish Water, Simply chill on the yacht's deck while the crew serves delicious snacks and refreshing beverages from the open bar.
It's the perfect way to immerse yourself in the genuine beauty of Curaçao. Capture stunning sunset photos, savor a wide range of drinks, and take advantage of optional pickup for the cruise (available at an additional cost). 
I used to work at a resort located by Spanish Water, and every evening, as I closed up the office, I was treated to a fresh, beautiful sunset. If you're in search of a magical twilight experience, you won't be let down!
Top Locations for Sunset Cruises
Now that you've decided on the type of cruise experience you desire, it's time to explore the top destinations for your sunset adventure. 
Willemstad Harbor, with its charming pastel-colored buildings, provides an enchanting backdrop. The rugged beauty of Westpunt, the pristine shores of Klein Curaçao, the tranquility of Spanish Water, and the historic appeal of Caracas Bay all offer their own unique perspectives on Curaçao's sunsets.
Booking Your Sunset Adventure
To make the most of your Curaçaoan sunset cruise, you'll want to book with a reputable tour operator or agency. Research the available options on Viator, and read reviews from fellow travelers to ensure a memorable experience.
Be sure to check for any special requirements or restrictions related to the cruise. 
By booking a Sunset Tour through Viator, using the affiliate links in this blog, you will support our independent tourist information website at no additional cost to you.
We receive a small commission for each booking, which enables us to expand our website and offer free tourist information to travelers interested in visiting the island. 
Preparing for Your Sunset Sail
As you prepare for your sunset cruise, consider what to wear and the essential items to bring. Given the Caribbean climate, lightweight clothing and sunscreen are essential. 
Don't forget your camera or smartphone for capturing those unforgettable moments, but also take precautions for its safety in the sea breeze.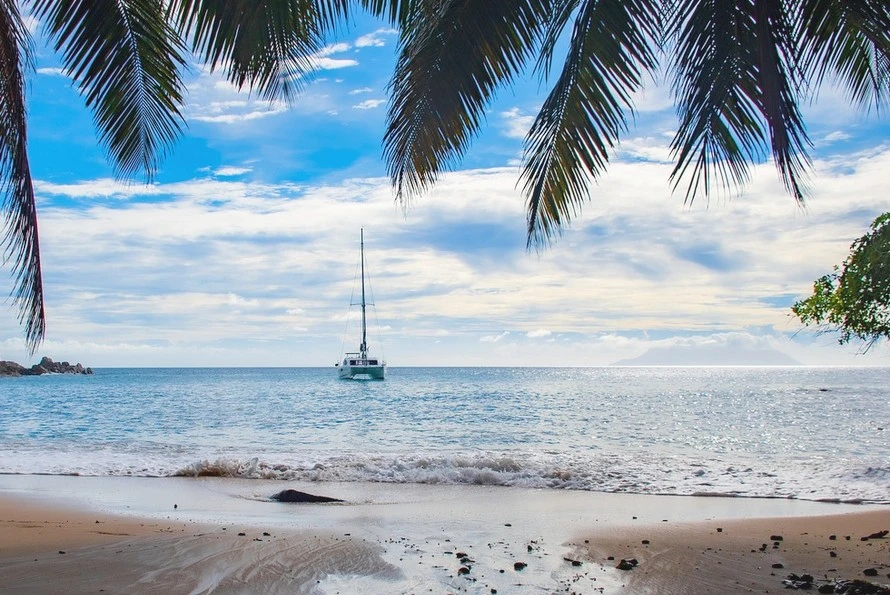 Onboard Experience
Once you're on board, you'll be treated to a host of amenities and services, depending on your chosen cruise.
From music and onboard bites to opportunities for snorkeling and swimming, the experience is designed to be both relaxing and exhilarating. 
When boarding a catamaran, you can unwind and recline in one of the nets designed for lounging and savoring the ocean breeze.
The advantages of boarding a Catamaran Sunset Cruise
Experience the enchanting beauty of Curaçao's stunning sunsets aboard a luxurious catamaran cruise. These catamaran sunset cruises offer a perfect blend of relaxation and adventure, with the gentle sway of the boat and the vibrant hues of the sky creating an unforgettable ambiance. Let me tell you some reasons why a catamaran is the perfect vessel for sunset cruises:
Stability: Catamarans have two hulls, which provide excellent stability compared to single-hull boats. 
Spaciousness: Catamarans typically have a wider deck and more interior space than monohull boats of similar size.
Reduced Heeling: This minimizes the sensation of leaning and provides a more comfortable experience for passengers.
Comfort: Catamarans typically offer comfortable seating, lounging areas, and amenities like restrooms.
Panoramic Views: With their wide decks and often elevated seating areas, catamarans provide passengers with panoramic views of the surrounding scenery during sunset cruises.
We highly recommend this Catamaran Sunset Sail because of its fantastic route and convenient central docking location at Mood Beach, near Mambo Beach Boulevard. With a flawless 5-star rating, it's sure to enhance your overall Curaçao vacation experience in a positive way.
Sunset Cruise Etiquette
Respecting the environment and fellow passengers is paramount during your sunset cruise. Learn about the dos and don'ts to ensure a pleasant and respectful experience for all.
Tipping the crew is not mandatory, but highly appreciated, so be prepared for that as well.
The Grand Finale: Witnessing the Sunset
Finally, it's time for the grand finale: witnessing the sunset. Discover the gradual transformation of the sky, from vibrant oranges and pinks to the deeper hues of twilight. 
It only takes a couple of minutes before the golden rays will disappear below the horizon, but i'm sure you will be captivated by Curaçao's sunset.
After the Sunset Cruise: Things to do
As the sun dips below the horizon, your sunset boat cruise comes to an end. But the adventure doesn't have to stop there. 
Explore the post-cruise activities and dining options on the island. You can also dive into Curaçao's vibrant nightlife to make the most of your visit.
Some of the popular places to delve into Curaçao's dining and nightlife scene include Mambo Beach Boulevard, Jan Thiel Beach, Punda, Otrobanda, and Pietermaai.
Conclusion
I've personally experienced that a Curaçao sunset is truly unique. While the island boasts numerous fantastic spots to witness the sun dip below the sea, watching it from a Sunset Cruise offers an entirely fresh perspective. 
The Spanish Water, Caracas Bay, Willemstad, and Westpunt are fantastic locations to enjoy the sunset from the deck of a boat.
Catamarans are the most popular vessels for embarking on a sunset , with numerous excellent tour options available. When boarding a catamaran, you can unwind and relax in one of the nets specially designed for reclining and savoring the ocean breeze. 
After the sunset sail, you can further explore Curaçao's vibrant dining and nightlife scene at Mambo Beach, Jan Thiel or downtown Willemstad. Visiting one of the happy hours is the perfect activity after a mesmerizing sunset sail experience.