Tourists who visit Curaçao are often looking for a beach where entertainment, gastronomy and tranquility come together. Mambo Beach is the perfect place to meet all these needs. This is the beach with the best happy hours, the nicest boutique shops and a wide variety of restaurants and beach clubs. 
Mambo Beach is a commercial beach in the east of Curaçao and consists of several beach clubs, restaurants and a shopping boulevard. A few hotels and resorts are also located on this sandy beach. The many facilities make Mambo Beach a popular place for tourists. The area is also known as Seaquarium Beach.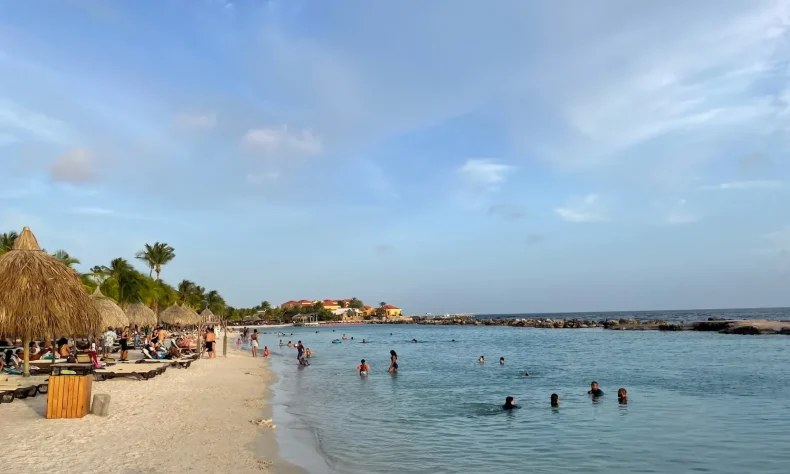 About Mambo Beach

 
The touristic Mambo Beach is located on Bapor Kibra about 15 minutes' drive from Willemstad. Various restaurants, beach clubs and shops have established themselves here to provide visitors with all the comforts.  
The original name is Seaquarium beach, but most people know it as Mambo Beach. In the past, the beach was not as extensive as it is now and beach club Mambo Beach was known as the best nightlife in Curaçao. The popularity of the original club has been used to promote the location and Mambo Beach became a household name. 
Things to do at Mambo Beach

 
At the boulevard, you will find a collective of restaurants, beach bars, shops, and activities to provide visitors with a fully catered day at the beach. You can laze on a beach bed, dine at one of the restaurants, and dance the night away during happy hour at one of the beach clubs. 
Mambo Beach is known as a family-friendly beach. There is something for every family member to experience. In addition to the many catering establishments, you can also visit the nearby Sea Aquarium and the Dolphin Academy. Here you can learn more about the marine life around Curaçao and have the opportunity to swim with dolphins.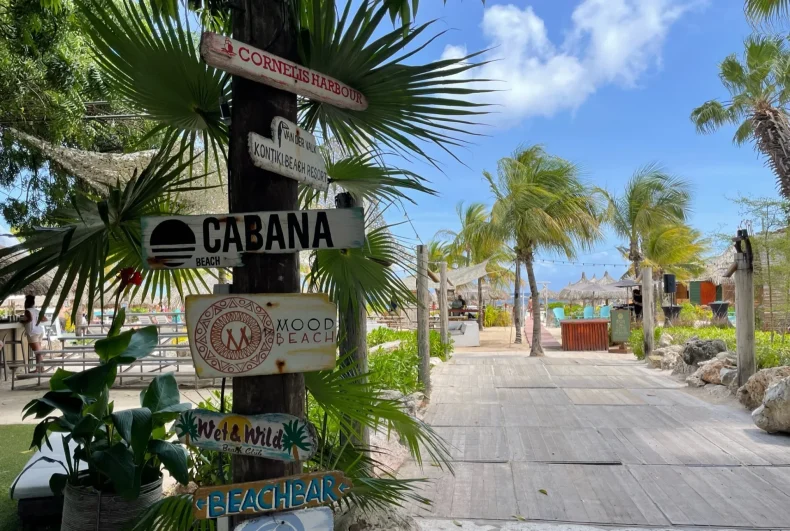 Facilities at Mambo Beach

 
If you want to spend your day on the beach, you can rent a beach bed at one of the many beach clubs for a fee. Feel free to find a bed and the beach host will welcome you. 
Entrance fee and beach beds

 

 
The entrance fee for Mambo Beach is 6.00 ANG or 3.50 USD. 
The average price of a beach bed starts at 15.00 ANG. There are various comfort and price categories. In most cases, the price for a beach bed does not include the entrance fee for Mambo Beach. 
Showers and toilets

 
You can find showers, toilets, and changing rooms at Mambo Beach. This service is included in the entrance fee, you don't have to pay extra to use these facilities. 
Parking lot

 
There is a large parking lot at the main entrance of Mambo Beach boulevard. It is easily accessible and also easy to find.  
People who want to visit Cabana Beach Club can park right next to the Kontiki Resort. Cabana Beach and Mood Beach have private entrance. You do not have to pay for parking at both parking lots.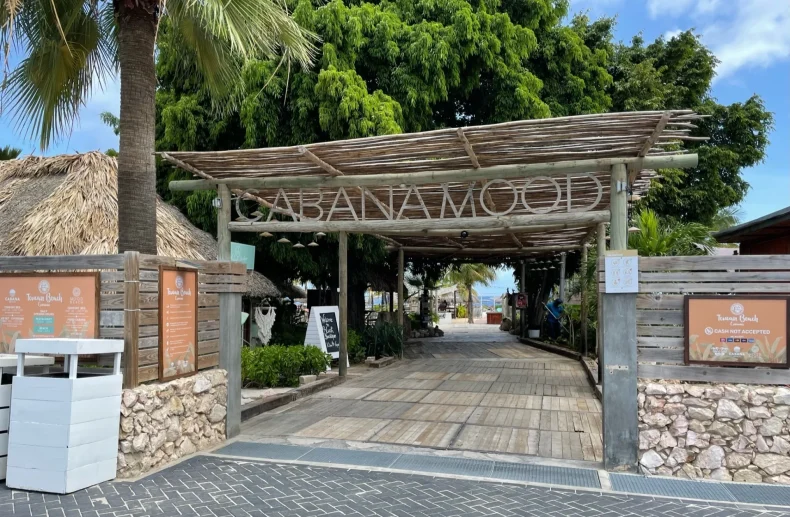 Beach clubs and bars at Mambo Beach

 
Mambo Beach is the home of many Beach clubs. Each establishment has its vibe and feel. They are the perfect place to spend a carefree day. Most beach clubs offer beach service. This means that you can order cold drinks and snacks from the waiter. For lunch and dinner you can take a seat in the restaurant. 
Mood Beach Club

 
The bohemian-decorated Mood Beach is one of the more luxurious beach clubs in Curaçao. With an eye for detail and comfort, you can spend a peaceful and carefree day here.  
For lunch and dinner, you can visit the restaurant of the beach club. The lounge area is the perfect place to enjoy the setting sun while sipping a mimosa. Life is good! 
Cabana Beach Club

 
Cabana Beach Club is the largest establishment on this beach. The beach club offers an all-in-one experience. lazing on the beach, dining, shopping, and nightlife events. 
This is one of the places in Curaçao where service is of paramount importance. The hostess is ready to show you around and answer your questions. There is waiter service at the beach and the bartenders do their utmost to serve you a delicious drink.  
Overall, this is a great spot to spend your day, but they don't have a niche like some of the other (smaller) beach clubs do. 
Wet and Wild Beach Club

 
Wet and Wild Beach Club is a no-nonsense Caribbean surfer-style bar. During the day you can rent beach beds and order cold drinks at the bar. Happy hour is available on Friday and Sunday evenings. This bar is very popular amongst expats and tourists. 
Madero Ocean Club

 
Next in line is the beach club where I used to spend many lazy Sunday afternoons prior to the happy hours. The stylish venue of Madero Ocean Club is right in front of Mambo Beach Boulevard and offers a full day of comfort at the beach or their swimming pool. 
That's right, Madero is the only beach club at Mambo Beach with a pool. During the day you can have a delicious lunch in the restaurant area and when the sun goes down everyone gathers around the bar for Happy Hour. 
Bonita Beach Club

 
This is the small-scale beach club where everyone knows each other and where you can be yourself. Just relax and enjoy life.  
Bonita Beach Club is known for its delicious cocktail menu and pleasant happy hours. This is the place you can call your home away from home. 
Chill Beach Bar & Grill

 
Chill Beach Bar & Grill is part of the Lions Dive Resort and gives you that real authentic Caribbean vibe. Maybe it's because of the hammocks or the 1001 driftwood signs attached to the wooden poles and beams. Anyway, this beach club has a positive vibe and that's what counts. 
Hemmingway Beach Bar

 
Hemingway Beach Bar is also part of the Lions Dive Resort and is a popular place for lunch or a drink. The secret lies in the beautiful location. Surrounded by the turquoise blue waters of the shallow bay, this restaurant and beach bar is a feast for the eyes. You will take the most beautiful vacation pictures at this place!  
Both Chill Beach Bar and Grill and Hemmingway may also be visited by non-hotel guests. However, you are not allowed to lie on the beach.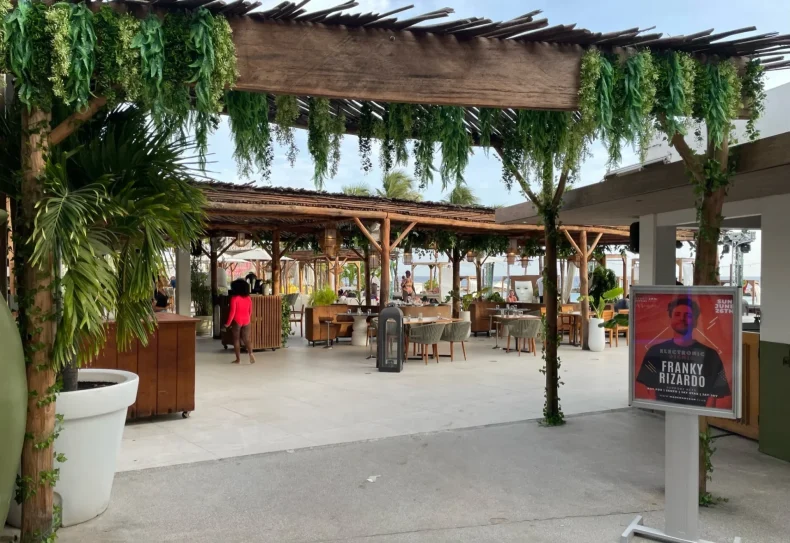 Restaurants at Mambo Beach Boulevard

 
The Mambo Beach Boulevard is the bustling center of the beach and houses a diversity of restaurants and shops. In terms of cuisines, there is a wide variety.  
You can enjoy delicious Italian, Mexican, Indian, grill, and sushi. There is something for everyone. 
Pizza Mare

 
Fresh pasta and crispy homemade pizza made with fresh ingredients, need I say more? As far as we are concerned, Pizzamare is one of the better Italian restaurants in Curaçao. All dishes are prepared with care by owner Sergio. My favorite one is the pasta carbonara, it's so good! 
Bocas

 
For those who love Argentine grill dishes, Bocas is the right place. The chefs of this restaurant know how to prepare a piece of quality meat. The ribs are highly recommended in my opinion. Tender and full of flavor. 
Origami sushi

 
At Origami you can order a la carte sushi and side dishes. They often have special rolls and lots of options. In Curaçao you can find excellent sushi restaurants and Origami is definitely one of them. 
Tandoori heights

 
Tandoori heights have been a household name in Curaçao for many years and is the best place to be for anyone who wants to enjoy Indian cuisine. The service is excellent. The staff at Tandoori heights always wants to go that extra mile to ensure you have everything you need. 
El Grill & El Mexicano

 
We've visited El Grill & El Mexicano a few times and found the ambiance in particular very cozy. The staff is friendly and the food is great. I can recommend the fajita. It's kind of their signature dish.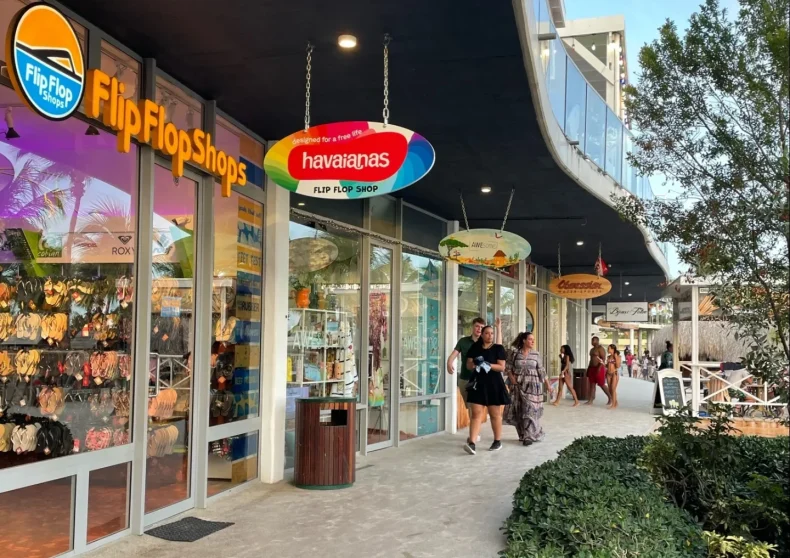 Shopping at Mambo Beach Boulevard

 
Various concept stores and niche shops are located on both the ground floor and the first floor of Mambo Beach Boulevard. You can find things such as beach fashion, jewelry, footwear, souvenirs, and home decor.
Mambo Beach Boulevard is visited by many tourists. There are several places where you can rent a car or shops to book tours. Are you looking for a new experience? Be surprised by the possibilities and activities that the island has to offer.  
Are you looking for specific information prior to your trip? We can help you with that! Message us throughout our contact form and we will tell you all you need to know about Curaçao.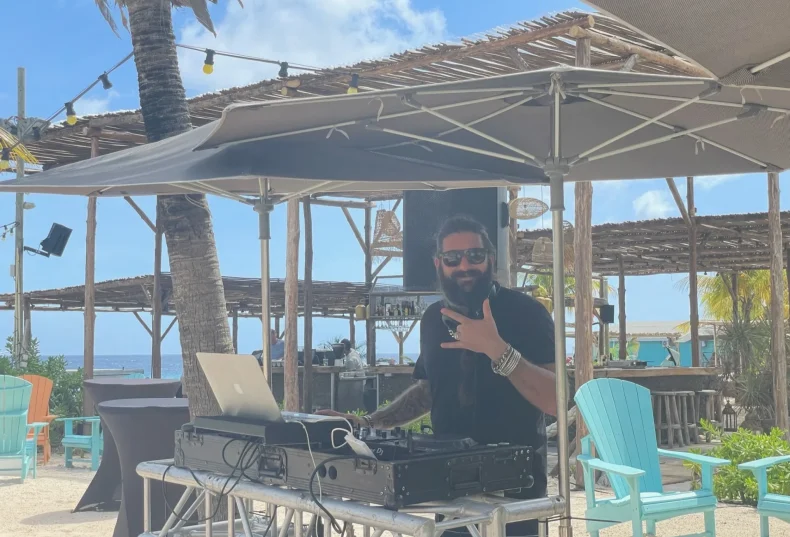 Happy Hours at Mambo Beach

 
Several beach clubs open or close the weekend by giving away drinks for half price during their famous happy hours. The happy hours at Madero Ocean Club, Wet and Wild Beach Club, Bonita Beach Club, and Chill Beach Bar & Grill are visited by many people.  
While you order drinks at the bar, a DJ plays the latest hits. There is connecting, partying, and dancing. Just the way a happy hour should be. 
We don't look at the clock very often in Curaçao, but it is important to be in time for happy hour. This handy list tells you exactly where and when the happy hours take place. 
Friday: 
Madero: 6.00 -7.00

 

Bonita: 5.30 – 7.00

 

Wet and Wild: 5.30 – 6.30

 

Chill: 5.00 – 6.00

 

Hemingway: 5.30 – 6.30

 
Sunday: 
Madero: 6.00 -7.00

 

Wet and Wild: 6.00- 7.00

 

Chill: 5.00 – 6.00

 

Hemingway: 5.30 – 6.30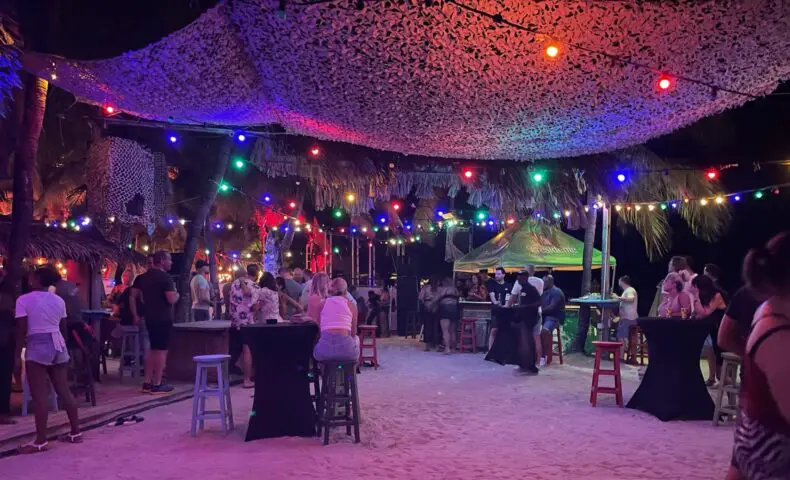 Nightlife at Mambo Beach

 
Curacao's nightlife can be discovered during one of the many Happy Hours at Mambo Beach. On Fridays and Sundays, almost every beach club has a DJ or live band that sets the mood for the evening.  
They mainly play the latest popular releases, tropical evergreen hits, Latin pop music, and swinging salsa. Each place has its own atmosphere and repertoire. Are you visiting a happy hour at Mambo Beach for the first time? Visit them all and decide where you feel right at home. 
Another popular weekly event is Dance & Dine at Cabana Beach. From 6.00 you can enjoy a three-course menu with atmospheric live entertainment. Later in the evening, the restaurant is transformed into a dance floor and the DJs put in the beats.  
During this evening you also have the option to book a VIP table. This includes personal service and a bottle of your choice.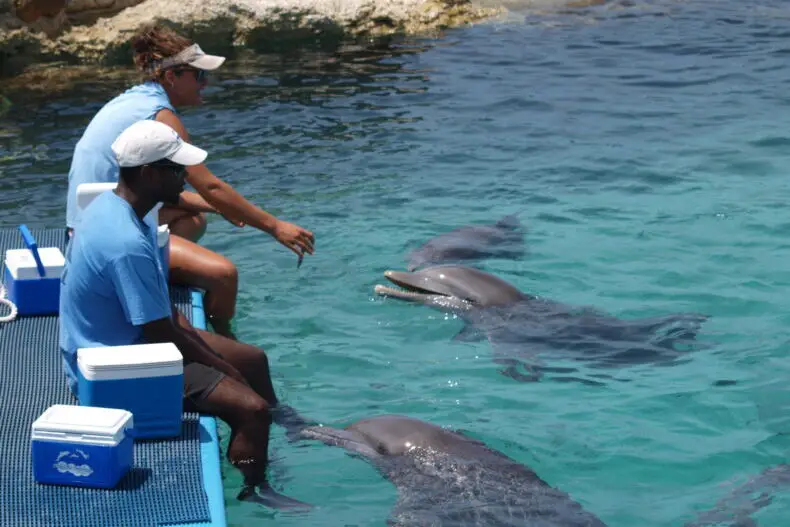 The Curaçao Sea Aquarium

 
On the far left side of the beach, next to Hemingway restaurant and the Lions Dive Resort, is Curacao's Sea Aquarium. Meet tropical fish, sharks, dolphins, flamingos, stingrays, and other ocean creatures. 
during the day you can follow a program in which you learn more about marine life and there are feeding times with the animals. 
The Dolphin Academy 

 
At the Dolphin Academy, you have the opportunity to swim in the water with the dolphins. You can touch them and perform tricks with them. It is an experience of a lifetime!  
It is also possible to book an encounter or a dolphin kiss photo. 
Those who want to admire the dolphins from a distance can attend the Dolphin Training and Demonstration. The dolphin show takes place twice a day in the Sea Aquarium open-air theater. Dolphins are incredibly smart and playful. They love to show their special tricks.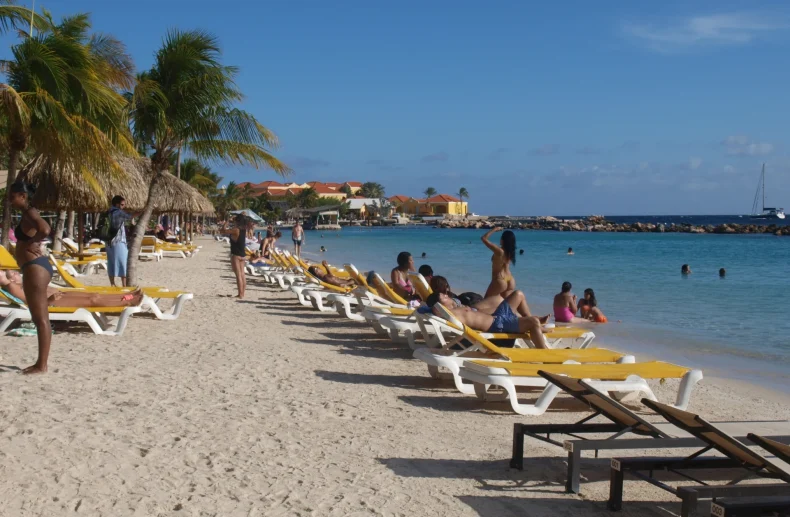 Visit Mambo Beach from the Cruise Port

 
Due to its convenient location, Mambo Beach is a popular shore excursion among cruise passengers visiting Curacao. The commercial beach that provides you with all comforts is only a 15-minute drive from the Curaçao Cruise Port.  
Most cruise passengers take a taxi to the beach. As soon as you leave the terminal, the taxis are ready. A taxi from the Cruise Port in Curaçao to Mambo Beach costs $25.00. 
You can also take the bus to Mambo Beach. This is a cheaper option and costs $2.00 to $3.00 per person. The bus departs from the Punda stop. This is a 15-minute walk from the Cruise Port. You will take the floating bridge from Otrobanda to Punda. You will also walk along the famous Handelskade, the Curaçao sign, a floating fruit market, and the Plasa Bieu. At the bus stop you take the minivan towards Sea Aquarium Beach. You pay the driver in guilders or dollars. 
Not sure which beach to visit during your one-day stay at the island? Check our post: 10 Best Curaçao Beaches near the Cruise Port to view several amazing options. Enjoy your stay in Dushi Curaçao.