Visiting one of the Curaçao beaches near the Cruise Port is a popular shore excursion. The island has many beautiful beaches to discover, but which one suits your needs and preferences?
In this blog, we would like to introduce you to 10 amazing Curaçao beaches that are popular amongst cruise passengers. which one will be your favorite?
Best beaches near the Curaçao Cruise Port
The Curaçao Cruise Port is situated in the heart of the capital Willemstad. You will experience the convenience of the city next to the cruise port, which is perfect if you want to spend your day close to the ship. A lot of sights, restaurants, and bars are within walking distance.
The beaches of Curaçao are not located in the city and that is why many cruise passengers book a tour or shore excursion to the beaches. One can also take a taxi to some nice beaches near the Cruise Port. The 10 beaches in this post are a maximum of 50 minutes' drive from the Cruise Port.
At each beach, we indicate the time it takes to travel by car from the Cruise Port to the beach.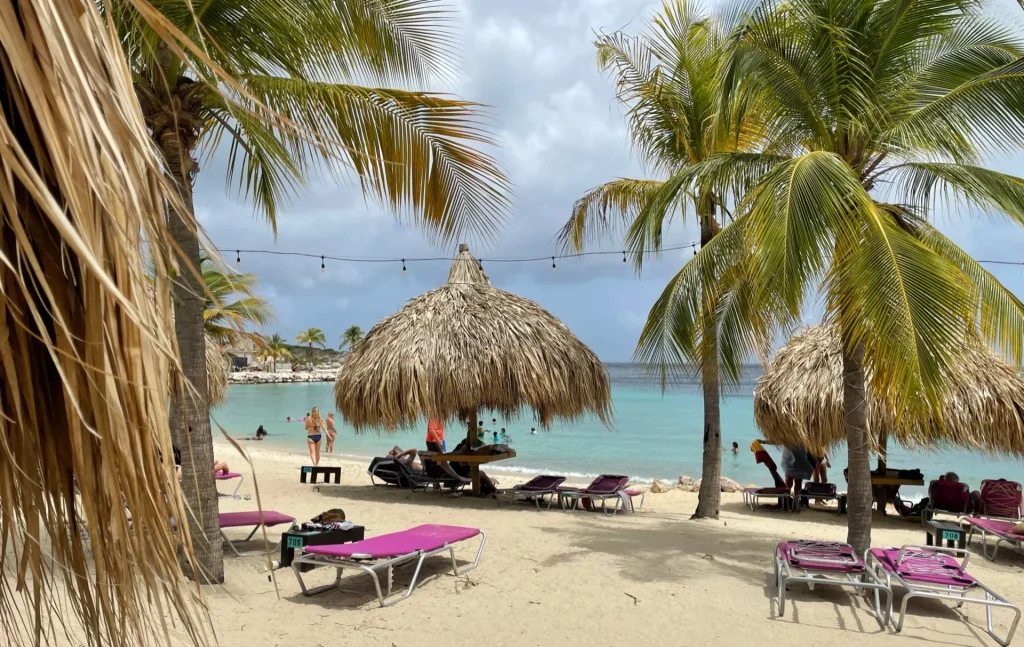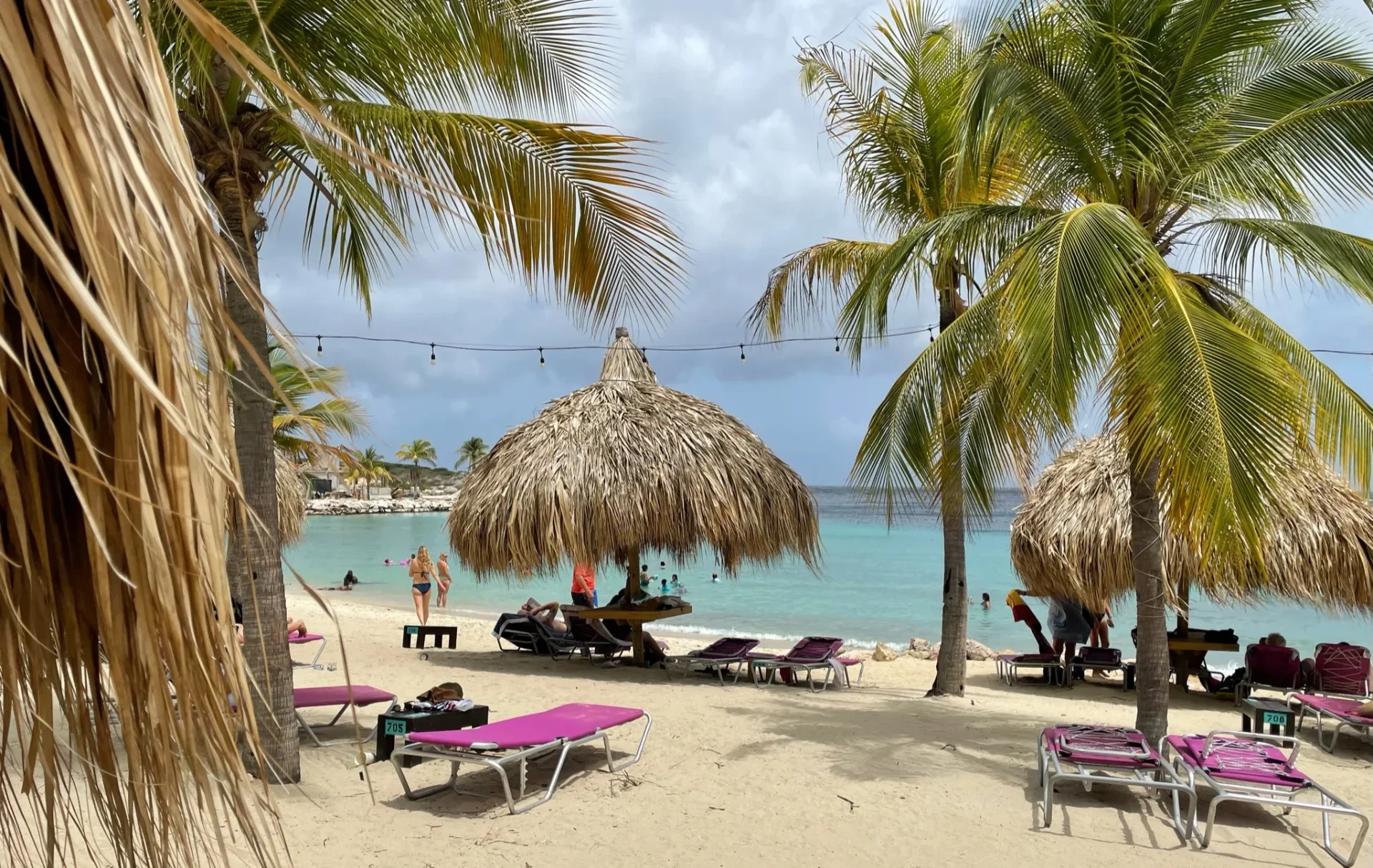 Blue Bay Beach
The sandy beach of Blue Bay can be found at the Blue Bay Curaçao Golf & Beach Resort. This is a large private community where Curaçao residents and tourists are housed among several facilities and amenities.
The beach of Blue Bay is accessible to people who would like to spend their day at the private beach. The entrance fee is USD 12,00 or 20 NAFL for adults. Children pay USD 6,00 or 10 NAFL. This fee includes the use of beach chairs, showers, and restrooms.
At Blue Bay beach you can find a bear bar, beach restaurant coast, and bistro Lemongrass.
Blue Bay Beach is a 15-minute drive from the Curaçao Cruise Port.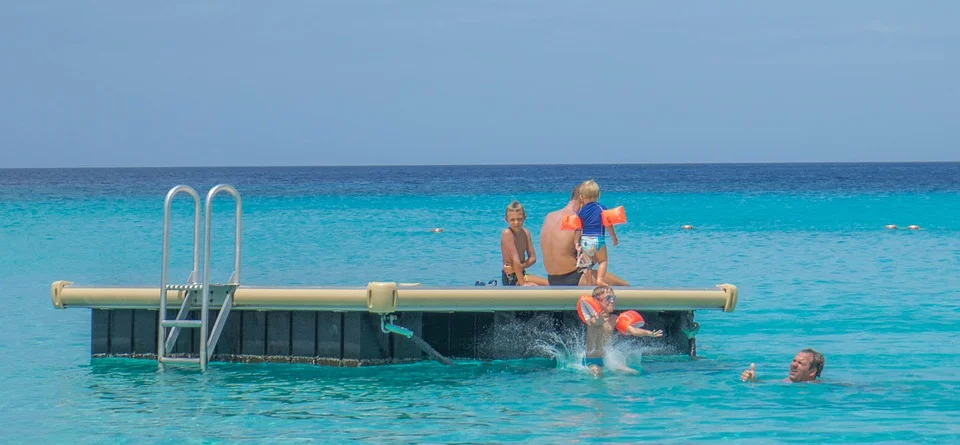 Kokomo Beach
Kokomo beach is a popular beach among cruise passengers as it is not far from the Cruise Port. But if I can be honest, this is not the first beach I would choose on a one-day visit to Curacao.
The beach and facilities are fine, but there are much nicer beaches to choose from when visiting the island.
A plus is that you don't have to pay an entrance fee to access the beach. For lunch and drinks, you can go to the beach restaurant.
At the Kokomo Beach swing, you can take nice Instagram photos.
Kokomo Beach is a 15-minute drive from the Mega Pier Cruise Terminal.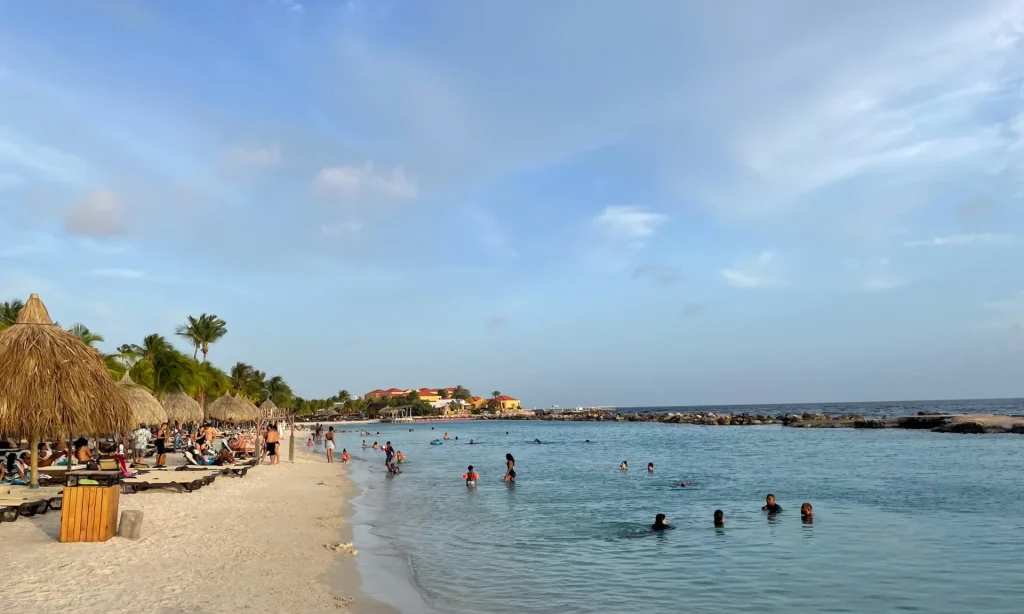 Mambo Beach
Mambo Beach is a commercial beach with many facilities. This beach is close to the cruise port and is therefore the ideal place to visit for the day.
The fee to enter Mambo Beach is USD 3,50 or 6,00 NAFL. This does not include the price for the rental of beach chairs. These can be rented at the beach clubs.
You can spend your day in one of the beach clubs or shop and dine at the nearby boulevard.
Madero Ocean Club offers a full day of relaxing at their pool or the beach. Bonita Beach Club is a cozy laidback beach where you can get a taste of the real Caribbean lifestyle.
Read: Mambo Beach: The Best Boulevard in Curaçao
Best dining places at Mambo beach include Pizza Mare, The Green House, Bocas Restaurant, and El Grill & El Mexicano.
Mambo Beach is a 15-minute drive from the Curaçao Cruise Port.
Cabana Beach
At Cabana Beach, you have all facilities under one roof. The beach club is situated next to Mambo Beach and offers everything you need for a relaxed day under the Curaçao sun. There is a large restaurant, sports bar, and fashion boutique and you can rent beach chairs close to the waterside.
Next to Cabana Beach, you can find MOOD beach. This beach club gives me bohemian vibes all the way and is the epitome of luxury and comfort. Besides that, the ambiance is just really nice and cozy.
A regular beach chair at both beach clubs costs USD 11,50 or 20,00 NAFL. This includes the entrance fee to the beach.
Cabana Beach is also a 15-minute drive from the Cruise Terminal.
Jan Thiel Beach
yet another beach with lots of facilities is Jan Thiel Beach. This beach can be found on the east side of Curaçao. The family-friendly Jan Thiel Beach is the home of several hotels, restaurants, and beach bars.
Order a cocktail at Zest and go shopping in one of the boutiques next to Papagayo. Zanzibar is the place to go for lunch.
Note: In walking distance, you can find Van den Tweel Supermarket. I always enjoy visiting foreign supermarkets and at this place, you can find a large range of Dutch products!
Touristic hotspot Jan Thiel offers something for everyone, but it can be crowded at times, especially during the high season.
The entrance fee is USD 3,00 or 6,00 NAFL. The use of a beach chair is not included in this price.
Jan Thiel Beach is a 25-minute drive from the Cruise Port in Otrobanda.
Tug Boat Beach
Tugboat beach is the place you need to be for a unique underwater experience. In front of the coast, there is a sunken tugboat where you can snorkel. It lies in shallow waters surrounded by tropical fishes and colorful corals. You can also meet a lot of ocean life around the dock on the right side of the bay.
This is not a commercial beach and therefore there are not that many amenities. You also don't need to pay a fee to get access to the bay.
Read: Tugboat Wreck: The Best Snorkeling Spot Near the Beach
There is a beach bar and a place where you can paint your souvenir. The decoration of the beach hut and surroundings is a remarkable visual experience. This place makes you think of a laidback surf hangout. This is a rocky beach so don't forget to bring water shoes.
Tug Boat Beach is a 25-minute drive from the Curaçao Cruise Port.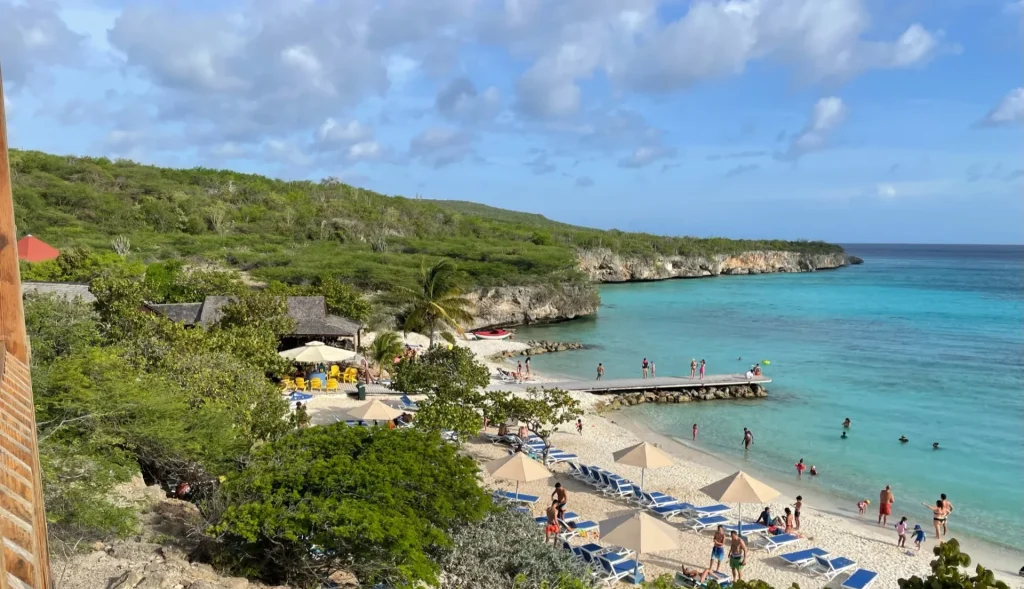 Playa Porto Mari
Sipping a cold drink while gazing at the horizon is a Caribbean dream come true. The view over the ocean from the cliff at Porto Mari is amazing. This is the beach where you can spot two famous residents: Pigs Willy and Woody!
The facilities at Porto Mari beach include a beach bar, restaurant, a beach store, toilets, showers, lockers, and even a diving school. Bottomline: everything you need for a comfortable day at the shore.
Visitors who want to combine a day at the beach with an outdoor activity have come to the right place at this beach. You can choose from 3 different hiking tours that start from Porto Mari.
Read: Playa Porto Mari: 10 Reasons Tourists Love It
The entrance fee for Porto Mari is USD 3,00 or 5 NAFL. Beach chairs are not included in this price.
Playa Porto Marie is a 30-minute drive from the Curaçao Mega Pier Cruise Port.
Cas Abao
Welcome to Cas Abao: When you're not barefoot then you're overdressed! This is one of my favorite beaches near the cruise port since it has everything you imagine when visiting a Caribbean beach. Waving palm trees, soft white sand, and a mesmerizing turquoise ocean.
There are a few facilities that will make your day at Cas Abao more comfortable. There is a beach bar and snack hut where they serve French fries and Dutch snacks. You can go diving, snorkeling, or book a relaxing massage at the Sensi Spa beach hut.
Read: Cas Abao Beach: Everything You Need to Know
Most cruise passengers arrive at Cas Abao on a shore excursion. The entrance fee might be included in this price, but you have to check with your tour operator. Beach chairs cost USD 3 of NAFL 5, – and this is including a complementary shower coin.
Cas Abao Beach is a 40-minute drive from the Curaçao Cruise Port.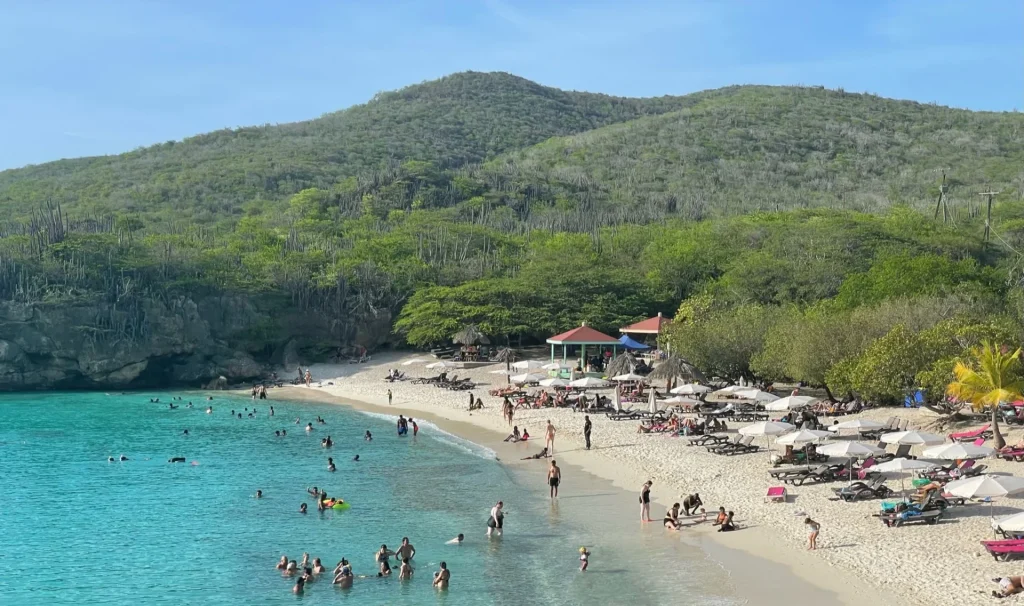 Grote Knip
Many people say that Grote Knip is the most popular beach in Curaçao. Does the bay look familiar to you? Chances are big that you have seen this beach before in Curaçao guides and travel magazines.
The view is stunning and I think that Grote Knip deserves a top 3 spot when it comes to the most beautiful beaches in Curaçao.
Grote Knip is a public beach. You don't have to pay an entrance fee, but there are also few facilities. You can get cool drinks and snacks and rent beach chairs.
Read: Why Grote Knip is the Best Beach in Curaçao
A visit to Grote Knip is a popular Shore Excursion. This beach is often offered in a beach hopping tour.
Grote Knip is a 50-minute drive from the Curaçao Mega Pier Cruise Terminal
Playa Piskado
Playa Piskado is the beach where you can swim with sea turtles. The water is crystal clear and you can find several sea turtles right next to the pier. It's quite an experience to be able to swim alongside these gorgeous animals.
Warning: Do not touch or interfere with them. You will harm the turtles by doing so.
Read: Swimming with Sea Turtles in Curaçao
You can bring your snorkel, but there are also snorkels for rent. A visit to Playa Piskado is a popular excursion that can be easily combined with a beach day at Grote Knip. Viator offers several tours that combine these two activities.
Playa Piskado is also a 50-minute drive from the Curaçao Cruise Port.

A variety of beaches near the Cruise Port
A large number of cruise passengers choose to visit a beach during their one-day stay in Curaçao.
Popular shore excursions are the Beach Hopping Tour, Swimming with Turtles & Grote Knip combination, or a visit to Cas Abao.
Snorkeling at the Tug Boat is also on the bucket list for many. A visit to commercial beaches such as Jan Thiel and Mambo Beach is always a good idea if you're aiming for comfort near the Cruise Port.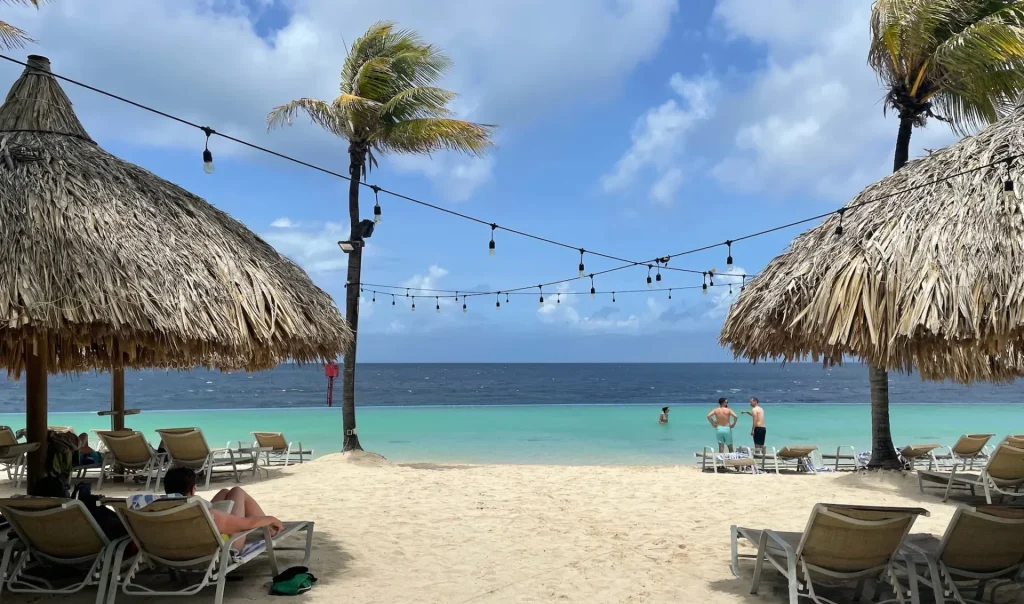 Shore Excursions to Curaçao Beaches
Are you planning to visit the island and take a trip to one of the beaches? By booking your shore excursion through Viator using our links and widgets, you will support this blog at no cost to you.
When booking you must indicate the Mega Pier Cruise Terminal as your departure location.
With less than a one-hour drive, all the beaches in Curaçao are near the cruise port
Enjoy your stay on the island and we hope that Curacao is everything you wished for in a Caribbean cruise destination.