Swimming with sea turtles in Curacao is an activity you can't miss. There are numerous places in Curacao where these beautiful creatures of the sea can be found. But where is the best place to snorkel with turtles? That location can be found at the west coast of the island.
There's a beach called Playa Grandi where spotting turtles is guaranteed. They even come close to you in the shallow waters. It's one of the best experiences ever.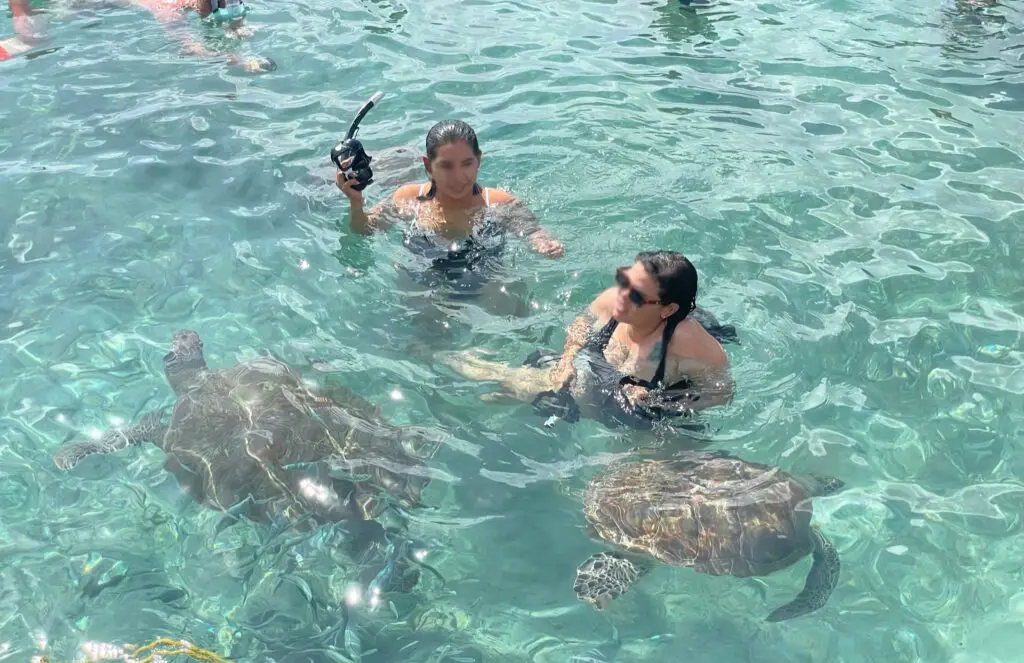 Swimming with sea turtles at Playa Grandi
The best beach to swim with turtles in Curaçao, is Playa Grandi (also known as Playa Piskado). The water is clear and there are a lot of sea turtles right at the pier. It's a real treasure to see and to be able to swim alongside these amazing creatures.
Local fishermen clean their catch at the beach and feed the turtles some leftovers. That's why this beach attracts more turtles than any other place in Curacao. As you swim, the turtles sometimes come very close.
How to swim and snorkel safely with turtles
Swimming with sea turtles in Curaçao is quite an experience! There might be a chance they bump into you. Don't be afraid, they are gentle creatures just chasing their food.
You have the great opportunity to view them up close, but do not touch, chase or interfere with them. A turtle does have feeling in its shell. They feel it when you touch them. They are also able to feel pain trough their shell. This is because their shell contains nerve endings.
Do not apply regular sunscreen before entering the water.
The chemicals in sunscreen are harmful for turtles and ocean life in general. It can make them sick. For those who sunburn very fast it's highly recommendable to purchase a sustainable ocean friendly sunscreen. These kinds of sunscreens can be found at various drugstores and botika's on the island. Let's collaborate to keep our wildlife safe.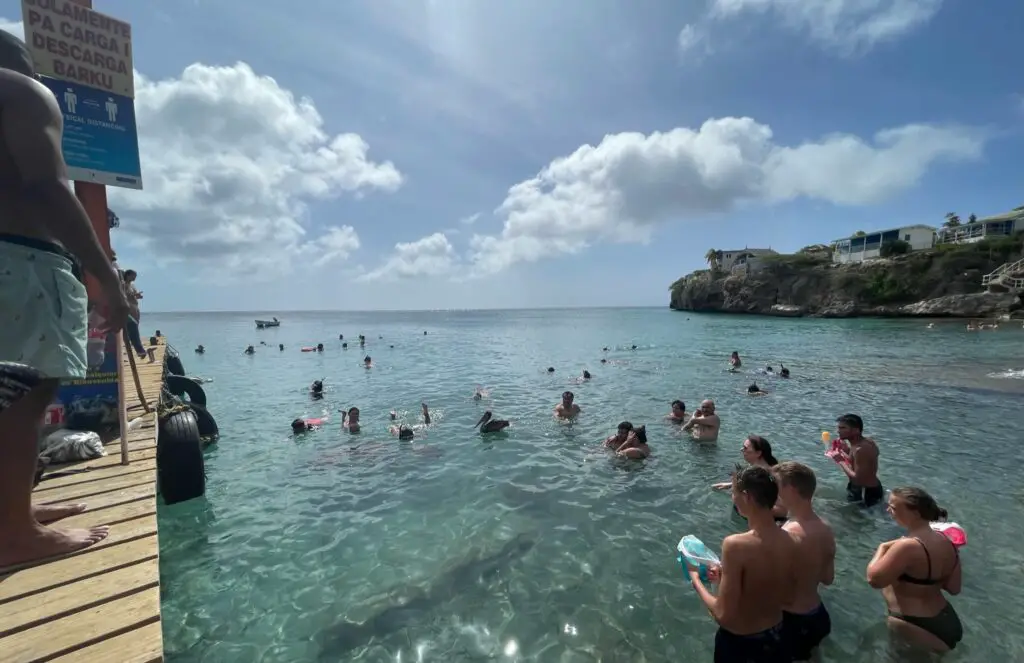 What to do at Playa Grandi beach
Playa Grandi is not the type of beach to sunbath. The beach is rocky so it would be wise to bring some water shoes.
There is gorgeous aquatic life to discover along the cliffs at the right side of the turtle bay. You will spot plenty of tropical fishes and maybe an eel or two.
Beach chairs and umbrellas are available at a reasonable price. There's also a small snack shack where you can purchase cool drinks and food.
Playa Grandi can be found close to Playa Forti next to the town of Westpunt. it's about 25 miles (40 km) from Willemstad at the most Westerly point of the island. 
How to get to the sea turtle beach
Playa Grandi is not difficult to find. When you leave Willemstad, take the 'Weg naar Westpunt'. From this road it is only straight ahead.
You will pass Grote Berg, Landhuis Daniel, Tera Korá, Barber, Christoffel Park and Shete Boka before arriving at the village of Westpunt.
Follow the main road until you reach Playa Grandi. When you see restaurant Jaanchies, you are almost there. Playa Forti is on your left side. You can't miss it!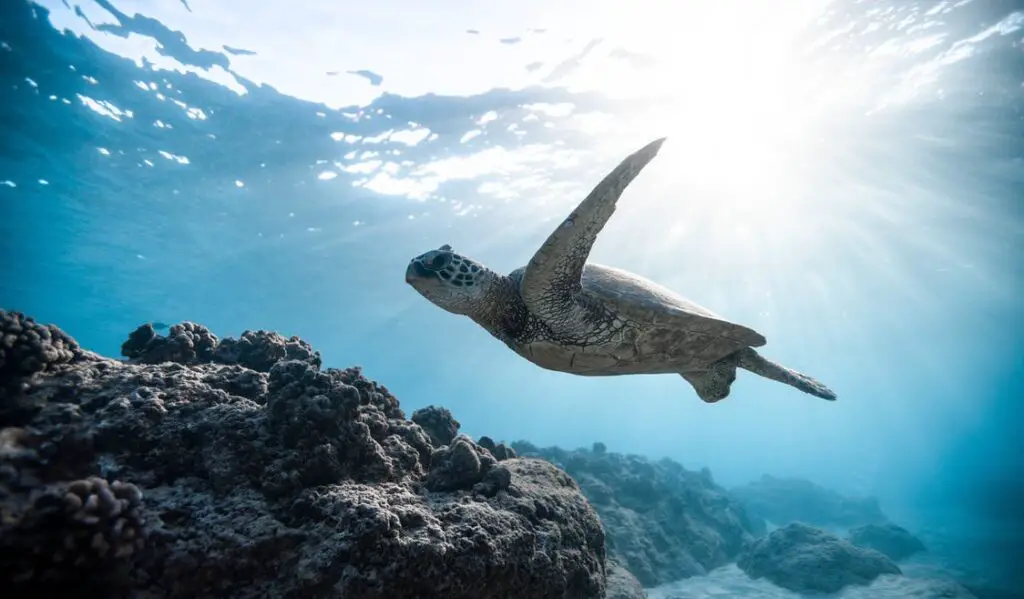 Cruise shore excursion to swim with turtles
The people of Curacao are happy to welcome cruise travelers to our beautiful island. I'm sure you will enjoy Willemstad and the many shoreside activities Curacao has to offer.
Let me tell you some good news. It is in fact possible to visit the turtle beach during your one-day stay! You can book your shore excursion here. 
A local tour guide will pick you up at the Mega Pier Cruise Port in Otrobanda. (It is also possible to get a pick up from your hotel or resort). From there it's a one-hour drive to Playa Piskadó. Prepare to be mesmerized by the mystique countryside of Curacao. There is plenty to see and discover during the ride.
I guess you could say that the trip is as vibrant as its destination.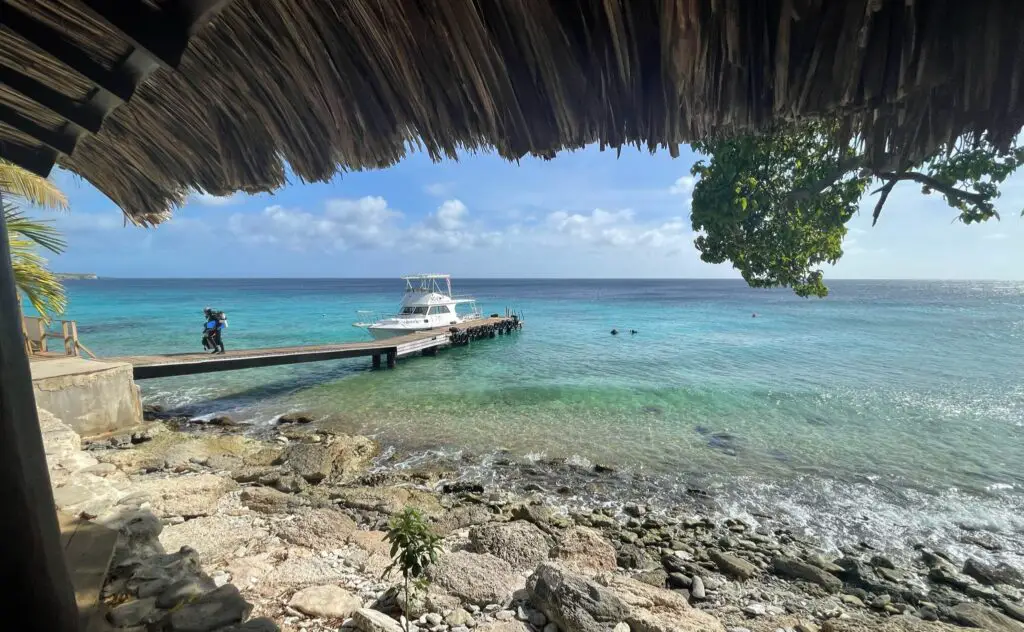 Things you need to know about Playa Grandi / Playa Piskadó
This is a list of things you should know about Playa Grandi. This way you can prepare well for your excursion.
Playa Grandi is also known as Playa Piskadó

Playa Grandi is situated near Westpunt.

It's an hour's drive from Willemstad.

Do not leave valuables in the car.

The beach is rocky.
Playa Grandi is a fisherman's beach.
That's why it smells strongly of fish.
There's a possibility to rent beach chairs.

There are several restaurants nearby.

There's a small canteen at the beach.
A fee has to be paid to use the restroom.
You can buy souvenirs and beverages from local vendors.
Watch out for poisonous Manchineel trees!
We also want to give you a heads up about a poisonous tree called Manchineel. This tree grows all around the island including close to the sea turtle beach, Playa Grandi, where you can swim with turtles in Curaçao.
The Manchineel, also known as 'Poison apple tree' can cause several medical issues such as burns, blistering and inflammation when in contact with the skin.
Do not seek shelter from the rain under a Manchineel tree. The rain that drips from the branches on your skin may cause burns as well.
How to spot this poisonous tree? You can recognize a Manchineel by its spider web shape and the tangerine size apples hanging from it. If you have eaten one of the poisonous Manchineel apples you should immediately seek medical attention.
Best beaches to swim with sea turtles in Curacao
If you're looking to swim with turtles in a less crowded setting, I could recommend going to Playa Lagun, Playa Forti or Klein Curacao. There might be a chance you will be able to snorkel with turtles, but it is not guaranteed you will spot one.
If you want more certainty, Playa Grandi is definitely the better option. Bottomline, if you want to swim with turtles in Curacao, Playa Grandi is the best place to visit.