At Exploring Curaçao, we believe that every beach has a unique story to tell, and Playa Lagun Beach is no exception. This hidden gem of Curaçao offers crystal-clear waters, beautiful marine life, and a relaxed atmosphere that is perfect for a day trip or a long stay.

Playa Lagun is a small public beach in the west of Curaçao with few facilities and a restaurant nearby. The beach is hidden between two giant rock formations, making Playa Lagun a scenic location with excellent snorkeling opportunities.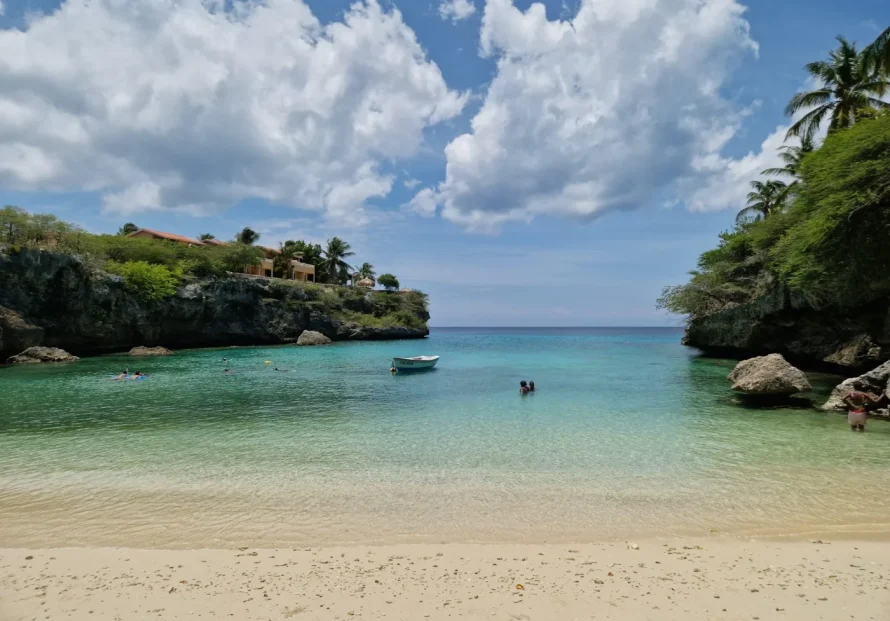 The originally fisherman beach is surrounded by rocky cliffs that provide a beautiful backdrop and offer privacy from the outside world. The crystal clear waters of the bay are home to an abundance of marine life, making it an excellent location for snorkeling and diving.
In this guide, we will take you through everything you need to know about Playa Lagun Beach and how to make the most of your time there.
Things you need to know about Playa Lagun

 
Before visiting Playa Lagun, it is useful to know a few things about this beach. This way you can prepare your visit optimally and you will not be faced with surprises. 
Umbrellas and beach beds are available

 

There is a parking lot next to the beach

 

Food and drinks are available

 

There is no security

 

Toilets are available

 

There is a restaurant next to the beach.

 
The Beach Experience
Playa Lagun Beach is a small, secluded cove that offers a unique experience compared to the larger, more crowded beaches on the island. The beach is surrounded by rocky cliffs and has calm, clear waters that are perfect for swimming and snorkeling.
You can rent snorkeling equipment from the beachside dive shop or bring your own to explore the vibrant coral reefs and diverse marine life that inhabit the area.
There are also several restaurants and bars near the beach where you can grab a bite to eat or a refreshing drink. We recommend trying the local seafood dishes, which are fresh and delicious. If you're looking for a more active day out, you can also go hiking in the near vicinity.
Playa Lagun is known for its calm and serene waters, ideal for swimmers of all levels. It's also the perfect place for families with small children who can play in the shallow water or build sandcastles on the beach.
Facilities at Playa Lagun

 
Playa Lagun is a simple beach with few facilities. You can rent a beach bed for 7.00 ANG or 4.00 USD. Snorkeling equipment is not available for rental, so it is best to bring your own. This also applies to water shoes, although I must say that the beach is not really rocky. Therefor it is not necessary. 
You can buy snacks and drinks at the beach. For an extensive lunch or dinner, you can visit to the restaurant on top of the cliff. This can be reached via the stairs on the right side of the beach. From the restaurant's terrace you have a beautiful view over the bay of Playa Lagun.  
Entrance fee

 
Playa Lagun is publicly accessible. This means that you do not have to pay an entrance fee to enter the beach. Beach beds can be rented for a small fee.  
Renting a beach bed is not mandatory. You can also lay out your own towel and enjoy the surroundings for free. 
A visit to Playa Lagun is proof that the nicest things in life don't have to be that expensive.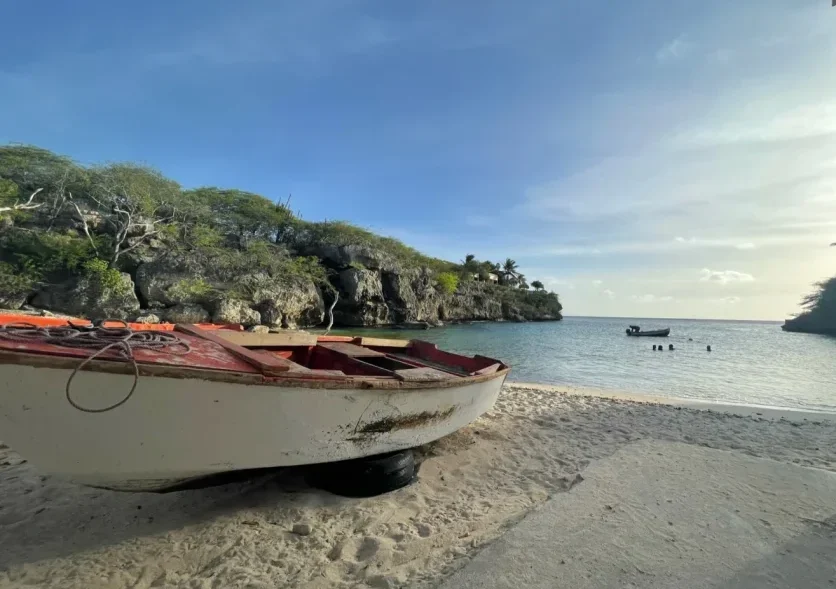 Snorkeling and swimming

 
Not many people are awere of this, but Playa Lagun is actually a wonderful place for snorkeling. 
The deep bay is home to many underwater creatures that like to visit the fertile rock walls. Most marine life can therefore be found along the rocks of the cove.  
Entire schools of fish, seahorses and even the occasional sea turtle can be found in the waters near this beach. 
Before Playa Grandi was labeled as a Turtle Beach, Playa Lagun had the best chance of spotting sea turtles. Some critters have not forgotten their old place and are happy to return from time to time. 
There is no guarantee that you will encounter sea turtles during your snorkeling trip, but if you do, you will have plenty of room to view these impressive creatures. 
Bahia Beach Bar

 
Next to the beach you can find Bahia Beach Bar, a small restaurant that is part of Bahia Apartments and Diving. The restaurant offers a beautiful view over Playa Lagun; some say you can see the most beautiful sunset on the island from here. 
Bahia Beach Bar is open daily for breakfast, lunch and dinner. They serve intercontinental dishes, with a Curaçaoan twist here and there. Drink a colorful cocktail as the sun begins to set. Life can't get any better than this.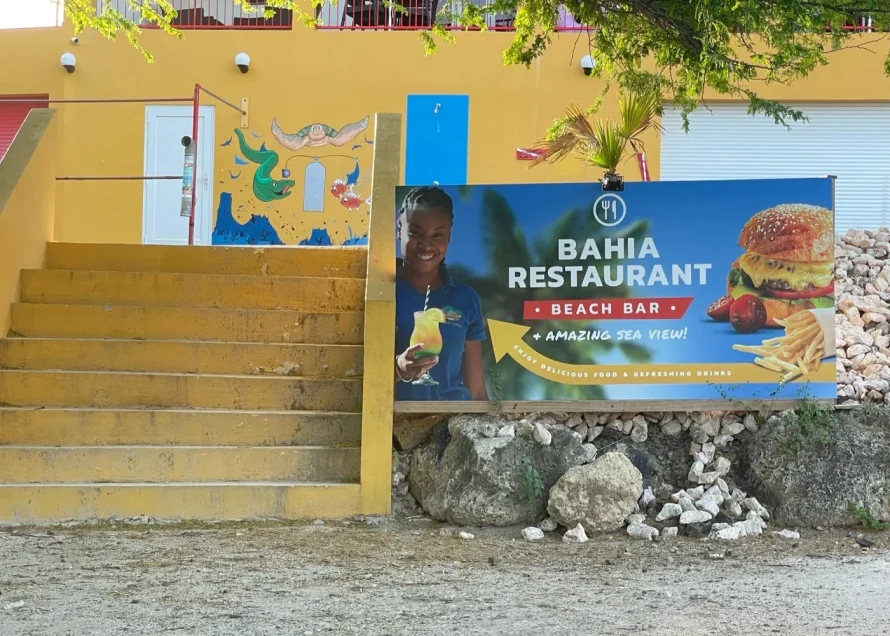 How to get to Playa Lagun

 
The easiest way to reach Playa Lagun is by car. As a tourist, it is best to rent a car or book an excursion to discover the area near Westpunt. 
Playa Lagun Beach is located on the west side of the island, around 30 minutes by car from Willemstad. You can easily reach the beach by driving on the main road towards Westpunt and following the signs for Lagun Beach. There is ample parking available, and the beach is easily accessible from the parking lot.
It is not possible to reach the beach on foot due to the long distance and absence of the associated infrastructure. 
Things to Do Near Playa Lagun Beach
There are plenty of other activities to do near Playa Lagun Beach if you're looking to explore the surrounding areas. One popular activity is hiking in the nearby Christoffel National Park, which has several trails that lead to stunning views of the island's rugged terrain and diverse flora and fauna.
You can also take a scenic drive to the nearby Shete Boka National Park, where you can witness the power of the ocean as it crashes against the rocky coastline.
If you're interested in learning more about the history and culture of the island, you can visit the nearby Knip Plantation, where you can visit the country house and the Tula Museum. Read more about this subject in our Grote Knip blog.
Book your excursion to Playa Lagun

 
Visit the picturesque bay of Playa Lagun and let yourself be amazed by its beauty. An excursion is a great option to discover the beach. You don't have to worry about anything, you will be picked up and brought back to your resort. 
We have selected the perfect full day excursion for you that will take you to this particular beach.
By booking an excursion with Viator, through the link on this site, you support Exploring Curaçao without it costing you anything extra. We receive a small commission from this organization. 
Conclusion

 
Not sure which beaches to visit during your vacation to Curaçao? Add Playa Lagun to your list, because this beach is definitely worth a visit. 
Playa Lagun Beach is a must-visit destination for anyone traveling to Curaçao. Its unique cove, crystal-clear waters, and vibrant marine life make it a top spot for swimming and snorkeling. With its secluded location and laid-back atmosphere, it's the perfect place to relax and unwind.
We hope this guide has helped you plan your visit to Playa Lagun Beach and that you have an unforgettable experience on our stunning island. Also check out our guide of 17 Amazing Curaçao Beaches You should Visit for more bucket list material!