While exploring Curaçao, you'll have the chance to experience its stunning beaches and the captivating architecture found in Willemstad. However, if you're seeking a more distinctive and adventurous experience, a trip to Shete Boka National Park should definitely be on your itinerary.
Shete Boka National Park is a protected natural area located on the west side of Curaçao. The park is renowned for its rugged coastal scenery and unique geological formations. 
Translating to 'seven inlets or bays' in Papiamentu, this park is a treat if you love the rugged and untouched side of Curaçao where a powerful force of nature shows what it's capable of.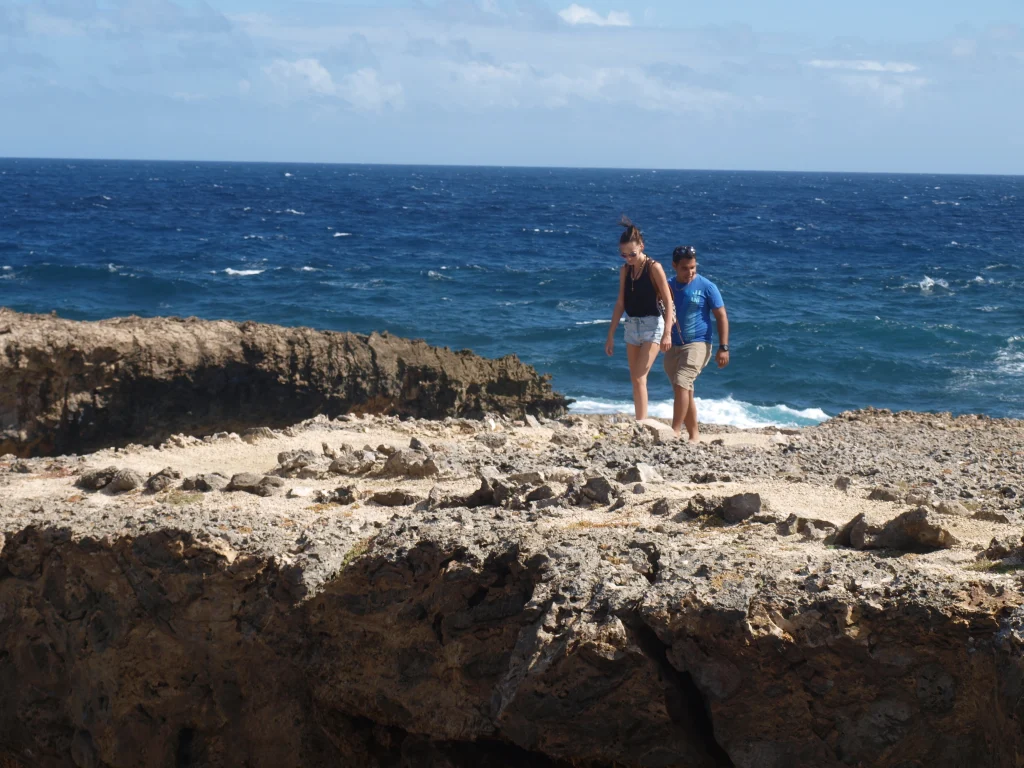 Shete Boka National Park is a popular destination for nature enthusiasts, hikers, and those looking to experience the raw beauty of Curaçao's rugged coastline near Westpunt. While the island boasts numerous beautiful coastal areas,  natural wonder stands out among the rest.
In this blog, we'll take you on a journey through Shete Boka National Park, sharing personal first-hand experiences and insights into its unique attractions.
A Glimpse into Shete Boka National Park
Established in 1994, Shete Boka National Park spans approximately 200 hectares on the rugged north coast of Curaçao.
This park is located close to the famous Christoffel National Park, creating a remarkable synergy of natural beauty and biodiversity. 
Stretching over 10 kilometers, Shete Boka National Park is home to a dozen bays and inlets, which hold a special significance – they are nesting grounds for three species of sea turtles.
When we have guests coming over, we love to take them to see the natural wonders of Shete Boka. It's one of those must-do activities to get to know the real Curaçao.
Boka Tabla
Perhaps the most famous attraction within the park is Boka Tabla, a remarkable cave with a unique twist. 
Accessible from land on one side and open to the sea on the other, Boka Tabla provides a captivating display of nature's power. 
There's a small staircase you can use to go down. Once you do, you'll find yourself inside a cave shaped by the water.
We found it to be a very impressive act of nature. It made us realize that we, as the human species, are just guests on earth where Mother Nature is keeping a firm hand. 
The strong northeast trade winds create a mesmerizing spectacle as the sea pushes into the cave, producing awe-inspiring waves and sounds that resonate and echo through the chamber.
Exploring the Inlets and Bays
Beyond Boka Tabla, Shete Boka National Park offers a multitude of inlets and bays waiting to be explored. 
To the northwest, you'll find six more bays and inlets, each with its own distinctive character.
Boka Wandomi features the Natural Bridge of Curaçao, a testament to the island's geological history. 
Boka Kortalein, Boka Plate, Boka Mansalina, Boka Djegu, and Dos Boka are not only breathtaking in their beauty but also vital nesting areas for sea turtles. The importance of these protected habitats cannot be overstated.
To the northeast, Boka Kalki and Boka Pistol beckon with their unique allure. 
Boka Kalki is a picturesque bay partially covered with mangroves, providing shelter for various wildlife species. 
Meanwhile, Boka Pistol lives up to its name with a thrilling spectacle – the sea surges into this narrow inlet, creating explosive bursts that mimic the sound of pistol shots. It's a thrilling natural performance you don't want to miss.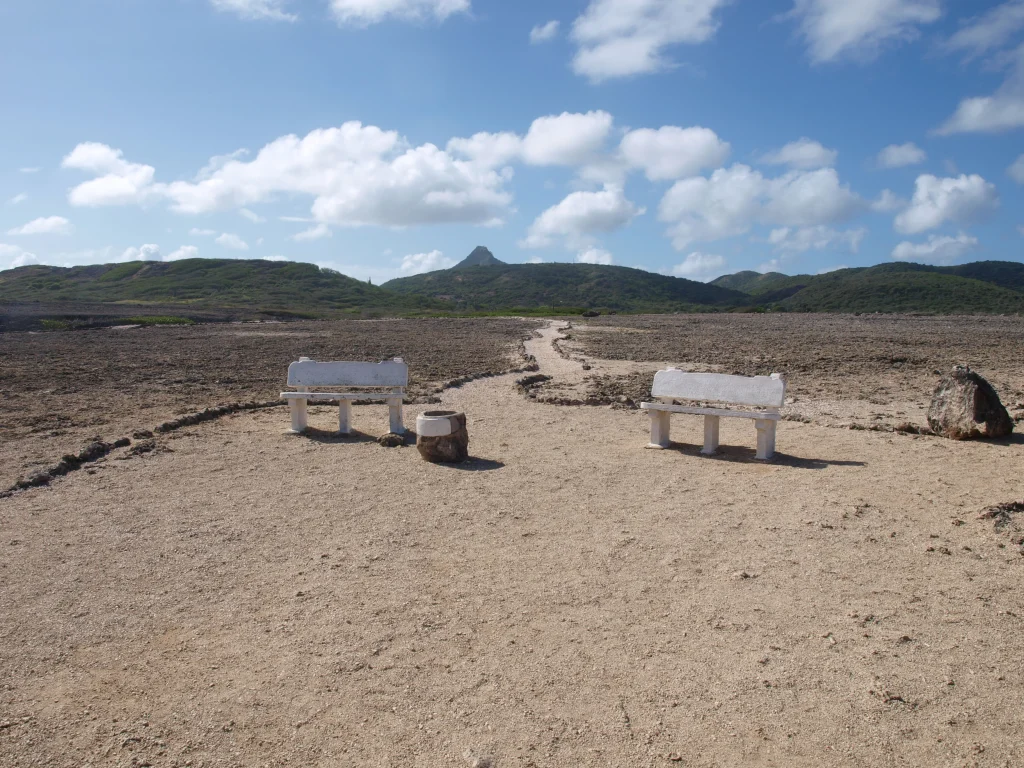 Hiking at Shete Boka National Park
Shete Boka National Park is the perfect location for a hike.
In addition to the many inlets, you will be treated to an otherworldly moonscape. There are many terraces and rock formations that you can discover and two hiking trails run through the park.
Via Boka Pistol you will reach the imposing Seru Chai and Seru Braun hills. From there you will have a beautiful view of the coastline.
Expert tip: Don't make the same mistake I did of visiting Shete Boka National Park on flip-flops. The sharp rocky surface came through the sole, preventing me from walking any further and throwing away my slippers afterwards.
Sea turtle breeding sites
Since its inception, the park has played a vital role in the conservation of sea turtles. The breeding sites within the park are protected areas, and during the breeding season, researchers of the Carmabi Foundation screen the Shete Boka beaches for sea turtle activity and signs of nesting.
Sea turtles are recognized for their tendency to revisit their birthplace to lay eggs once more, making Shete Boka National Park a location of great significance for Curaçao's wildlife. Safeguarding this nesting site is therefore crucial for the future well-being of the island's turtle population.
Plan Your Visit
Visiting Shete Boka National Park is an opportunity to connect with nature in its purest form. To make the most of your park experience, consider these tips:
Timing is Everything: Plan your visit during morning when it's not that hot. The afternoon is perfect to visit one of the nearby beaches, like Grote Knip. 
Comfortable Attire: Wear comfortable clothing and sturdy shoes, as you may be walking on uneven terrain.
Bring Essentials: Carry essentials like sunscreen, water, and insect repellent to ensure a comfortable visit.
Respect Nature: Remember to respect the park's rules and regulations, and never disturb the wildlife.
Guided Tours: Consider going on a guided tour for an informative and enriching experience.
Tours to Shete Boka National Park
Visiting Shete Boka on a guided tour is a special chance to see amazing scenery, watch strong waves at the inlets, and enjoy the wild ocean view. You can also hike the trails and visit a cave, making it a great place to visit for people who love nature and adventure.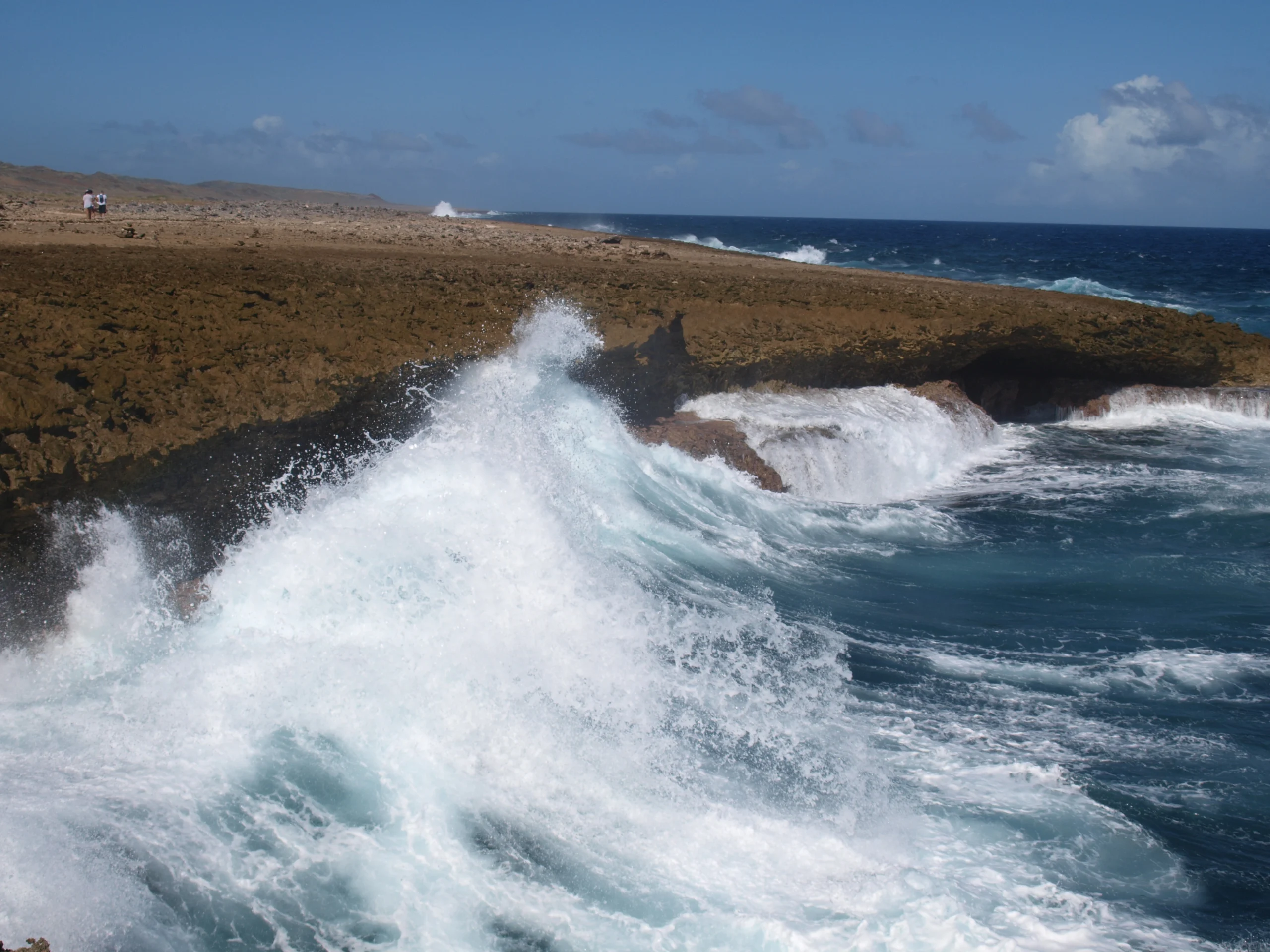 Nature Lovers Tour
Visit Shete Boka National Park
Swim with Turtles at Playa Grandi
Pearly White Grote Knip beach
Flamingo spotting at Jan Kok
-> Book This Tour
You're going to visit Shete Boka National park, as well as the beach of Grote Knip, swim with sea turtles at Playa Grandi, and a stop at the Flamingo Sanctuary on the way back to town. 
The Nature Lovers Tour will pick you up from your Hotel or the Curaçao Cruise Port.
You'll definitely get to explore some of Curaçao's top attractions, and it will reveal the island's genuine beauty to you. The full itinerary, terms, and conditions are stated on the Viator tour page.
By booking this tour, using the affiliate links on our website, you will support Exploring Curaçao at no extra cost to you. Check out our Tour Page for more amazing island discoveries.
Opening hours and entrance fee
The park is open seven days a week from Monday to Sunday. You can visit Shete Boka National Park during the following opening hours:
Monday to Sunday: 09:00 AM – 05:00 PM
Access to the park is not permitted after 4:00 PM, and visitors are kindly requested to exit the park by 4:30 PM. Upon arrival, you'll have to pay an entrance fee to enter the park. The following rates apply:
Adults: 10.00 USD / 17.50 ANG
Children 6-12: 1.50 USD / 2.00 ANG
Children 0-5: Free
Local Rate: 1.50 USD / 2 ANG 
Extra info: There are maps of the park available at the entrance.
From our own experience, we suggest you to visit Shete Boka National Park in the mornings to beat the heath. 
The afternoons are for visiting one of the nearby beaches like Grote Knip, Kleine Knip, Playa Kalki, Playa Grandi or Playa Lagun, so you can cool down with a cold drink in your hand.
Interested in nature activities? Read our latest blog about the Curaçao Rif Mangrove Park. 
Conclusion
Shete Boka National Park left a deep impression on us. This rugged coastal side of Curaçao, with its seven mesmerizing inlets, offers a breathtaking encounter with nature's raw power.
Boka Tabla, the park's iconic cave inlet, is a humbling testament to the forces that shape our world. Standing there as waves crash and echo through the chamber is an incredible experience.
Besides Boka Tabla, there are several unique bays to visit. From the Natural Bridge at Boka Wandomi to the explosive bursts of Boka Pistol, each spot tells its own captivating story.
Hiking through Shete Boka feels like stepping onto another planet, with its otherworldly terraces and rock formations. Just don't forget sturdy shoes – the rocky surface can be unforgiving.
What warms my heart the most is the park's commitment to sea turtle conservation. Shete Boka is home to breeding sites of three different sea turtle species, and is therefore important for the local turtle population.
Shete Boka National Park is a place where Mother Nature shows its true powers, and we wholeheartedly recommend it for a one-of-a-kind adventure. My advice: visit in the morning to beat the heat and save afternoons for the nearby pristine beaches.