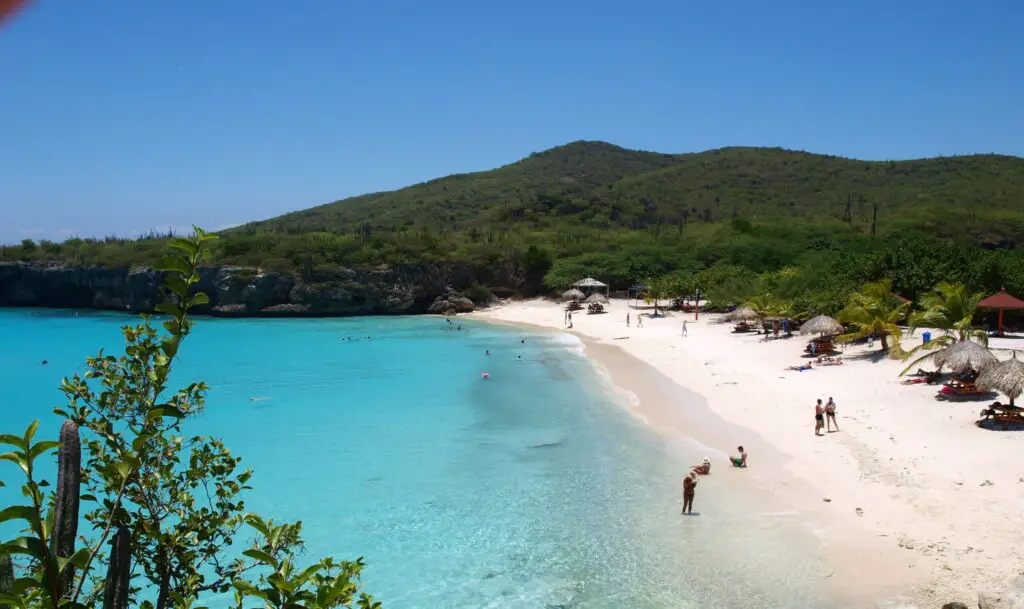 Grote Knip is seen by many people as the best beach on Curaçao. Is it because of the wonderful sandy beach, the exceptional view of the bay, the turquoise-cerulean colored water or because the beach is free to visit? I think it is a combination of all these factors that make Grote Knip the best beach on Curaçao.
If I could recommend just one beach to visit in Curaçao, which one would it be?
Personally, I think that there are several beaches in Curaçao that deserve a shared number one spot.
From a tourist's perspective I would definitely choose Grote Knip as my first encounter with beaches in Curaçao. In this blog i will share with you everything you need to know about Curaçao's most famous beach.
Grote Knip is an iconic beach
The number one reason why one should visit this beach is because of its cult status. Grote Knip is Curaçao's famous icon when it comes to beaches.
Have you gathered some information about the island prior to your trip? Chances are that you have come across several photos of this particular bay.
It's that turquoise-water-white-sand-contrast view of Grote Knip that you will recognize from the travel magazines.
When you read an article about Curaçao, this is most likely the photo that they will show when referring to the beaches.
That makes visiting Grote Knip part of the ultimate Curaçao experience
And let's be honest, the view is stunning. The water is really turquoise blue and the sand is as soft as powdery sugared snow. The beach of your dreams would look like this. The pictures you could show your friends and family at home are what they call chef's kiss.
Facilities at Grote Knip Beach
Grote Knip is a public beach, therefor it doesn't have many facilities. There is a paved parking area that leads to the scenery view point of the beach. Sometimes you can find local vendors and a food truck in the parking lot area. They serve snacks, cold drinks and smoothies.
To enter the beach, you can walk down the stone stairs. There is plenty of area to lay a towel down, but you can also choose to rent beach chairs and an umbrella for the price of 25 Guilders. That's around $14.00 USD.
Entrance fee
The best things in life are for free, and that totally counts for the many beautiful beaches in Curaçao. Grote Knip is one of those gems that is free of charge. Want to visit more beaches where there is no admission fee?
This guide to visit 15 Amazing free beaches in Curaçao comes in handy!
Bring your own food and drinks
It is allowed to bring your own drinks and food to Grote Knip. Most people take their coolbox or even a barbecue with them to spend a lovely day with family and friends. Birthday parties are also often celebrated at Grote Knip. It is easy to understand why. I mean, who wouldn't want to celebrate a special day at the beach?
Facts about Grote Knip
Slightly southeast of Grote Knip, you can find Landhuis Knip. This is a plantation house belonged to Plantage Knip, which used to be a plantation for crops and livestock.
This place is of great significance to the history of Curaçao. On August 17, 1795, the great slave revolt of 1795 started here, led by the slave Tula. Nowadays, the Tula Museum has been located in the main building of Landhuis Grote Knip.
The name Knip is derived from the word Kenepa. Kenepa is a fruit tree, which was grown on the plantation, among other things. The fruit of the Kenepa looks a bit like a lychee fruit. The taste varies from sweet to sour. You can buy them at local markets.

Directions to Grote Knip Beach
You can find Grote Knip in the area of Bandabou. This is where the best beaches of Curaçao are situated. To visit Grote Knip Beach, you will need to rent a car or book an organized tour.
To go by car, you need to take the Weg naar Westpunt (road to Westpunt). This is the only road that leads to Bandabou. From here you just drive straight on. In about 30 kilometers you will enter the town of Westpunt. Once you've past Westpunt, it's only a few minutes' drive to Grote Knip Beach.
The country road that leads to both Grote Knip and Kleine Knip is indicated by a road sign. It's easy to find. You can hardly miss it.
Book an organized tour to Grote Knip
The most relaxed way to visit Grote Knip Beach is by booking an organized tour. This way you can visit the beach and many other experiences in Curaçao without worrying about directions or the process of renting a car.
You can book your excursion through Viator.com. Go on a full-day beach hopping tour and explore 5 of Curaçao's top beaches in just one day.
Ready for an experience of a lifetime? It is also a possibility to book a Grote Knip / Swimming with sea turtles combo. Check out Viator for more options and current availability.
By booking an excursion through Viator, using our link, you support this website at no cost to you.
Getting to Grote Knip from the Cruise Port
The beach of Grote Knip is very popular with cruise passengers. This iconic beach is frequently visited, especially during the high season.
From the Cruise Port you can go to beach by bus. It takes about 45 minutes to get there. You can book a shore excursion to Grote Knip when you arrive at the cruise terminal in Otrobanda.
For more certainty, you can also book a tour in advance through Viator. Under the heading 'Departure Point' you have the option to choose the Mega Pier Cruise Terminal as your departure location.
When the ship docks, the bus will be ready to take you on your booked excursion. Read all the information carefully at the booking page. You will have a wonderful day full of fun, discovering our island and beaches.
Use reef safe sunscreen
To protect the marine life of Curaçao, it is recommended to use reef safe sunscreen when you visit Grote Knip, or other beaches.
Why use this kind of special sunscreen and not a regular one? It's actually quite logical. All sunscreen that we put on our skin ends up in the water. You will recognize it by the oily film that flows on the surface around you when entering the water.
The ingredients of regular sunscreens are often harmful to underwater life. Those sunscreens are toxic to fish and sea turtles, infect plankton and also beautiful carnival colored coral will fade and die. In this way, we unintentionally destroy the underwater world.
When looking for a sunscreen, make your research if the product is reef safe before buying it. Popular reef safe products are mostly zinc-based sunscreens.
Forgot to pack your sunscreen? You can find a large selection at the local Botika's (pharmacies). A Botika can be found in almost all neighborhoods in Curaçao.
8 Reasons why you should visit Grote Knip
Grote Knip is the most popular beach in Curaçao
There is no entrance fee
Grote Knip has a beautiful sandy beach
You can rent beach chairs and umbrellas
There are plenty of shady spots under trees.
You can buy drinks and snacks from local vendors
There are several restaurants near Westpunt
You can also bring your own food and drinks
Conclusion
Grote Knip is a beach you must visit when going on vacation to Curaçao. Although there are not many facilities, the beautiful scenery will speak for itself. Grote Knip is the perfect beach to spend quality time with friends and family.
The fact that you don't have to pay an entrance fee is a nice extra. This beach is a place of relaxation, tranquility and good vibes. I think it is really true what they say: Grote Knip is the best beach in Curaçao.