With its stunning natural beauty, Curacao is the perfect destination for a beach vacation. Whether you're looking for a chill day of lounging and swimming in the crystal clear waters, or an adventurous day of snorkeling and exploring all the colorful coral reefs, Curacao has something for everyone.
The best beaches in Curacao can be found along the southern coastline. Famous sandy beaches such as Grote Knip and Porto Mari are located west of the island while the east side beaches are a must go for snorkelers.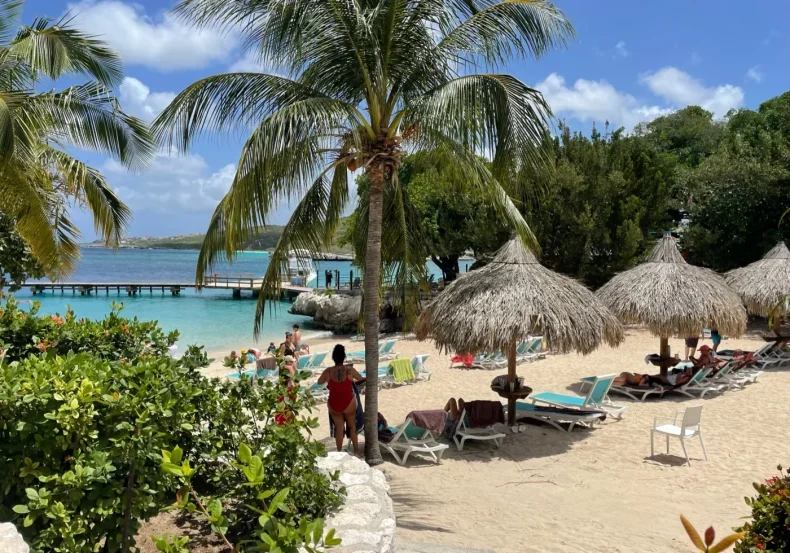 Due to its geography, Curacao beaches are quite unique. There are no long stretches of beach to be found. Instead, Curacao is the home of many small coves and hidden beaches amidst magnificent sandstone cliffs. 
Curaçao has more than 40 beaches, some of which are public and some are private. The latter often means that you can use the beach and facilities for a fee.
In practice, we have found that the entrance fee for private beaches is often just a few dollars.
Best beaches in Curaçao
Curaçao is home to some of the best beaches in the Caribbean. Some of the most popular sandy beaches include Cas Abou Beach, Playa Lagun, and Kleine Knip, all of which are renowned for their turquoise blue water and scenic views.  
in addition to white sandy beaches, there are also many pebble beaches on the island. These beaches are the gateway to a variety of corals and tropical fish. Marine life likes to attach itself to a rocky environment, creating a colorful and lively underwater life.  
A true paradise for snorkelers and divers. 
Whether you're looking for a beach with plenty of activities or a more secluded spot, Curaçao is the perfect destination for anyone who loves the beach.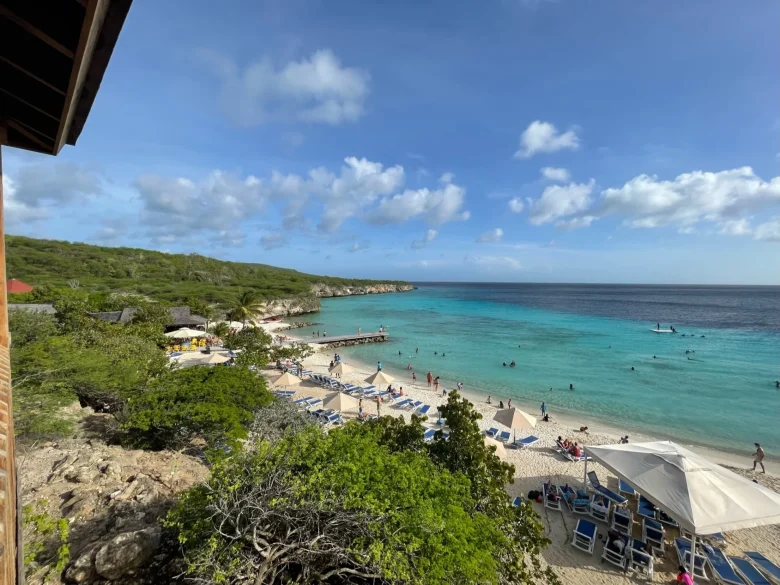 Playa Porto Mari
Feeling stressed? There's a beach for that! And that beach is called Playa Porto Mari. This is the famous beach with the pigs and also the beach with one of the best reefs.
Playa Porto Mari is a nice location for snorkeling and diving and the perfect spot for a family day at the beach.
The entrance fee is 5 guilders (3 USD) and also charges for sunbeds. There is a diving shop and a nice restaurant where you can enjoy French fries, Dutch snacks, sandwiches and Pannenkoeken (pancakes Dutch style).
Read: 10 Reasons Why Tourists Love Playa Porto Mari! 
Mambo Beach
Mambo Beach is one of the most touristic hotspots on the island. It's a commercial beach where shopping, entertainment and dining meet the beautiful Caribbean Sea.
Don't miss the famous happy hours at Wet & Wild, Chill Beach Bar & Grill and Madero Ocean club. Watch the sun disappear over the horizon and dance the night away in one of the best beach clubs in town. This is living the island life!
Read: Mambo Beach: The Best Boulevard in Curaçao
Playa Santa Cruz
Meet Playa Santa Cruz, a stunning beach located in the southwestern part of Curaçao. The beach is situated in a large picturesque cove and has stunning views of the Caribbean Sea.
The white sand and clear waters are perfect for swimming and snorkeling. The beach is lined with palm trees and provides plenty of shade and a great spot for relaxing.
Playa Santa Cruz is the starting point for various excursions. You can go hiking in the surrounding hills or visit the blue room with Captain Goodlife. Taking a boat trip along the west coast is also a possibility.
Playa Santa Cruz is one of my favorite beaches when it comes to 'doing something different'. Just relax and enjoy until the sun crashes into the ocean. Life can't get any better than this.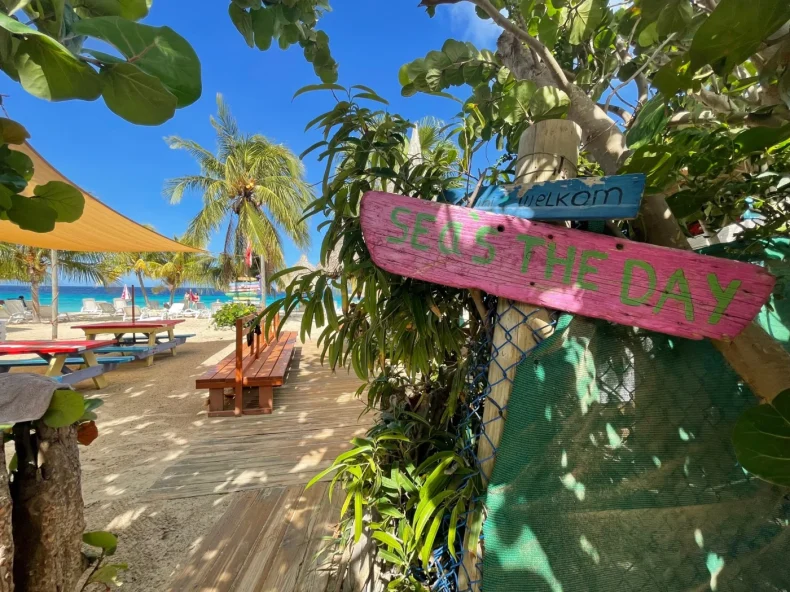 Cas Abao
There are many enchanting places in Curacao, but none of them is as magical as Cas Abao beach. Majestic cliffs and hills have been carved by time, weather and the Caribbean Sea into fantastic shapes and formations. And in between those formations, you will find the white powdered sugar sand of Cas Abao.
This is the beach you want to visit when you're looking for those instagram-paradise-esque getaways. The entrance fee for a car of four people is 10 guilders ($5.60-ish) from Monday to Saturday and 12.50 guilders ($7) on Sundays and special holidays.
Read: Everything You Need to Know About Cas Abao
Playa Piskado
Playa Piskado or Playa Grandi is also known as Turtle Beach because it's the only beach in Curacao where you are guaranteed to swim with turtles. Fisherman feed them scraps of fish and seafood. That's the reason why they are gathering this close to shore.
Yes, it is possible to swim with turtles, but we strongly advise you to keep at least 6 feet of distance between yourself and the turtles. Do not touch them, give them space and allow them to come up for air when they need to. 
Playa Piskado is a small and cozy beach. There are lounge chairs available, snorkeling gear for rent and a snack outlet where you can purchase cool drinks and french fries.
Read: Swimming With Sea Turtles at Playa Piskado
Klein Curacao
Have you ever dreamed of visiting a remote island? This is your opportunity to make this dream come true. Klein Curacao is an inhabited island situated between Curacao and Bonaire (approximately 15 miles south-east of Curacao).
The only way to get there is by boat. There are several companies offering all-inclusive day trips. Departure is early in the morning and it takes like 1-2 hours to get to the island. Most day tours include breakfast, a (non)alcoholic open bar, BBQ lunch and the use of snorkeling gear.
Visiting Klein Curacao will be an experience you will never forget!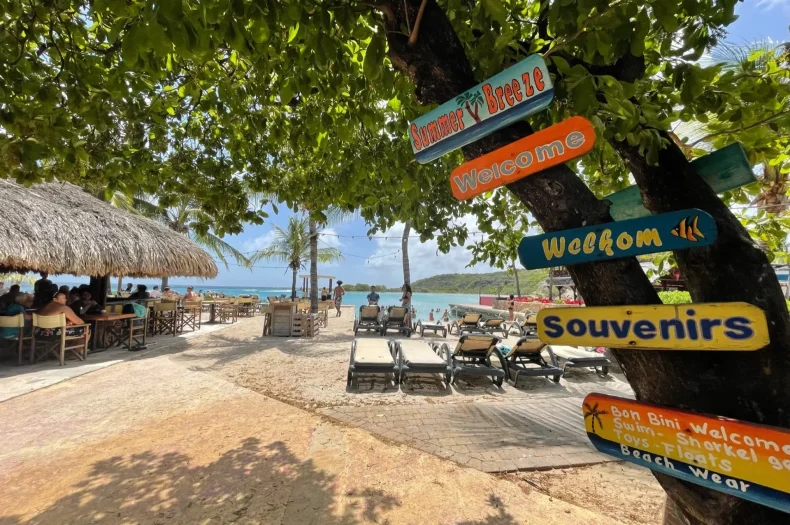 Jan Thiel Beach
Jan Thiel is a family friendly commercial beach with plenty of space in a beautiful area. It's a great spot to hang out for the day and to enjoy sunset dinners.
Jan Thiel beach has everything you could wish for – great snorkeling, an infinity sea water pool, sunbeds, umbrellas, toilets, choice of cafes and restaurants, a diving school and there's even an ice cream place.
Jan Thiel Beach is a private beach where they charge an entrance fee of $3,00 during the day. Visit the famous happy hour on Saturday at 5.00 PM. There is live music, discount prices on drinks and a great ambience.
Read: Jan Thiel Beach vs Mambo Beach, wich one is better?
Tugboat Beach
A hidden gem for those who love to snorkel can be found at the east side of Curacao.
Tugboat beach is the place you need to be for an amazing underwater experience. When you get to the beach, swim to the left past the rocks. A sunken tugboat lies in a shallow and calm bay surrounded by tropical fish, sponges and corals.
We also recommend exploring the doc next to the tugboat wreck. You can find a colorful carnival of fishes and corals around the pilars. Don't forget to take your water shoes because it's very rocky when you enter the water.
Read: Tugboat Wreck: The Best Snorkeling Spot Near the Beach
Playa Gipy
The westernmost point of the island is the scene for the rugged landscape, wild waves and a small intimate beach called Playa Gipy.
Playa Gipy is also called the secret beach, because of its somewhat hidden locations. You're often the only one on the beach, making it the perfect location for meditation and photo shoots.
The only drawback is that this is not a sandy beach where you can spend the whole day relaxing. Also, the current is very strong, so I recommend that you only paddle or swim close to the water's edge.
Nevertheless, Playa Gipy is a unique location that deserves a spot on our list. About 50 meters away you can find Watamula, a natural blowhole where fierce waves crash through the hole in the rocks.
A visit to both attractions is often combined.
Read: Playa Gipy: The Secret Beach near Westpunt

Blue Bay Beach
Looking for a white sandy family beach in a friendly commercial environment? Blue Bay Beach has you covered!
The Blue Bay Resort, located on the island's south coast, is the perfect spot for swimming, snorkeling, and just generally enjoying the sun.
The area of Blue Bay is Curaçao's largest gated community and is home to many villa's, resorts, AirBnBs, as well as an 18-hole golf course.
The beach itself is lined with palm trees, providing plenty of natural shade. The nearby resort offers various amenities, including restaurants, bars, and several water sports.
Blue Bay is private property, which means that you have to pay an entrance fee to use the beach.
Read: Blue Bay: A Paradise Beach Close to the Cruise Port
Directors Bay
Directorsbay, a quiet beach in the east of Curaçao is favored by the diving community.
This is due to the extensive reef and vertical walls on the right side of the bay. You can also swim from Directors Bay towards the sunken Tugboat, making the location two birds with one stone for underwater enthusiasts.
Families and friends gather on the weekends, often taking coolers and barbecues. It is not uncommon in Curaçao to celebrate your birthday on the beach and Directors Bay is a popular place to do so.
Read: Directors Bay: A Quiet Piece of Paradise
Grote Knip
Grote Knip is the most famous beach of Curaçao. You will recognize the scenic bay from the travel magazines and advertisements. It is therefore not surprising that Grote Knip is one of the most visited beaches on the island.
The turquoise-cerulean sea at Grote Knip transitions seamlessly into soft cream-colored sand. It is exactly what you would expect from a Caribbean paradise, except that this beach is located in a romantic cove.
Entrance to Grote Knip is free and there are some facilities. The adjacent Kleine Knip is a smaller version of this beach and definitely worth a visit as well.
Read: Why Grote Knip is the Best Beach in Curaçao

Kleine Knip Beach
Kleine Knip is the little brother of the famous Grote Knip and offers a gorgeous and serene sandy beach. Sea glass is widely found on this beach, making it a magnet for anyone seeking these jewels of the ocean.
You won't find many facilities on this beach, so make sure you drink enough or bring a cool box.
Entering Kleine Knip is free of charge.
Read: Kleine Knip Beach: What to Know Before You Go
Playa Forti
Crystal turquoise water to swim in can be found at Playa Forti in Sabana Westpunt. The beach is small and sometimes a bit hard to walk on because of the coral and stones, but don't let that stop you from visiting this beach. It has one of the most beautiful views on the Caribbean coastline.
You can find a small hidden cove to the east side behind the big rocks.
Playa Forti is known as the beach where you can cliff jump into the water. It's about a 40-foot drop to the ocean surface. If you just want to enjoy the view you can take a seat at the restaurant. They serve the most delicious local dishes. The platform to jump can be found next to the restaurant.
Pirate Bay
I can't think of a place with a more Caribbean aesthetic than Pirate Bay Beach. The restaurant of the same name really creates that castaway tropical island vibe with its large tiki hut construction.
The beach at Pirate Bay is easy to reach from Willemstad. Within 10 minutes you will be standing with your feet in the soft cream-colored sand.
The coastline around the bay offers a great location for diving and snorkeling. At only a few meters depth you can observe a lot of marine life, especially around the pier at the adjacent Dreams Resort.
Read: 10 Best Things to do at Pirate Bay Beach

Playa Lagun
Playa Lagun is a gorgeous beach located on the west side of the island. This stunning beach is known for its scenic cove with blue-greenish waters and amazing snorkling oppurtunities.
With plenty of room to spread out and relax, Playa Lagun is a great spot for swimming, snorkeling, and sunbathing. The beach is also home to a variety of marine life, such as colorful coral, fish, and other sea creatures such as sea turtles.
The breathtaking view and tranquil atmosphere makes Playa Lagun a perfect destination for a relaxing day in the sun.
You don't have to pay an entrance fee to visit Playa Lagun. Beach beds can be rented on site.
Read: Playa Lagun: The Small Intimate Beach of Your Dreams
Playa Jeremi

 
Playa Jeremi is a beautiful and intimate family beach on the island of Curaçao. It is located on the western side of the island, near the popular Grote Knip. The beach is surrounded by arid vegetation and crystal-clear waters that are ideal for snorkeling.  
Visitors can explore the nearby coral reefs, see a variety of marine life, and relax in the sun. Playa Jeremi is an ideal spot to spend a day with family or friends and simply enjoy the beauty of Curaçao. 
Like most beaches in Curaçao, this beach is also free of charge. Bring your own drinks and food.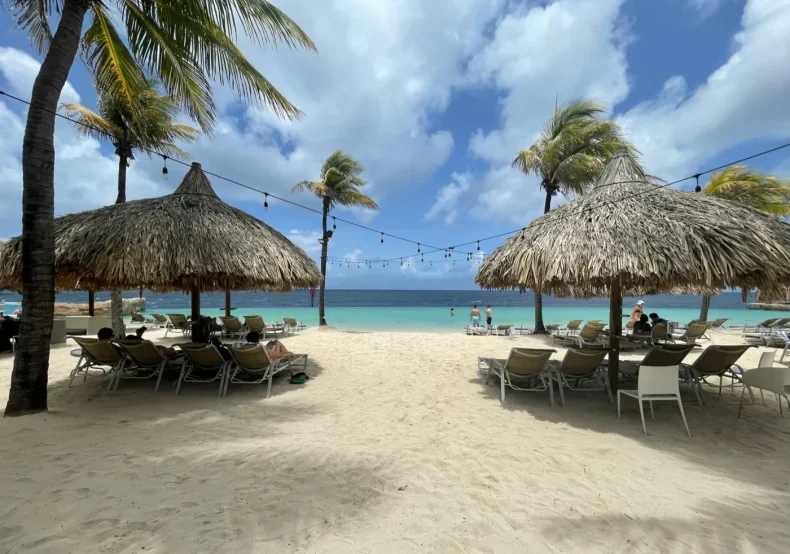 Book a beach hopping tour
Booking a beach hopping tour is a great way to explore the Curaçao coast line and its many beaches. You can select a tour that is tailored to your preferences, whether you want to spend a few hours or a full day.
We work with the Viator Affiliate Program and we've selected a few beach hopping tours that offer, from our local perspective, the best experience and value.
By booking a tour through Viator, using the links or widgets on our website, you will support Exploring Curaçao at no extra costs to you. 
The beach hopping tours will provide you with transportation, a guide, and any necessary equipment. 
It's a great way to make the most of your time at the beach, while also learning more about the local area.
For more information you can also check our Tours and Excursions page.
Conclusion
Curacao offers a wide variety of beaches that cater to the needs of any beach–goer. From secluded coves and hidden gems to active and lively beaches, the island has something for everyone. Whether you're looking for a place to relax and rejuvenate, swim and snorkel, or just have some fun in the sun, thise destination has you covered.
When we want to visit a beach during the weekend, it is often a difficult choice. In my opinion, each beach has its own character, perhaps its own soul. No place on Curaçao is the same or similar. There are so many best beaches and they are all worth paying a visiting.