Curaçao is home to a large number of intimate coves and lively beaches, and If you're dreaming of a sun-kissed vacation filled with beach hopping tours, this island might be the right place for you.
The best Curaçao beach hopping tours will take you to beautiful beaches like Porto Marie, Cas Abao, and Grote Knip, as well as the popular turtle beach at Playa Grandi. 
During your beach hopping tour in Curaçao you will discover secluded coves, lively hotspots, and breathtaking vistas, making it the perfect excursion for beach lovers and snorkelers. 
In this blog post, we'll guide you through the best beach hopping tours, the must-visit beaches, and the unique experiences that awaits you on this idyllic Caribbean island.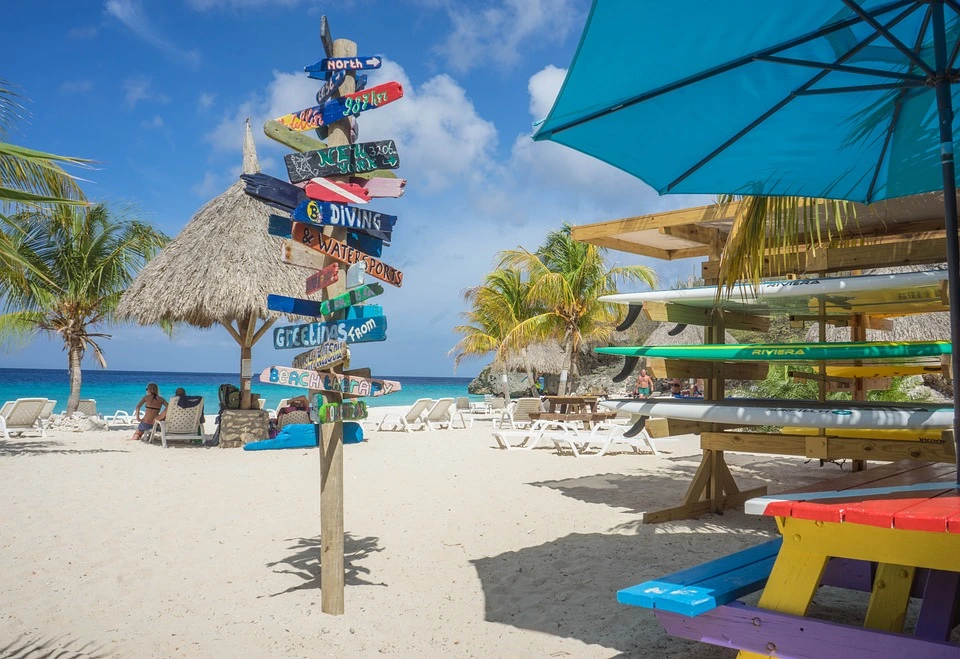 The Best Beach Hopping Tours in Curaçao
The following beach hopping tours are carefully curated to showcase the diversity of Curaçao's coastline while ensuring you experience the best of each location.
They are the best beach hopping tours in 2023 according to our personal experience, the company's reputation on the island, and the many 5-star reviews they've earned.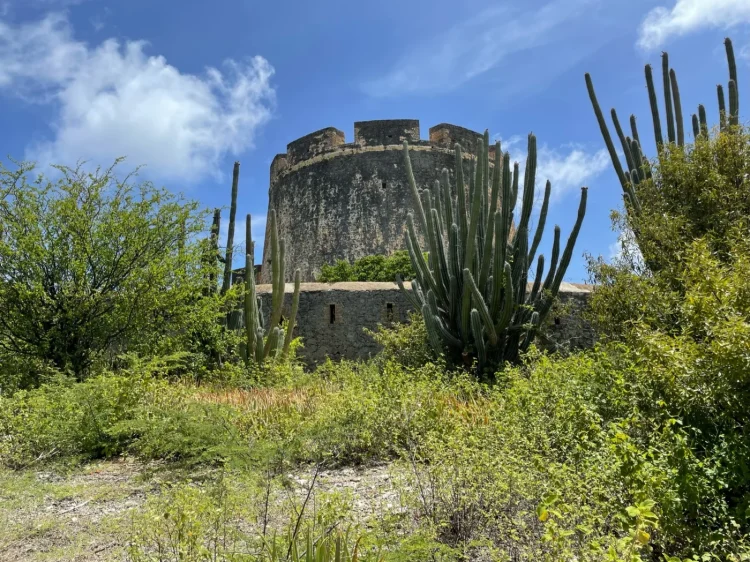 Custom Private Tour
Personalized Experience
Create your own Itinerary
Visit Historical Landmarks
Hotel/Cruise Port Pick up
-> Book This Tour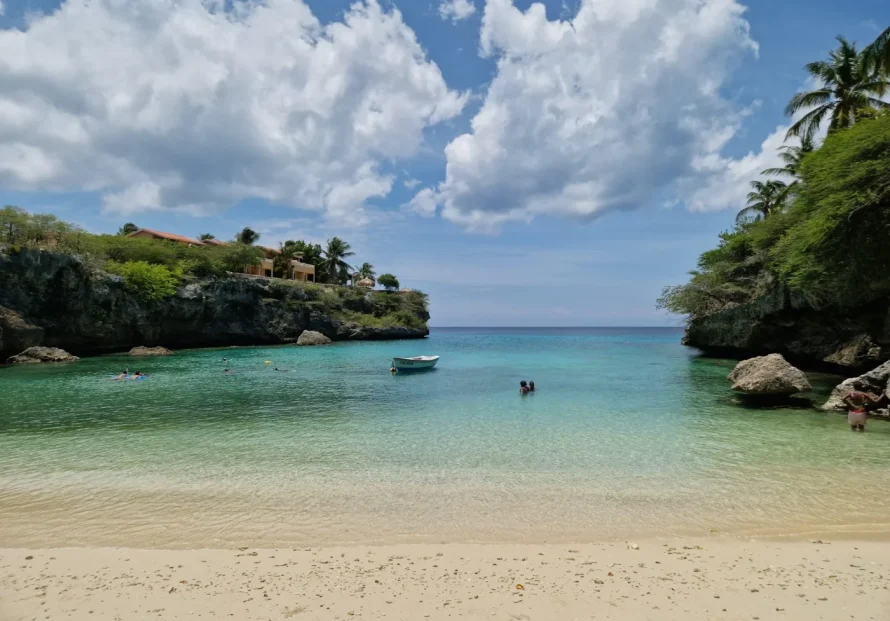 Private Beach Hopping Tour
Customizable Private Tour
Visit the Beaches You Like
Snorkeling Gear Included
Friendly Professional Guide
Pick up at Hotel or Cruise Port
-> Book This Tour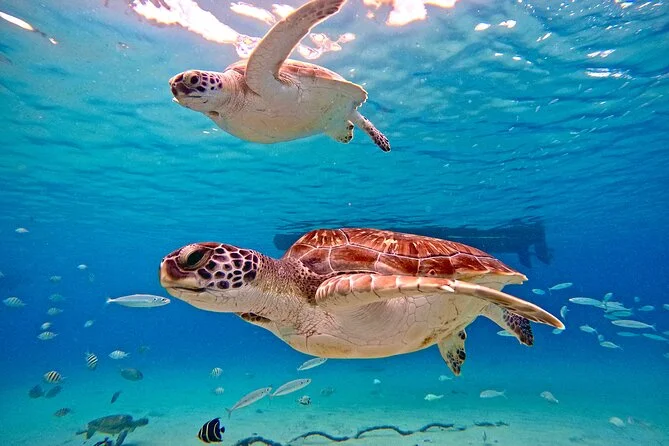 Turtles and Grote Knip Beach
Swimming with Sea Turtles
Visit the Famous Grote Knip Beach
Flamingo Spotting at Jan Kok
Snorkel Equipment is included
Pick up from the Cruise Pier
-> Book This Tour
Beach hopping tours in Curaçao are a great way to explore the island's best beaches in one day. You will be picked up in the morning, visit multiple highlighted beaches, and return to your accommodation or the cruise port in the afternoon. 
As you hop from one mesmerizing bay to another, you'll have the opportunity to swim, snorkel, and sunbathe on some of Curaçao's most picturesque shores. Ensure your camera is ready, as every stop offers breathtaking social media-worthy views.
Best Beaches to Visit on a Tour
A must-visit location is Knip, where you can find the beaches of Grote Knip and Kleine Knip, both renowned for their vibrant turquoise waters and stunning cliffs. 
Another popular spot is Cas Abao Beach, with its pristine white sands and crystal-clear waters, offering excellent snorkeling opportunities. 
For a touch of seclusion, head to Playa Porto Mari, surrounded by lush vegetation and featuring an underwater world teeming with colorful marine life. 
When visiting the beaches in Westpunt, we love to start at Playa Grandi in the morning, have lunch at Playa Forti and head to Grote Knip afterwards. In the afternoon we stop at Playa Lagun to watch the sunset. A perfect Beach Hopping Tour in Curaçao.
Playa Grandi is the beach where you can swim with sea turtles. You will most likely pay a visit when you're booking a tour to explore Curaçao's most western coast.
Located between two majestic cliffs, you can find the intimate beach of Playa Lagun. The enchanting greenish-turquoise water and marine life around the rocks make this beach a snorkeler's true paradise. 
Additionally, Mambo Beach stands out as a vibrant hotspot, offering a mix of relaxation and lively beach bars.
Please be aware that each tour has its unique schedule and itinerary. Prior to booking a tour, it is advisable to review the itinerary to confirm whether they visit the beaches you have on your bucket list.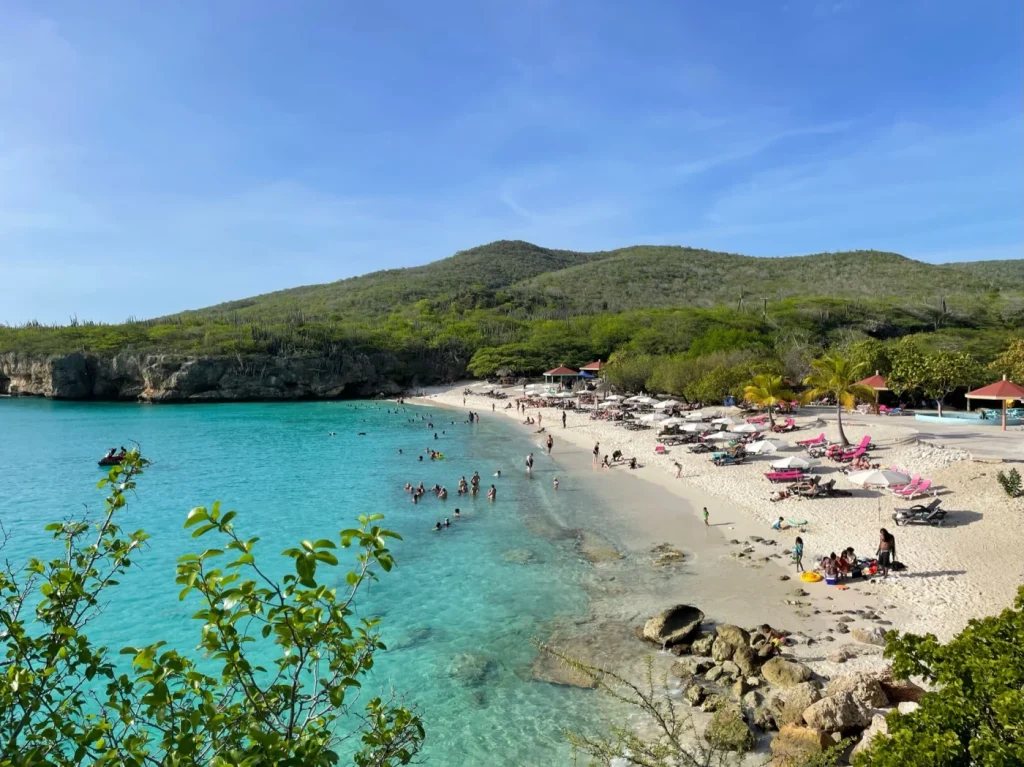 Playa Grandi
The best beach for swimming with turtles in Curaçao is Playa Grandi, also referred to as Playa Piskado. The crystal-clear waters host a plentiful population of sea turtles right by the pier, making it a true treasure to witness and an incredible experience to swim alongside these magnificent animals.
Local fishermen often clean their catch at this beach and generously feed the turtles with some leftovers, which explains why it draws more turtles than any other spot in Curacao. While you swim, you'll find the turtles occasionally come remarkably close, adding to the enchanting encounter.
Porto Mari
Playa Porto Mari is one of the most visited beaches in Curaçao because of its excellent facilities, diverse activities, and strategic location. If you prefer not to venture all the way to the other side of the island but still want to spend a day outside of town, this beach is an ideal choice.
Porto Mari offers various amenities, including a beach bar, restaurant, restrooms, showers, lockers, and a beach store, ensuring you have everything you need for an amazing beach experience.
Cas Abao
Cas Abao is one of the largest beaches on the Curaçao coastline, and an all-time favorite amongst cruisers who visit the island for one day.  Despite its commercial nature, the bustling ambiance seems to fade away as soon as you set foot on the warm creamy sand.
There's plenty of space to lay out your beach towel, or if you prefer, rent a comfortable beach chair. The beach offers an array of amenities such as a restaurant, beach bar, dive shop and a massage hut.
Grote Knip
Meet the most photographed beach of Curaçao: Grote Knip. You'll instantly recognize Grote Knip's stunning turquoise water and white sandy contrast – the iconic view often featured in travel magazines. When reading about Curaçao, this is undoubtedly the photo they'll showcase to represent its beautiful beaches.
Grote Knip offers limited facilities. A paved parking lot provides access to the scenic viewpoint of the beach. Occasionally, local vendors and a food truck can be found in the parking area, where they offer snacks, cold beverages, and refreshing smoothies.
Playa Lagun
Playa Lagun, situated on the western coast of Curaçao, is a charming, intimate public beach that offers limited amenities and features a nearby restaurant. Nestled between two imposing rock formations, this picturesque bay provides a breathtaking view and boasts amazing snorkeling opportunities.
The rocks on both sides of the bay work like a magnet for marine life. Bringing your snorkel is therefore highly recommended. You will encounter various tropical fishes, and maybe even a a couple of sea turtles.
Mambo Beach
Mambo Beach, located on the eastern side of Curaçao, is a lively man-made sandy beach that stands out as one of the island's top attractions. Its popularity stems from its convenient location and the plethora of amenities it provides. 
With several beach clubs to choose from, visitors can enjoy a fantastic day by the sea. 
This vibrant destination offers a perfect blend of relaxation, swimming, shopping, and dining, making it an ideal spot for a truly comfortable and enjoyable day at the shore.
Popular stops along the way
Beach hopping tours are often combined with popular tourist attractions along the way. A couple of the most visited stops include the enchanting Flamingo Sanctuary, where these vibrant pink birds gracefully roam in their natural habitat. 
Another intriguing site is the Hato Caves, where you can visit a cave adorned with stunning stalactites and stalagmites, providing a glimpse into the region's geological history. 
Additionally, another popular stop that might be included in a tour is the breathtaking Shete Boka National Park, where rugged cliffs and crashing waves create a mesmerizing coastal landscape. 
The Advantages of Beach Hopping Tours
Beach hopping tours in Curaçao offer numerous advantages for visitors looking to explore the island's paradisiac coastline and diverse beaches. Here are some of the main advantages we found:
Convenience and Efficiency: The Beach hopping tours are organized and guided, making it a convenient way to explore multiple beaches in a short period. 
You don't have to worry about planning transportation or navigating the island yourself. The tours are designed to efficiently take you to different beaches, maximizing your time and experience.
Local Insights and Knowledge: Tour guides are typically locals who know the island intimately. They can provide valuable insights about each beach, its history, local culture, and the best activities to do there. 
You get a more immersive and authentic experience with a local perspective.
Photography Opportunities: Curaçao's beaches are known for their picturesque beauty, making them perfect for capturing memorable photographs. 
With a guided tour, you can focus on taking photos while the guide takes care of the navigation.
Relaxation and Refreshment: Beach hopping allows you to relax, unwind, and take in the natural beauty of the island. Most of the island's beaches are natural, especially the ones in Banda bou (West of Willemstad)
Book a Curaçao Beach Hopping Tour
Going on a beach-hopping tour allows you to discover the hidden gems of this captivating Caribbean island, each beach offering its own unique charm and allure. 
We have handpicked a series of exceptional Viator excursions that, in our view, encapsulate the very best of what Curaçao has to offer in a single day.
By booking any excursion through the provided affiliate links for Viator, you will support Exploring Curaçao at no extra cost to you. 
This, in turn, will aid us in growing our website and community, allowing us to provide our readers with an even broader array of valuable tourist information.
To determine which beaches and popular stops are included in the tour, you simply check the itinerary of the Viator excursion of your choice. 
Tips for the Best Beach Hopping Tour in Curaçao
Snorkeling Essentials: Pack your snorkeling gear, as Curaçao's underwater world is teeming with colorful coral reefs and vibrant marine life.
Sun Protection: Don't forget to wear sunscreen, a wide-brimmed hat, and sunglasses to shield yourself from the tropical sun.
Hydration: Stay hydrated by carrying a reusable water bottle and drinking plenty of fluids, especially during the sunny beach days.
Local Cuisine: Embrace the island's culinary delights by sampling local dishes from beachside shacks and eateries.
Sustainable Tourism and Beach Preservation
As you go on your beach hopping tour, remember to be a responsible traveler. Preserving the delicate ecosystems is essential to maintain the island's pristine charm for future generations. 
Avoid leaving any litter behind, avoid touching or damaging coral reefs, and respect the local flora and fauna. Do not touch any sea creatures like the turtles at Playa Grandi. Just view them when they pass by.
Conclusion
Going on a beach hopping excursion in Curaçao is a once-in-a-lifetime experience that will leave you with cherished memories of this Caribbean island. 
From our personal experience, this kind of excursion offers a great opportunity to explore the island's stunning coastline, each beach offering a unique and captivating experience. 
We love swimming with sea turtles at Playa Grandi, snorkeling in the turquoise waters of Playa Lagun and enjoying the vibrant atmosphere of Mambo Beach. The diversity of beaches on the island is truly a treasure to discover.
Don't forget to pack essentials like sunscreen, a hat, and an ample supply of water to keep yourself hydrated during your beach hopping adventure. Take it from someone who speaks from experience – it's important!
Also, be mindful of local environmental guidelines to help preserve the natural beauty of these beautiful beaches for future visitors to enjoy.
We hope this blog- and our selection of the Best Beach Hopping Tours in Curaçao provided you with helpful information to choose the right excursion that meets your needs. Sea you at the beach!