You are definitely reading this blog because you have booked a trip to Curaçao, or because you are planning to do so. The choice to spend your vacation in Curaçao is already a first success! To make the actual trip a success requires a bit of planning and you need to think about the many things to do in Curaçao. 
In my opinion, it's the little unique things that can make your trip so much more enjoyable.  
Perhaps you have already mapped out your trip to Curaçao in broad outline. Think about booking a hotel, excursions, or making a table reservation at a restaurant. However, there are plenty of other activities that you hadn't thought of- or didn't know about.
That's why we compiled a list of amazing things to do in Curaçao, including several unique insider tips and ideas.   
Unforgettable Things to do in Curaçao
Collect moments when visiting Curaçao! Here are 30 amazing ideas for activities you and your travel company can do during your stay on our beautiful island.  
Visit the beach in the evening
There's nothing like a stroll on the beach in the evenings. When it is quiet and dark you can hear the soul of the ocean. My favorite places for a walk at the beach are Caracasbaai, Parasasa beach and the Pirate Bay. 
Eat ice cream at Don's ice cream shop
Don's ice cream shop is known for its delicious home-made cones and the wide range of flavors. You can find Don's ice cream shop in the RifFort Renaissance mall in Otrobanda.
Bury your feet in the warm sand of Cas Abao
Smile and stare out into the glittery ocean distance while your feet warm up in the soft, fine powdery white sand of Cas Abao Beach. 

Relax in a hammock at Chill Beach Bar and Grill
Want to take it easy for a day? Visit Chill beach bar & Grill at Mambo beach. Order a drink and relax in one of the hammocks around the bar. 
Order a fresh awa di lamunchi
A walk under the sun can make you thirsty, especially in the warm climate of Curaçao. Order a fresh awa di lamunchi to quench your thirst. Awa di lamunchi is a drink made from limes, served in a cup full of ice. Locals love it! You can order this drink at almost all bars and restaurants on the island. 
Read a book you've been wanting to read forever
I think most people own books they've always wanted to read but never seem to get around to. When you go on vacation you might get the peace of mind to start reading one of your novels.
Spend your day on a beach bed and drown in the story as you occasionally gaze out at the ocean. This is the true meaning of vacation. 
Catch some live music
Looking to catch some good live music during your vacation? Then you've come to the right place! Live music can often be found at various bars and restaurants in Curacao. Mostly during happy hours.
Well-known weekly live events are Dance & Dine at Cabana Beach, Punda vibes and Unplugged Beach Sessions at Zanzibar.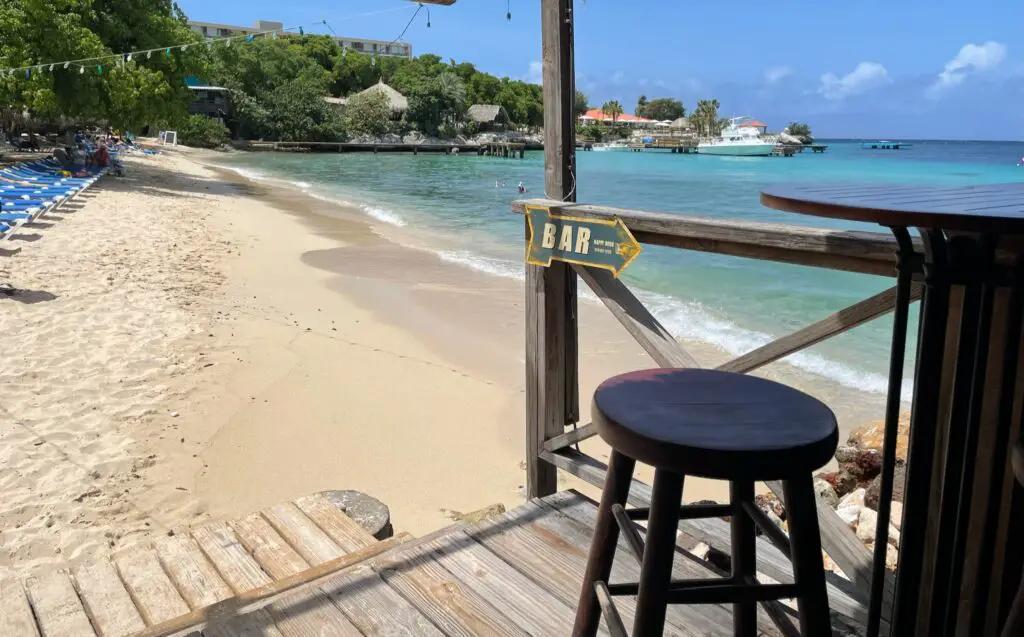 Watch the sunset at the Pirate Bay
I can wholeheartedly recommend the Pirate Bay to watch the sunset in Curacao. The beautiful orange glow magically disappears into the blue Caribbean Sea. Order a drink at Hook's hut and watch this phenomenon while burying your feet in the sand. Life can't get any better at this point.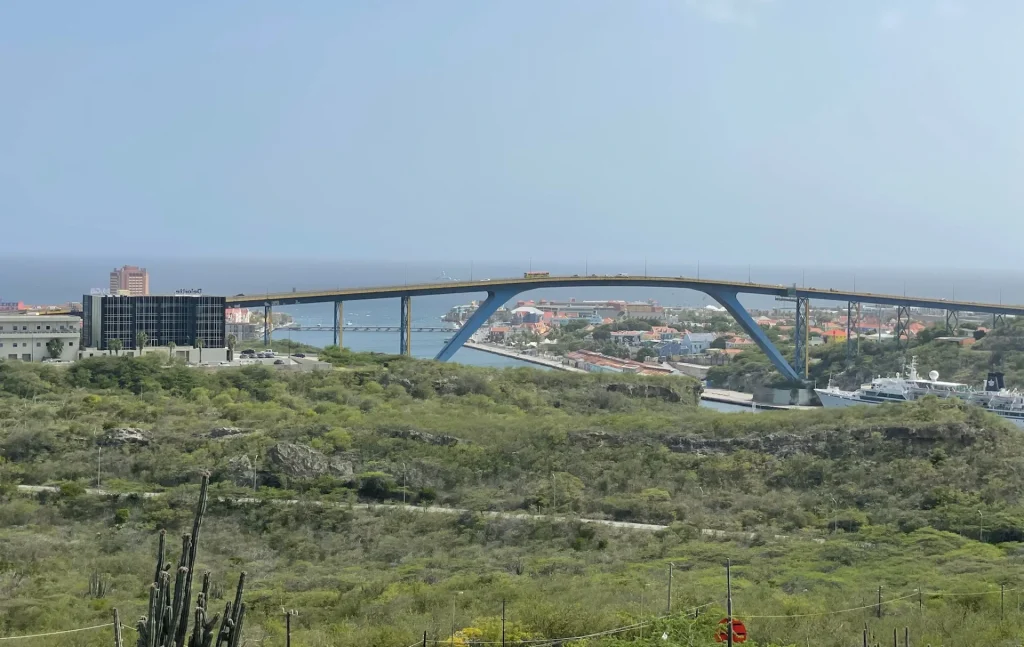 Enjoy the view over Willemstad at Fort Nassau
Do you want to enjoy the most beautiful view of Curacao? Go to Fort Nassau where you can look out over the Anna Bay and Willemstad. I won't reveal anything further. See it for yourself! 
Read: Fort Nassau: A Magnificent Restaurant and Viewpoint
Go on a road trip to Westpunt
Every tourist should make a road trip to Bandabou and Westpunt. It's part of the Curacao experience! Swim with sea turtles at Playa Grandi, go cliff jumping at Playa Forti, visit the famous Grote Knip beach, or the natural blow holes at Shete Boka National Park.
There is plenty to experience on the most beautiful side of the island. Go and check it out yourself! 
Go cliff jumping at Playa Forti
For the real daredevils there is a spectacular activity to experience on Curaçao. At Playa Forti you can go cliff jumping! It's about a 40ft drop to the ocean surface. The platform can be found next to restaurant Playa Forti. After the jump you can easily swim towards the beach.  
Walk across the floating pontoon bridge
Have you been to Curaçao if you didn't walk across the floating pontoon bridge? I don't think so! The Queen Emma Bridge is perhaps the most famous highlight of Willemstad.
The bridge connects the districts of Punda and Otrobanda.
If you hear a loud bell ring, it means the bridge is opening. Don't be afraid if you happen to be in the middle. You can just stay where you are. The bridge closes automatically when the ships have passed the bay. 
Buy yourself an ice cold batido
Batidos are freshly made shakes of fruit, milk and crushed ice. These smoothies are sold in various food trucks. You can find them in Punda as well as in Otrobanda, but also along a few main roads and touristic spots in Curacao. 
Explore the local round market Marshe Nobo
Do you enjoy visiting a local market? Then a visit to the round market, called Marshe Nobo, cannot be missed.
Marshe Nobo means 'New Market' and offers a variety of products.
You can find local souvenirs, art, fruits, herbs, accessories and beauty products in the colorful market stalls. Trust me, you won't go out empty-handed. 
Take photos at the colorful stairs of Otrobanda
At the start of the Hoogstraat in Otrobanda you can find the colorful stairs of Willemstad. A lot of instagram worthy pictures have already been taken here. In Willemstad you can find a lot of colorful murals. Book a tour or walk through the idyllic streets yourself. 
Organize a beach picnic
Planning and organizing a beach picnic is one of the best ways to get familiar with the easy laidback Curaçao vibe. You can prepare the picnic yourself, but most supermarkets also sell freshly made sandwiches, salads and snacks.
Bring a cool box and visit one of the free beaches on our list.
Play miniature golf at Brakkeput Mei Mei
Did you know that you can also play miniature golf on Curaçao? You can hit a ball on the mini golf course of Brakkeput Mei Mei. You will encounter various obstacles on 18 different tracks. Afterwards you can dine in the restaurant.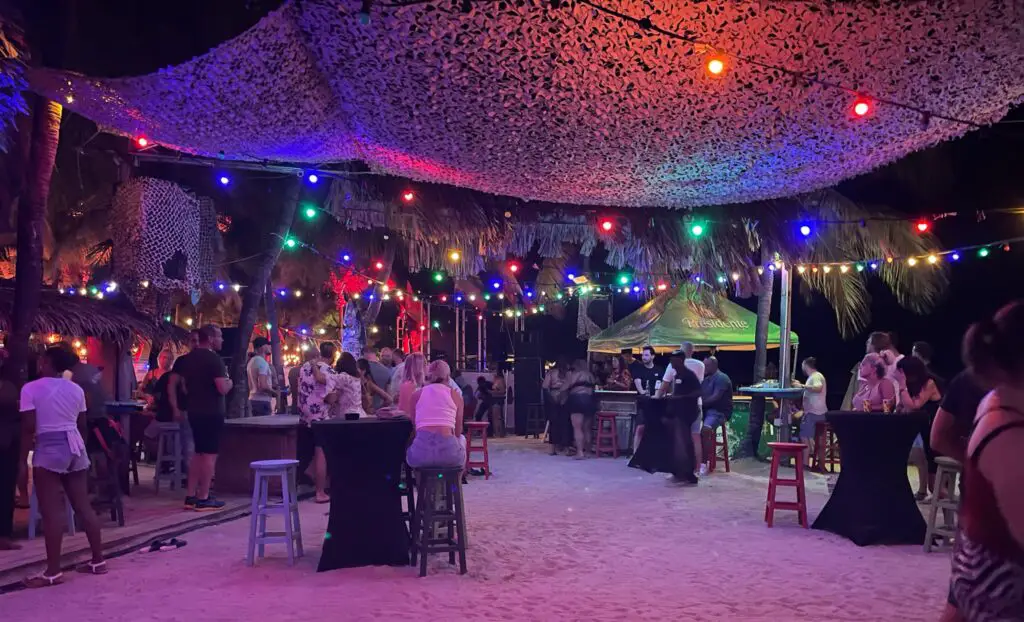 Visit a happy hour
Curaçao is known for its atmospheric happy hours. Enjoy a drink and dance the night away to the beats of the house DJ. There are also Happy hours with live music, salsa or cover bands.
On Fridays you can find the best happy hours at Mambo Beach. Zanzibar is the place to be on Saturdays. 
Take a picture of the pigs that live on Porto Mari Beach
Meet Woody and Willy, the two pigs who live on Playa Porto Mari. Sometimes they allow themselves to be photographed. They are what we call in Curaçao 'Hopi Dushi'. 
Have breakfast in Punda
An early morning walk is a blessing for the whole day.
I love feeling the vibes of the Punda district early in the morning.
People pass by, shop owners open their stores and the smell of crispy baked bread and freshly squeezed juices is a hygge-dream come true. Enjoy breakfast at one of the many cafes in Punda. After all, a good breakfast fuels you up and gets you ready for the day. 
Take a stroll around the mangrove forest.
One of the nicest things to do in Curaçao: start your day right with a walk through the mangrove forest and the renaissance park in Otrobanda. In the morning it is nice and quiet. 
Read: Curaçao Rif Mangrove Park: A Must Visit Attraction
Order saté ku batata at a truki pan
When you order a Saté ku batata at a truki pan (food truck), you will get a plate with chicken skewers and fries drenched in peanut sauce. It's our local comfort food!
You will find the truki pans mostly in the area of Saliña or along busy roads. They are mostly open at night, but some of them also open during the day. You can also order Saté ku batata at several beach bars.
Game: Who will be the first to spot an iguana?
They are all over the island and kind of our local mascot. I'm talking about those quirky eccentric green iguanas! Who will be the first to spot an iguana? And who will spot the most ones during your stay in Curaçao? Make a game out of it!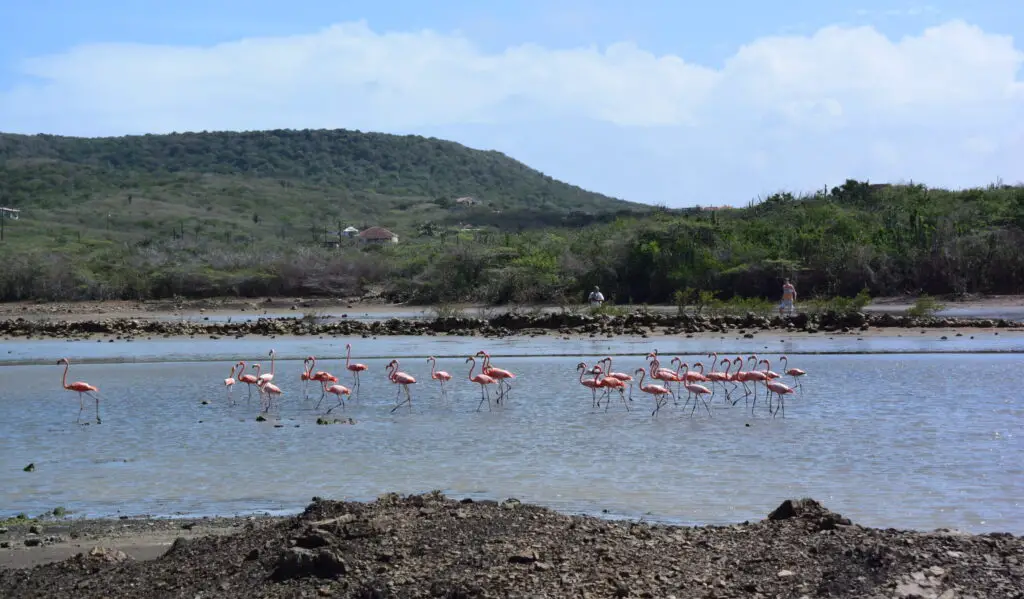 See wild Flamingos in Curacao
At the salt pans in Jan Kok, you can spot several flamingos in their wild habitat.
This is a free-to-visit roadside attraction.
They are not always there, but if you're fortunate enough to see a flock of flamingos on the still water, it will definitely be a highlight of your day.  
Snorkel at Tugboat beach
Discover the famous Curaçao tugboat wreck, located between Directors Bay and Tugboat beach in just 5 meters (15ft) below the surface.
Be prepared to be overwhelmed by plenty of sea life and rainbow colors! Visiting Tugboat Beach is one of my favourite things to do in Curaçao.
Create a Curacao playlist
We love tropical vibes and summer pop music! When we drive to Westpunt we always have our favorite playlist ready. Bring a CD or create a playlist on Spotify. You can also listen to the local radio: DolfijnFM (97.3 FM) or Paradise FM (103.1 FM). 
Discover the Pietermaai district
The vivid colored Pietermaai District is like a perfect canvas. Bars and restaurants merge perfectly into the colorful architectural buildings. Visiting this beautiful neighborhood in Willemstad is a must! This is the place where social media enthusiasts can let their creativity run wild.  
Go to the Santa Martha view point
The most breathtaking view of Curaçao can be found at Santa Martha. The Santa Martha viewpoint is not very well known to the general public, and therefore a real hidden gem. In the village of Soto, you take the exit towards Santa Martha Bay. Enjoy the view along the way. 
Visit the Savonet plantation house
The Savonet plantation house (Landhuis Savonet in Dutch) is nowadays a museum, but once it was one of the first plantation houses to be fully operated in Curaçao. 
Many of the old buildings have been well preserved.
In the museum you can learn how life was like at that time. The Savonet plantation can be found at the entrance of Christoffel National Park.  
The best things to do in Curaçao
There are many things to do in Curaçao. but let me tell you this: In daily life we are so rushed that taking it easy has become a unique activity. Let yourself be carried away by the laidback island vibe of Curaçao. Seize the day and enjoy every moment of your journey.