You can get to know a country's culture by tasting its local cuisine. That is why I advise every tourist to try various Curaçao dishes during their stay on the island. Where to go for the best local food? Visit the infamous Plasa Bieu! This is the place where great food and friendly people unite. 
The Plasa Bieu is a covered market hall with 6 open kitchens, each serving specialties from the Curaçao cuisine. Here you can get acquainted with traditional Curaçao food and experience the local eating culture for yourself.  
The concept of the Plasa Bieu

 
The Plasa Bieu is also called Marshe Bieu or Old Market. This is because the building was previously a covered market hall where local vendors were mixed with eateries.  
Today, the market itself has moved to the large circular building next door (Marshe Nobo), and the Plasa Bieu became a food court where one can enjoy several local dishes for a budget-friendly price. 
The building consists of 6 restaurants with the open kitchen on one side of the building and the seating area on the other side. One could compare it to a food court or a school cafeteria.  
At Plasa Bieu we sit and eat together. There are no small tables where you can eat with your own company. In this way I have made many new contacts with both locals and tourists. "Eating together unites", is a common saying, and that is certainly the case at this place. 
The staff is super friendly and happy to help you to explain the menu. This is sometimes necessary because most dishes have Papiamentu names.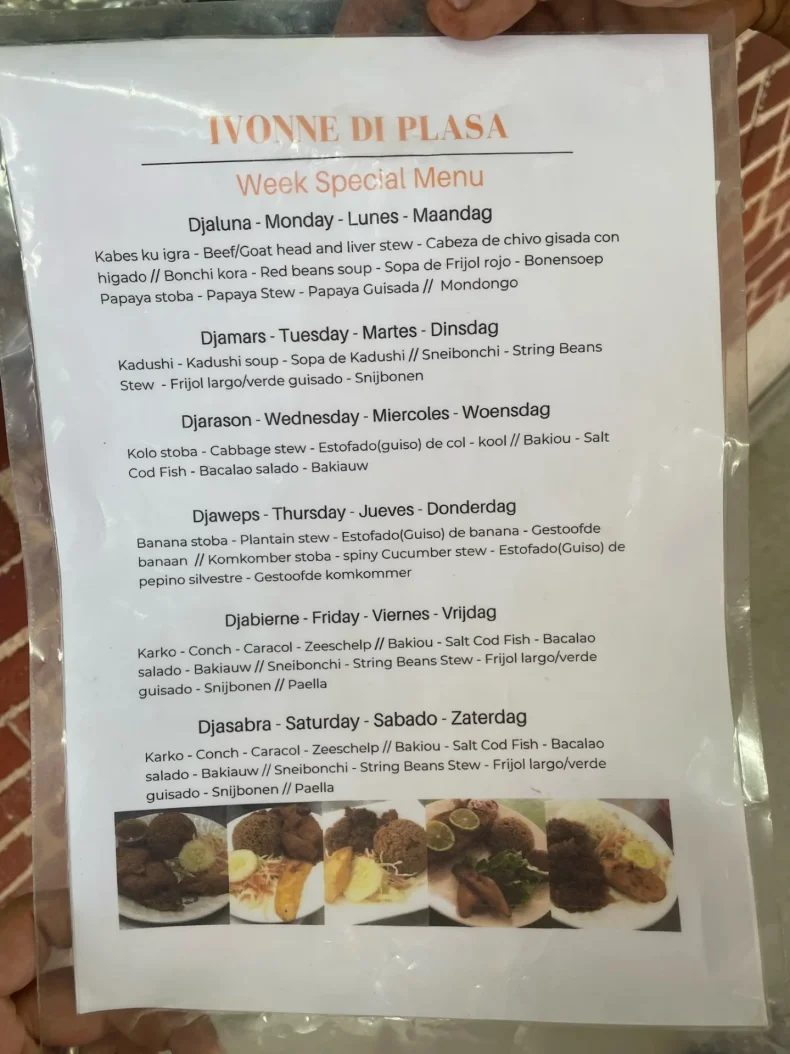 The eateries at the Plasa Bieu don't always work with a fixed menu, but they serve various day specials. Each kitchen offers a handful of dishes that are freshly prepared on that day.  
In the image above you see an example of the week special menu of Ivonne di Plasa, one of the kitchens in the building. 
Some visitors have their favourite eateries, but most people check out the menu at the 6 restaurants before they decide on where to eat. Although you won't find the same dishes every day, there are some recurring favorites. This is a list of local dishes that you can find in the kitchens of the Plasa Bieu: 
Funchi (fried/cooked corn dough)

 

Baka stoba (beef stew)

 

Repa di Pampuna (Pumpkin pancakes)

 

Karko (conch)

 

Bakiou (cod fish)

 

Kadushi (Cactus soup or stew)

 

Jambo (Okra soup)

 
The Curaçao cuisine is known for its large variety of stews. Think of chicken, beef, goat, but also various fish and vegetables. String bean stew, for example, is a stew that you don't come across very often elsewhere in the world, but on Curaçao they know how to make an art of it.  
Fresh fish is one of the dishes that are an important part of the Curaçao cuisine. It is therefore one of the most served dishes at Plasa Bieu.  
Vegetarians are at the right spot here. There is always a dish without meat or fish. Vegetable and bean stews are popular vegetarian dish. You can also go for cactus soup or plantain stew. 
Fried rice, tutu or funchi are usually served as a side dish. Plantains, yucca or fries are also an option. 
For dessert I can recommend Zus di Plasa's delicious pumpkin pancakes. They are known to be the best on the island! 
Why you should visit the Plasa Bieu

 
The Plasa Bieu is a must visit for anyone who wants to immerse themselves in the Curaçao food culture. This is a place where you are welcomed with a smile and leave with new friends.  
The 6 different eateries have something for everyone, so if you don't like fish or you prefer to eat vegetarian, there are always other options to choose from. The food is nutritious and fits in well with a Paleo lifestyle. 
Visit this place to support local entrepreneurs, and therefore also the island.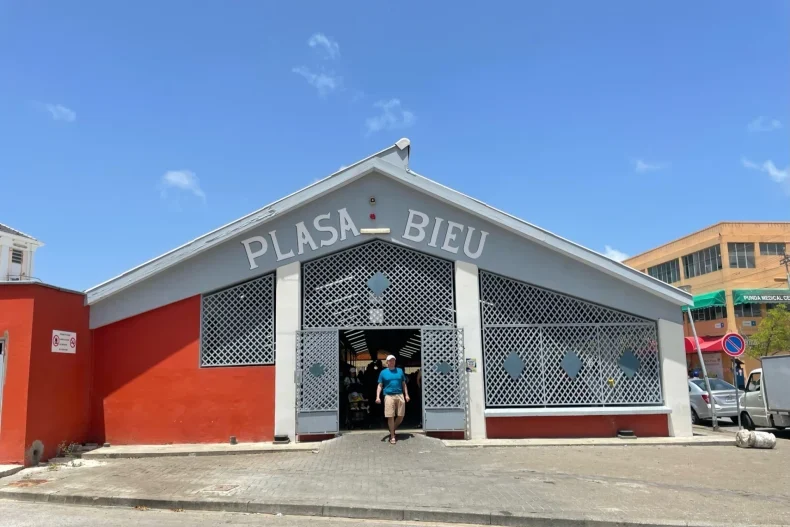 Location and opening times

 
Plasa Bieu is located in the Punda district, near the Marshe Nobo, the floating market and the post office. It's about a 10-minute walk to get from the floating Emma Bridge to the Plasa.  
Opening times

 
Plasa Bieu is opened daily for lunch. You can visit the restaurants at these opening hours: 
Monday 10am – 3pm 
Tuesday 10am – 3pm 
Wednesday 10am – 3pm 
Thursday 10am – 3pm
Friday 10am – 3pm 
Saturday 10am – 3pm 
Sunday 11am – 2pm 
Things to do around the Plasa Bieu

 
The Plasa Bieu is located in lively Punda, on the border with authentic Pietermaai. There is so much to see and experience in these two neighborhoods of the capital. 
Near the Plasa Bieu is the Marshe Nobo, better known as the round market. Local sellers offer their wares in colorful market stalls. These consist of souvenirs, art, fruits, herbs, accessories, and beauty products. 
The Handelskade and the floating market are just around the corner. These are both well-known tourist attractions near the Plasa Bieu that are worth visiting. 
Read: Curaçao Island Guide for First Time Visitors
Let yourself be surprised during your trip through Punda and make a stop at the Plasa Bieu during lunchtime. From one Curaçao enthusiast to another: This is a food court restaurant you can't miss during your stay on the island.