Curaçao island is the perfect Caribbean destination if you're up for something unique in a tropical setting. Although each Caribbean Island has its characteristics, I can confidently say that Curaçao is one of a kind.
Curaçao island is located in the southern part of the Caribbean, right above Venezuela and in-between the islands of Aruba and Bonaire. The capital of the island is Willemstad, with the districts of Punda, Otrobanda Pietermaai and Scharloo as the vibrant city center.
Curaçao is part of The Kingdom of the Netherlands and this is mainly reflected in culture and architecture.
When you walk through downtown Willemstad, it seems as if you have arrived in the colorful version of Amsterdam. The cotton candy-colored buildings on the Handelskade resemble the stately canal houses you can find in Amsterdam.
The History of Curaçao
Let me introduce you to the history of Curaçao in a nutshell. The first and original inhabitants were the Arawak Indians. In 1499 a Spanish expedition arrived on the island, enslaved most of the Arawak folk, and transported them to do forced labor in their colonies.
The island itself brought the Spaniards little fortune. Agriculture was almost impossible due to the hard subsoil and dry climate. Not many precious metals and raw materials were mined in Curaçao either. The Spaniards called Curaçao the 'useless island' and were not aware of the possibilities that the Dutch did see.
In 1634, The Dutch West India Company invaded the island, and Dutch Colonists started settling on Curaçao island. The Dutch founded the capital of Willemstad around the natural harbor that they called Schottegat. The island turned out to be the perfect place for trade and commerce.
Curaçao became an important center in the Caribbean for the slave trade. Most of the time, ships with slaves from West Africa arrived to the island before selling them elsewhere in the Caribbean region.
The Island rose affluent from the slave trade. Colonial buildings were built and plantations sprang up like mushrooms. The city of Willemstad became a vibrant hub in the Caribbean.
Led by the enslaved man Tula, in 1795 a major slave revolt took place. Slaves from several plantations around the northwest coast rebelled against slavery and demanded freedom. The revolt lasted about a month after which the slaves lost this battle.
It wasn't until 1863 that slavery in Curaçao was abolished and the economy of the island experienced a downfall.
When oil was discovered in Venezuela, in the early 20th century, the economy of Curaçao island gained a huge benefit from this event. The supply of crude oil to the refinery in Curacao provided many jobs and further development of the island.
In 1954, Curaçao joined Aruba, Bonaire, Saint Martin, Statia and Saba in becoming the Netherlands Antilles. A little over 50 years later, on October 10, 2010, Curaçao island became a country within The Kingdom of the Netherlands.
The global outbreak of Covid-19 in 2020 has hit the island hard. Curaçao went into lockdown. There were no more flights and cruise ships to Curaçao island. This had disastrous consequences for an island dependent on tourism.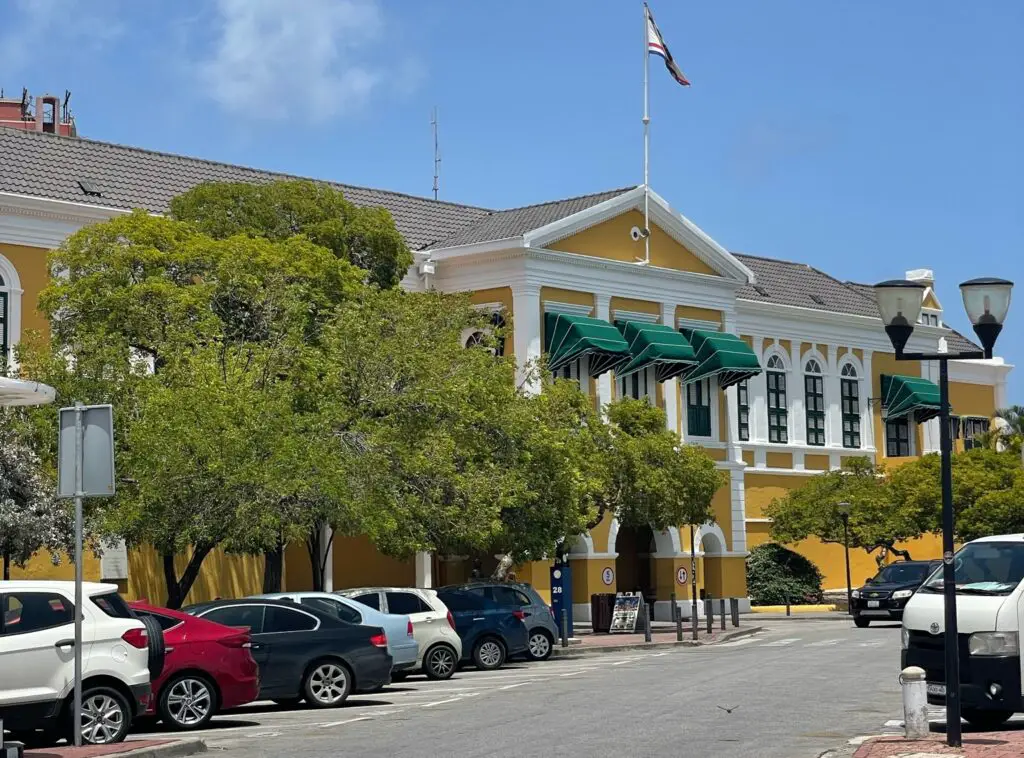 Willemstad
The capital of Curaçao island is called Willemstad. The lively city center quarters of Punda and Otrobanda are connected by the Queen Emma Bridge, the famous floating bridge that opens regularly to enable the passage of vessels into the St. Anna Bay.
The neighborhood of Pietermaai is the scene of many bright-colored townhouses and cozy restaurants. Colonial district Scharloo, with its baroque-style buildings, is just one block away.
Spoken Languages
What language do they speak in Curaçao? Hold on tight, there are four official languages in Curaçao. This is Dutch, Spanish, English, and the local creole language Papiamentu.
Curaçao island Currency
Prices in supermarkets, shops, and restaurants are stated in the national currency, the Netherlands Antillean Guilder (ANG). US Dollars are also widely accepted, but keep in mind the possibility that you will be given change in Guilders. The Antillean Guilder is fixed to the Dollar. 1 US Dollar is equal to 1.77 Nafl,-
Also read: The Best Currency to Use in Curaçao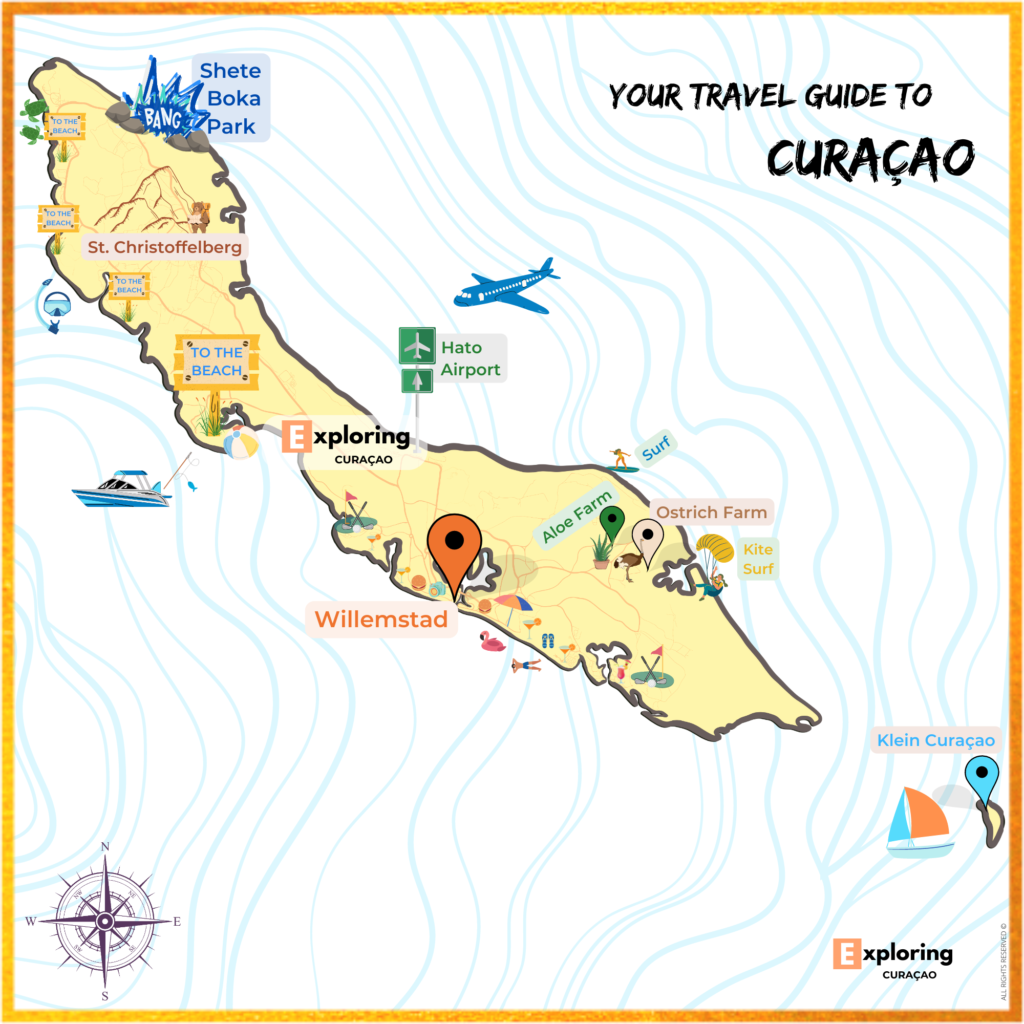 Country Size
The size of Curaçao island is 444 km² and with that, the island is more than twice the size of Aruba. The island is about 38 miles long and about 7 miles wide at its widest point. It would take you a bit less than one hour to drive from east to west.
The Climate of Curaçao
Curaçao island has a tropical semi-arid climate with warm temperatures all year round. During the day the temperature fluctuates between 29 °C (84 °F) and 32 °C (90°F) at night it often does not get colder than 25 °C (77°F).
The temperature is constant throughout the year, with occasional fluctuations during the dry and rainy seasons.
Curaçao island is located outside of the hurricane belt, and the island rarely experiences tropical storms.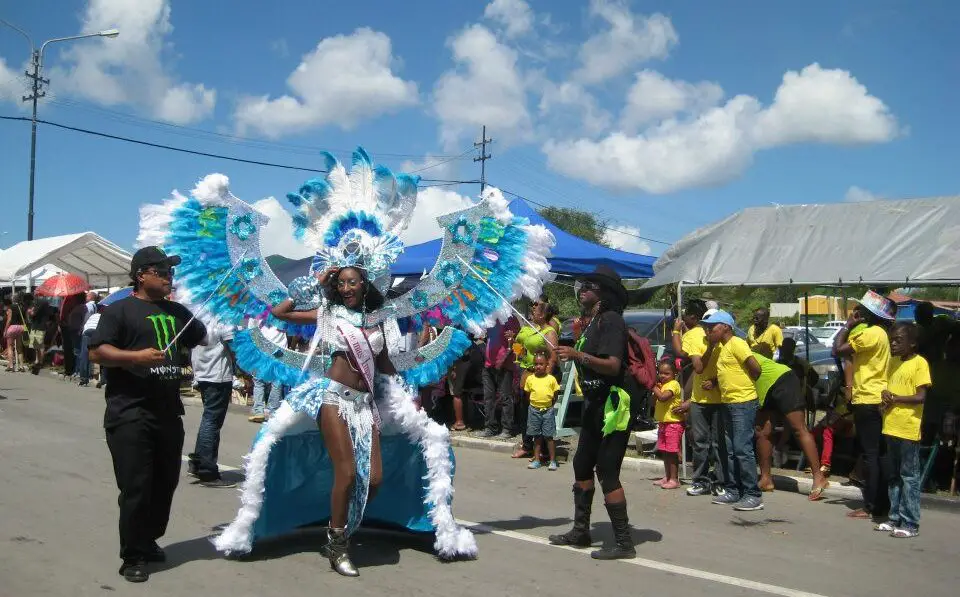 Curaçao Culture
The culture of Curaçao is a vibrant mix of various nationalities, backgrounds, and movements. Curaçao island is home to a majority of Afro-Caribbean people. The Dutch form the second largest community, followed up by a significant number of Latin-American and Asian folk.
Dozens of nationalities live on this island and they all add new features to the existing culture.
Celebrating and having a good time is the common thread in our culture. Holidays and events such as Carnival, King's Day, Dia di Bandera (Day of the flag), Dia di País Korsou (Day of the country), Christmas, and New Year are celebrated exuberantly.
Local dishes, live music, and fireworks are pretty common during all kinds of celebrations.
Would you like a taste of the real Curaçao island culture? The event of Punda Vibes on Thursdays has become a periodic gathering of local artists, creators, and groups to celebrate our culture.
The streets and alleys of Punda are the scene of live music, dance, and art with a folkloric touch. During this evening you can enjoy the happy hours, there are specials in stores and restaurants, lots of activities for kids, fireworks, and that is just the tip of the iceberg!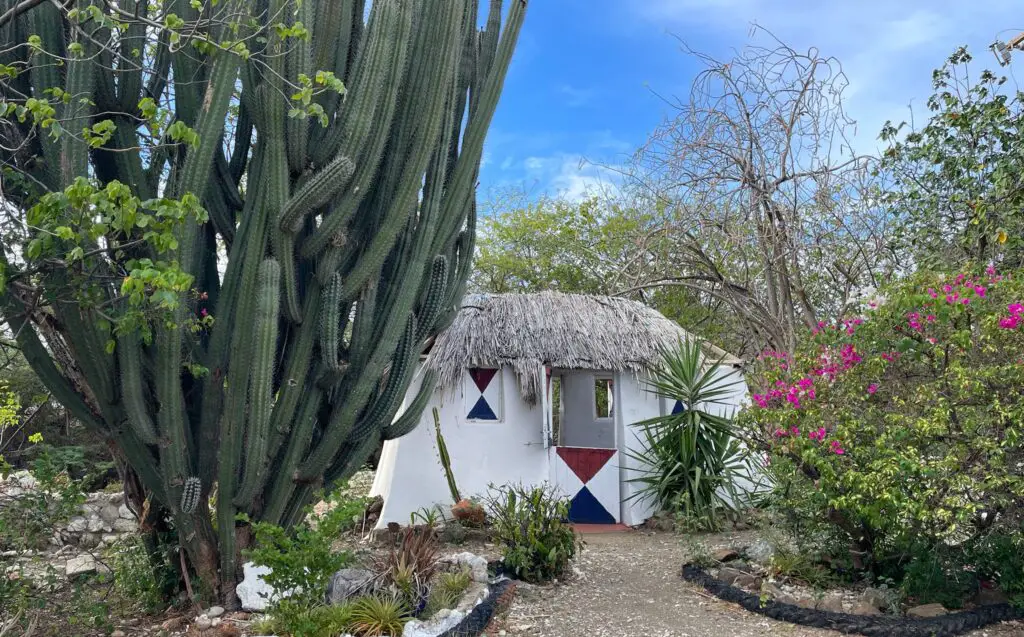 Things to do
In terms of activities, there is much to experience on the island. There are many excursions and sights that cater to diverse interests.
You can participate in various water sports, and visit mesmerizing beaches and immersive museums. Willemstad is the bustling center of various sights and attractions. In the areas of Westpunt and St. Willibrordus, you will find many beautiful beaches, exhibitions, and nature parks.
Also read: 15 Budget-Friendly things to do in Curaçao
For an extensive and detailed overview, I refer to the activities category on this website.
Curaçao island Beaches
The beaches of Curaçao island are amongst the most beautiful ones in the Caribbean. This is because most of the beaches are located in pristine scenic coves.
The island has many sandy beaches, with Grote Knip as the island's showpiece. However, there are also pebble beaches where it is advisable to wear water shoes.
The water is crystal clear and coral grows in many bays. this makes the island a paradise for divers and snorkelers.
Check our latest blog: 15 Amazing Free Beaches in Curaçao, for an extensive list of beaches that are free to access.
Hotels and Resorts
There's no place like home, but when you've found the right accommodation, it might come close to that. Curaçao island has countless beach resorts and hotels that can meet your needs.
There are several resorts where you can opt for an all-inclusive concept, but lodging-based hotels are the most common in Curaçao.
You can choose from a wide variety of accommodations such as Beach Resorts, Boutique Hotels, Bed and Breakfasts, Airbnb, Hostels, and everything in between.
One thing is for sure: Wherever you decide to stay, you will be welcomed with a smile.
Restaurants
Curaçao is a small island that is big on food. Upscale dining? Check. Beach restaurants? Check. Late-night comfort food? Check. Varied cooking from all over the world, in a dreamy, Caribbean setting? Check!
Foodies will love the Curaçao kitchen. There is so much variety in flavors and traditions, Which makes Curaçao island the perfect destination if you'd like to try something new every day. overall, Curaçao island hosts an international kitchen with all sorts of restaurants, beach shacks, and takeaways.
The local food is called Krioyo and I'll tell you more about that in the next section.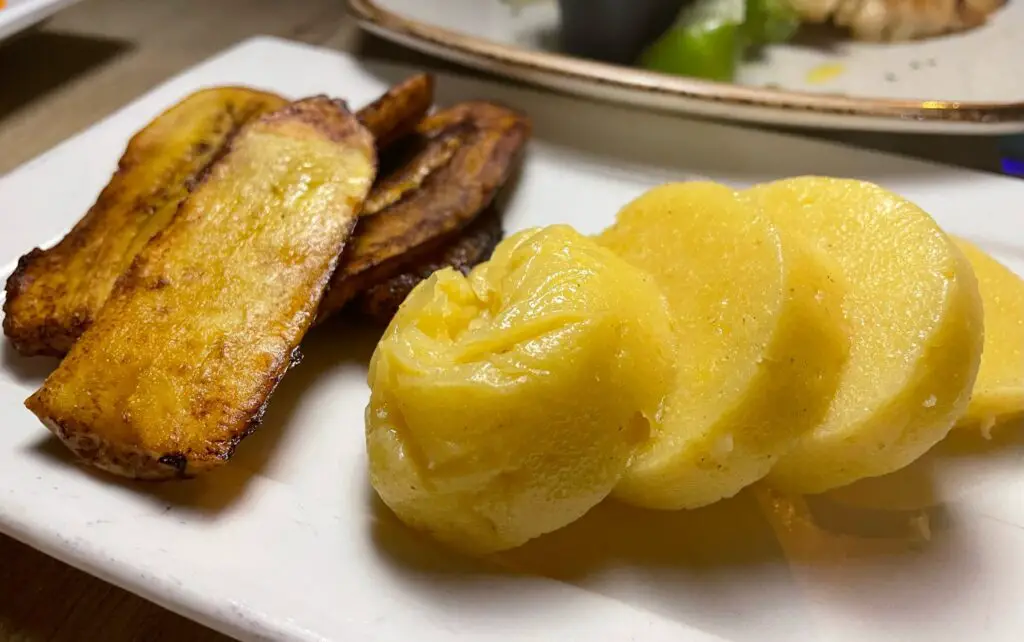 Local dishes
Taste the authentic local kitchen when you visit the island. It's a must if you want to get the real Curaçao experience. Our local food Krioyo (Curaçao island food of African origin) is a feast for the eyes- and even more so for the stomach.
Enjoy amazing treats like
Keshi Yena: a ball of cheese stuffed with meat
Funchi: a kind of Polenta
Kabritu Stoba: a goat stew
Pastechies: Pastries with various fillings
Bolo di Kashupete: Cashew cake
Arepa di Pampuna: Pumpkin pancakes
There are many places where you can eat Krioyo food, but the most authentic place is the Plasa Bieu, a large covered hall with 6 open kitchens. You can find the Plasa Bieu in Punda, next to the round market.
Curaçao art scene
Curaçao island has a fascinating combination of tradition and tropical vibes; its history and culture blends beautifully with an eclectic, colorful atmosphere, and this extends to its art scene. There is something for all kinds of art lovers.
The island is well known for its brightly colored murals and paintings. All over Curaçao, you will find murals that depict the island's daily life, its citizens, and culture. The streets and alleys of Willemstad are a canvas for talented painters and collectives. Most of the murals can be found in the districts of Punda and Otrobanda.
Read: Curacao Murals: What to See and Where to Go
A different kind of art object is the Chichi ®. This sculpture of a beautiful curvaceous lady is a popular souvenir on the island and represents a strong and proud Caribbean woman. The Chichi ® was first designed and created by artist Serena Israel. On Fridays, you can join a workshop and paint your own Chichi ® at Serena's Art Factory (next to the Aloë plantation).

Nightlife
Can't wait to dance the night away? Let me tell you something about the amazing places you need to check out when the sun goes down. The island's nightlife has a lot to offer.
For instance, you can visit one of the many Happy Hours. Live music, great offers on drinks, and smiling people. Could things get any better? The best Happy Hours can be found at several beach clubs at Mambo Beach and Jan Thiel beach.
Lovers of salsa and merengue are completely at home. You can visit one of the many weekly salsa events on the island. Thursdays are for Mundo Bizarro's Salsa night; on Friday you can find live music at the Riffort. Sunday is the day to dance on the beach at Hemingway.
Moving your hips under the stars while your bare feet touch the sand is like a Caribbean dream come true. Enjoy every moment of it. This is where memories are made that will last a lifetime.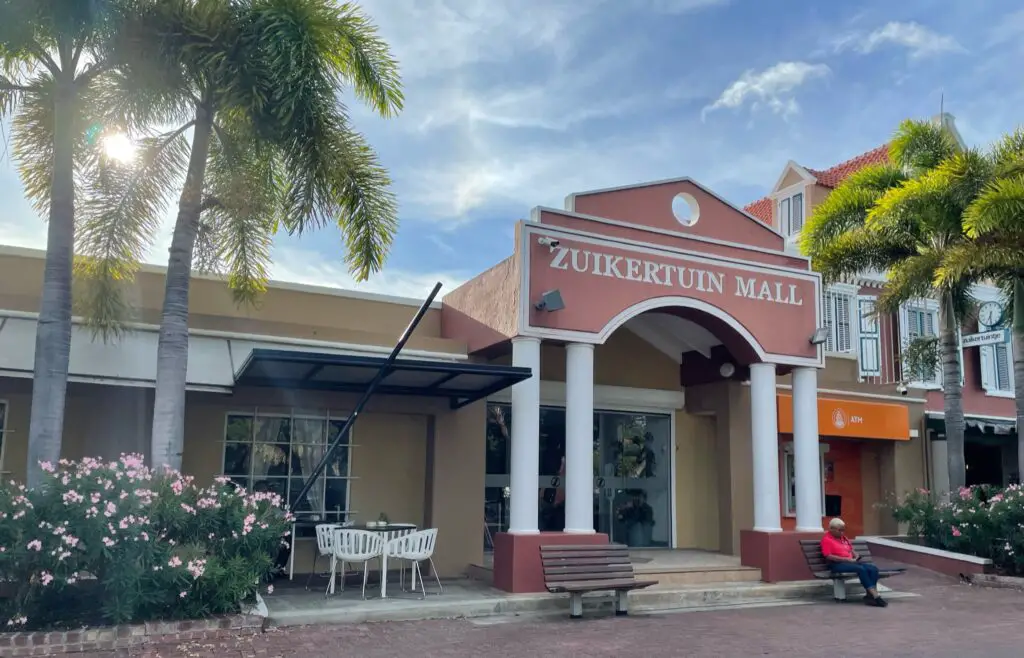 Shopping malls in Curaçao
Curaçao offers you a decent diversity of shopping experiences. The best places to go shopping on the island include shopping malls, fashion boutiques, and plenty of souvenir shops.
Downtown Punda is the flourishing center of boutiques and souvenir shops. In this part of town, you can find various clothing, cosmetics, and electronics stores.
Sambil is the biggest shopping mall on the island. With over 100 stores and brands, there's no need to say that you can't spend an entire afternoon shopping and dining in this place. There is an extended food court with over 25 mini restaurants and coffee shops. You can also go bowling or watch a movie at the cinema.
Zuikertuin mall, Bloempot shopping center, and Riffort village could be labeled as small-scale and cozy shopping experiences. Both Zuikertuin and Bloempot offer a variety of Dutch stores, boutiques, and high street international brands. Riffort Village is home to several well-known brands and high-end fashion- and jewelry stores.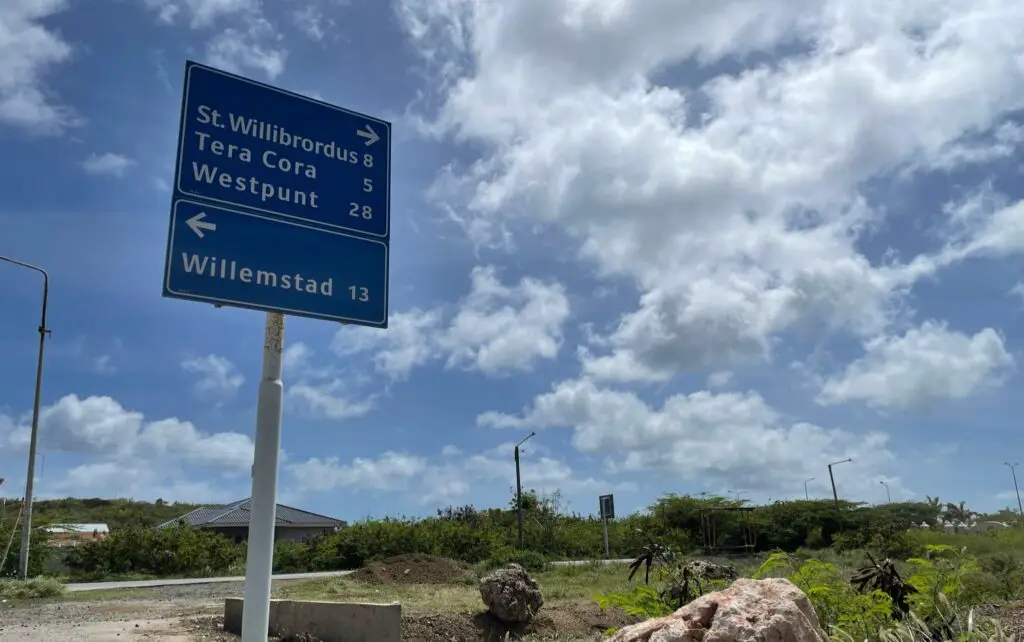 Getting around in Curaçao
Curaçao island is not the best place to get from A to B on foot. Therefore, most tourists rent a car to get around during their stay.
Taxis in Curaçao are clean and safe. Drivers are very friendly and will get you to your destination in an efficient way. The taxis in Curaçao have fixed rates for several zones.
Local transportation is limited, but kind of okay if you need to get to Willemstad. You can find bus stations in Punda and Otrobanda, it just depends on which side of the island you will depart.
East side buses will drive to Punda. West side buses will drive to Otrobanda.
The large buses run once an hour. The small buses run more frequently, but they don't have a schedule or bus stops. Just raise your hand when you want to get in and tell the driver where you would like to go.
Safety
In general, Curacao island is safe. The level of crime is not significantly high. The most common form of crime is (car)theft. Keep an eye on your belongings and don't leave any valuables in your car.
Be streetwise and use common sense. With these skills, you can keep potential dangers to a minimum and you can simply enjoy a carefree holiday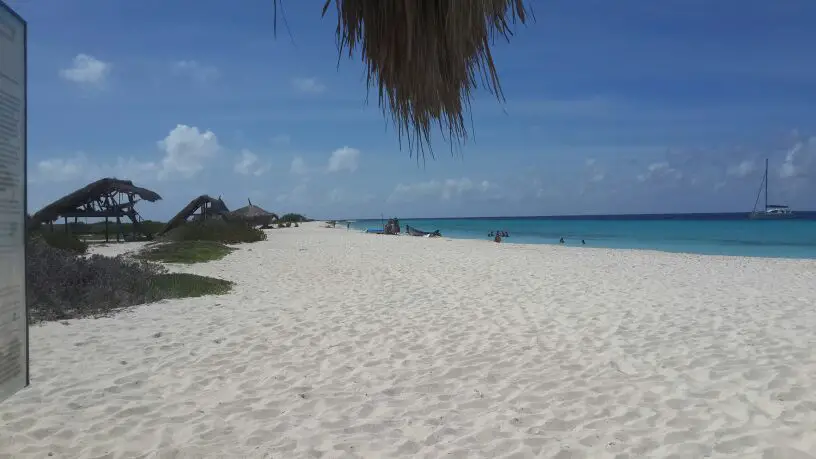 Klein Curaçao Island
Soak up the sun during a day trip to Klein Curaçao island. This uninhabited island is truly a piece of paradise if you enjoy the pearly white sands and turquoise waters of the Caribbean. You can book an all-inclusive trip with one of the few charter boats.
On the island, you can discover various shipwrecks or visit the lighthouse. You can also choose to relax on the beach or snorkel with turtles (if they show up).
Most organizations serve a barbecue lunch. Check the conditions and facilities when booking your excursion.
Book an excursion
Are you looking forward to your vacation? Visit our Excursion page where you can find an extensive overview of various tours and activities. By booking an excursion through this website you support Exploring Curaçao at no cost to you.