Curacao is an island full of surprises. There are many budget-friendly attractions and activities to choose from. You can book an excursion, but i can also recommend to explore the island yourself.
And did you know that Curacao doesn't have to be expensive at all? In this blog we will share 15 budget-friendly things you can do in Curacao.
There are a lot of budget-friendly activities and cheap things to do in Curaçao. You just need to know your way around. We compiled a list of 15 popular activities that require a minimum fee or are even free of charge. I hope you will enjoy these budget-friendly activities just as much as we did!
Going to the Beach in Curacao
Taking a day trip to the beach is perhaps the cheapest and most budget-friendly activity in Curacao. A lot of beaches are free of charge and sometimes you pay just a small entrance fee.
The beaches that are free of charge can be found mainly in Bandabou near Westpunt and Lagun. But make no mistake, beautiful beaches can also be found closer to town. This part of the island is called Bandariba. Caracasbaai, Tugboat Beach and Directors Bay are a few of our favorite beaches.
In our latest budget-friendly blog we will share a list of beaches in Curaçao that are free of charge.
Visit Willemstad
A day trip to Willemstad is a must when visiting the island. The capital of Curacao is situated around the St. Anna bay, with the Queen Emma bridge connecting the quarters Punda and Otrobanda. The city offers several budget-friendly things to do.
Visit the cozy squares in Punda, go for lunch in Pietermaai and take pictures while standing on the floating bridge. In Otrobanda you can walk past the instagram-worthy murals and art. Don't forget to buy a few batidos along the way!
A batido is a freshly made shake of crushed ice, cold milk and fresh fruit. Sounds delicious right?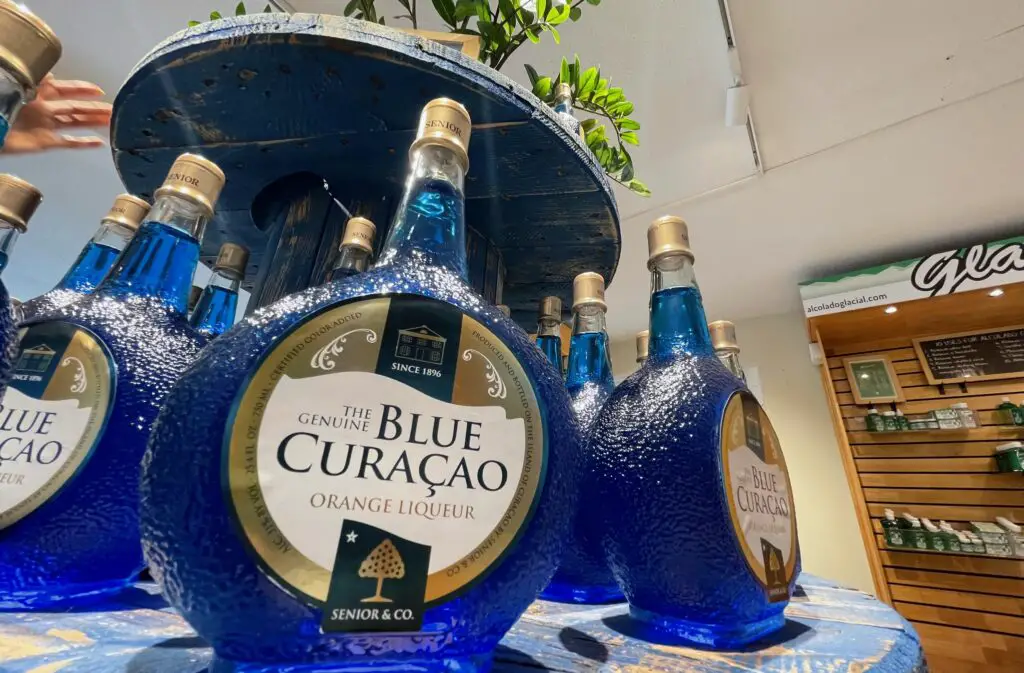 The Curacao liqueur distillery – Blue Curacao
Visit the Curacao Liqueur Distillery at Landhuis Chobolobo and learn everything about the world-famous Blue Curacao Liqueur! You can visit the distillery for free, but you can also pay extra for a guided tour.
Enjoy a free tasting of the genuine Curacao liqueur or sign up for one of their cocktail workshops. You can check their website for more information.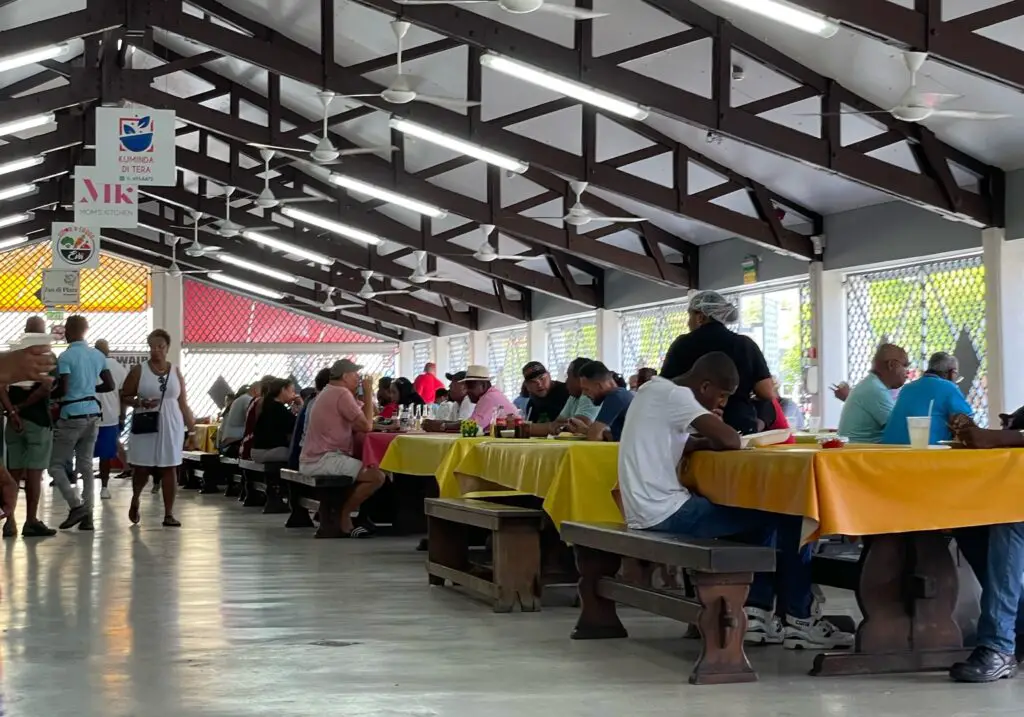 Have lunch at the old market – Plasa Bieu
One of the best things about traveling to a different country is discovering the local cuisine. Are you staying in Willemstad? Then a visit to the Old Market Plasa Bieu, better known as Plasa Bieu, should not be missed! In this place you can get acquainted with various local dishes for a budget-friendly price.
In a large covered hall, you can find 6 open kitchens. You can take a seat at one of the many long tables after ordering your food. Enjoy your meal in the company of tourists and locals in this cafeteria style restaurant. It's quite an experience!
Happy Hours in Curacao
Curacao is a laid-back island where time is not the most important thing in life. There is just one exception: Make sure you arrive in time at a happy hour! Various restaurants and beach clubs offer discounts (mostly 50% or 2=1) on drinks during their happy hour.
The best happy hours can be found at Madero beach club, Saint Tropez, Zanzibar, Bonita beach and Wet and Wild. Do you want to know when and where you can visit a budget-friendly happy hour? A complete overview can be found on this website.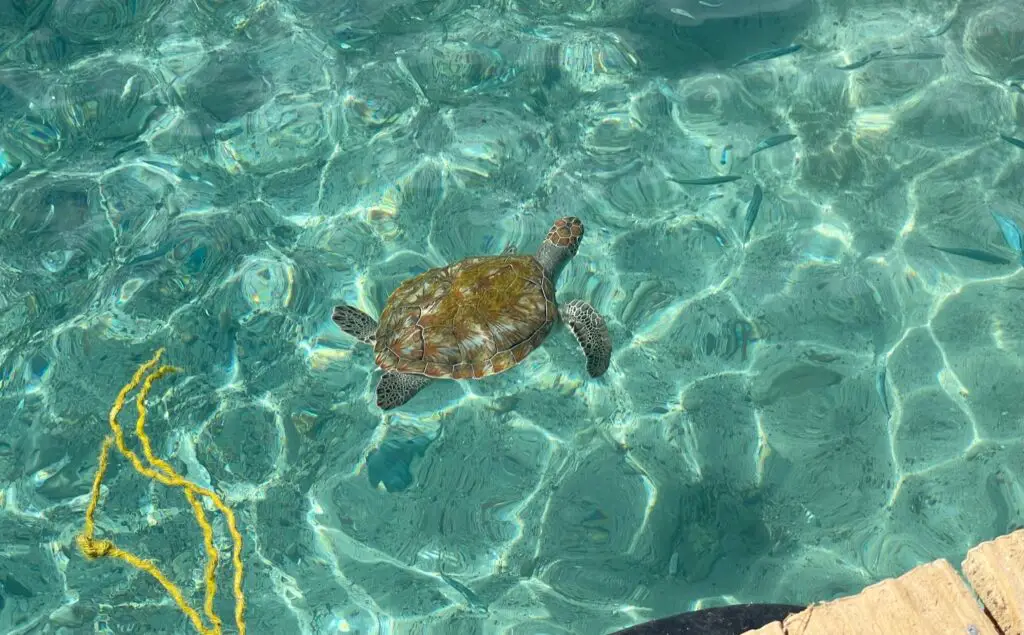 Snorkel with turtles at Playa Piskado
Snorkeling with wild sea turtles is a once in a lifetime experience. The best place to swim with wild turtles is Playa Piskado, also known as Playa Grandi. This is the only beach in Curacao where wild turtles are spotted every day.
Go to our blog: Swimming with Sea Turtles in Curaçao 
You have an amazing opportunity to view them up close. It is important to not touch or interfere with them. After all, we are guests in their natural habitat. To swim with turtles at Playa Piskado is free of charge, which makes this a budget-friendly activity. A tip is appreciated.
Visit the Curacao Aloe farm
Pay a visit to Curacao's Aloe vera plantation and get to know everything about this powerful plant and its amazing healing qualities. A tour guide will take you all around the plantation and will show you the entire process from Plant to Bottle.
You will be guided through the fields and the factory. The budget-friendly price for the tour is $4,00 USD or 7,- NAFL and it's not necessary to make a reservation.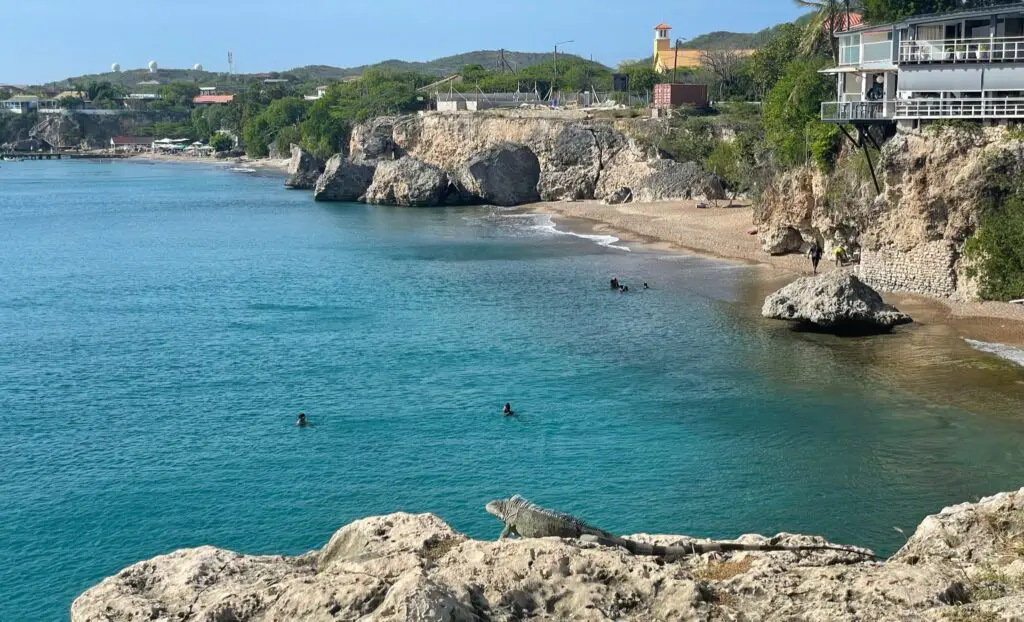 Cliff jumping at Playa Forti
Thrillseekers will enjoy this completely free activity! At Playa Forti it is possible to jump from a cliff into the shallow turquoise water. You will walk past the restaurant to a little plateau. The jump is about 40ft. After jumping you can swim easily to Playa Forti to get out of the water. I must say: this budget-friendly activity is an amazing adrenaline rush! Cliff jumping is at your own risk.
Take beautiful pictures in Pietermaai
Pietermaai is a cotton candy paradise. The colorful colonial buildings look like cupcakes and there is something new to explore in every corner. I highly recommend visiting the Nieuwstraat both during the day and at night.
During the day you can pass by and grab some lunch in one of the many bars and bistros around.
At night, Pietermaai will turn into little Havana, especially around Mundo Bizarro. The retro Caribbean buildings and the colored party lights that decorate the street melt together into a midsummer night's dream. In this place I could get lost in time forever.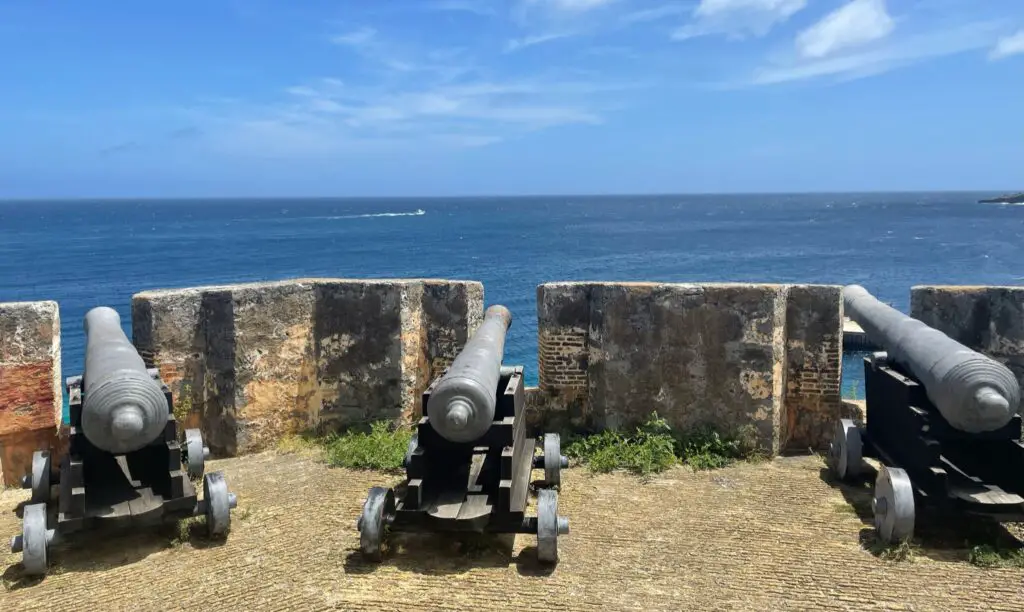 Visit Fort Beekenburg
Fort Beekenburg offers you a stunning view over the Caracasbay. This 18th century fortress used to defend the Spanish Water against attacks by the English and French. Nowadays, the fortress serves as a tourist attraction where you can take the most beautiful pictures!
There are well maintained staircases and the paths are mostly cleared of any roots or trees. This is a budget-friendly activity since there is no admission fee.
Less known to the general public is the cave of Fort Beekenburg. You can reach the cave by taking the first right after passing Caracas Bay.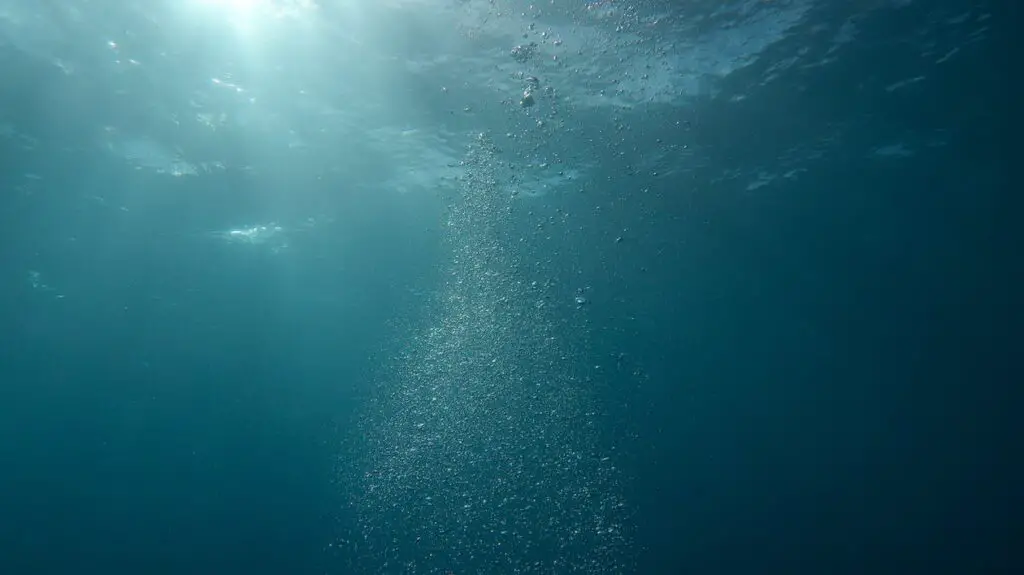 Take an excursion to The Blue Room (underwater cave)
The blue room cave resembles a magical puddle where mermaids gather around to take a swim. In a fantasy tv show, this could just be possible. The cerulean blue light shatters magnificently through the mystic cave. A phenomenon that clearly shows how amazing and powerful nature is.
The blue room cave can be reached via the trail that starts at Playa Santa Cruz, this is the budget-friendly option. You can also book a boat excursion at the same beach. Swimming experience for this activity is recommended. At high tide, you may have to swim approximately 3-4 feet underwater to enter the cave. A mermaid tail would come in handy in this case.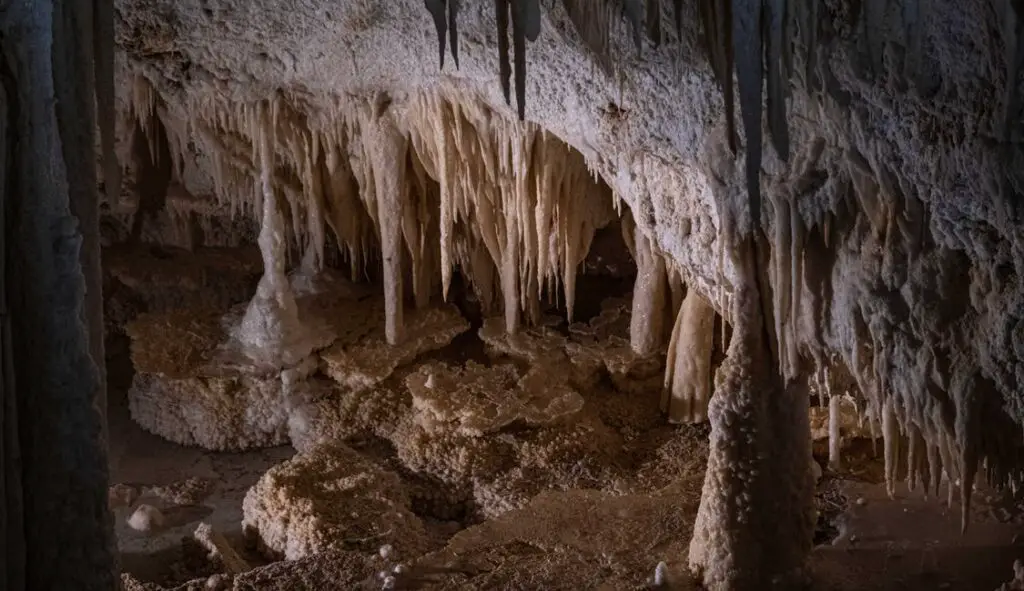 Explore the Hato Caves
Would you rather visit a cave above sea level? Then I can recommend you to go to the Hato caves. You will find the Hato Caves near the international airport of Curaçao. Once you reach the airport's panoramic terrace, the caves are just a few minutes' drive away.
You can go on a organized tour where a tour guide will explain you everything about the geology as well as the historical events that occurred in them. Next to the caves you will find a trail where you can walk around and see local plants and wild life.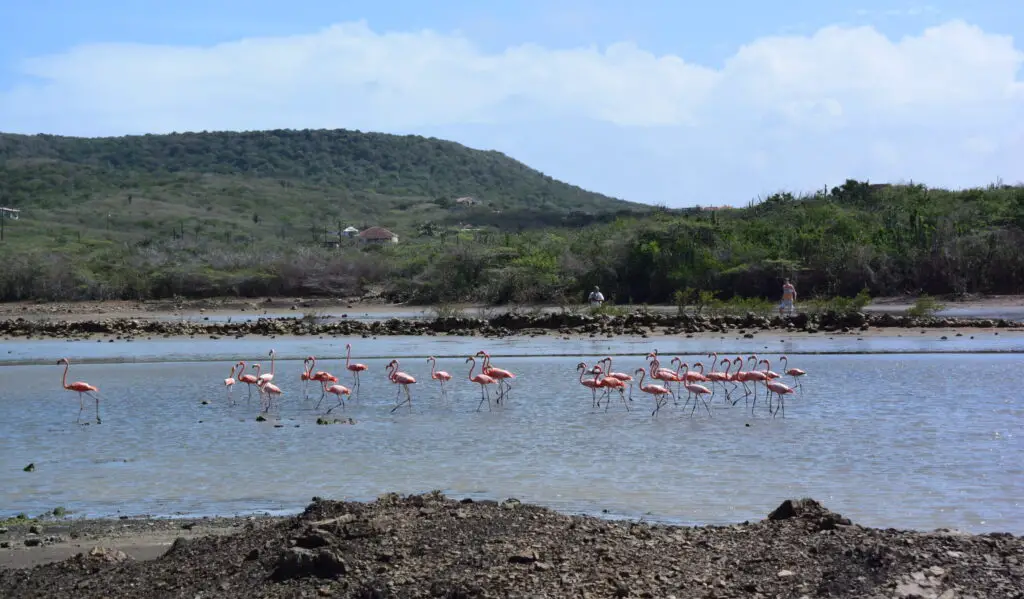 Go to the Flamingo sanctuary 
Did you know that it is in fact possible to spot wild flamingos in Curaçao? You can find the flamingo sanctuary in the region of St. Willibrordus. It doesn't require a long visit, but it's worth staying a bit and watch the flamingos do their thing and living their best life.
the flamingos are not always present. The best time to spot them is until late morning. There is also a chance that they will show up at sunset. You can park your car next to the road alongside this viewpoint. Be careful, do not leave any valuables in the car. This budget-friendly attraction is free of charge.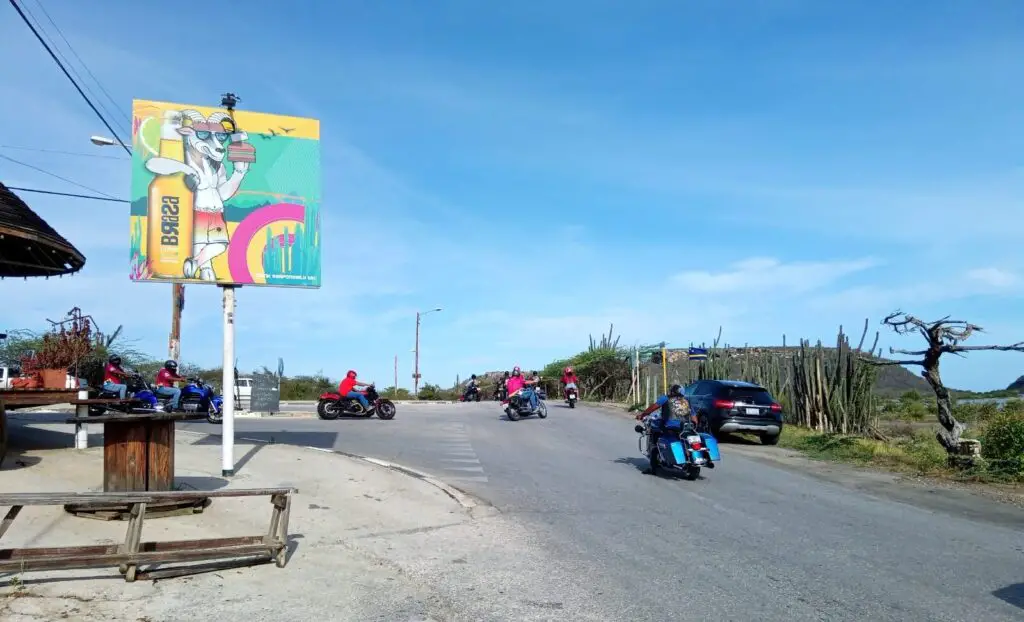 Visit Williwood
After visiting the Flamingo sanctuary, drive a little further to the extraordinary countryside village of St. Willibrordus, also known as Williwood. This vibrant place will show you an authentic side of Curaçao full of creativity and a kind of island nostalgia.
You can take photos at the Williwood sign that resembles the famous Hollywood letters.
The lively neighborhood bar 'Toko Williwood' is a must visit! Here you can eat the one and only Williburger while enjoying an ice-cold drink. You will soon start to realise that life doesn't get any better than this. Extra tip: Nena Sanchez art gallery is just around the corner!
Read our blog: 10 Amazing Things To Do In Williwood
Climbing the Christoffel Mountain (Christoffelberg)
A popular budget-friendly activity in Curaçao is climbing the Christoffel Mountain. The hike to the top might be a challenge, but it shouldn't be a problem if you are in good condition and wear decent hiking boots. Go early before it gets too hot. Most people start the hike around 6 AM. Important note: You can't start the hike after 10 AM per the rules and you need to bring enough water.
The view over the island and the ocean is absolutely stunning and worthwhile the effort.
I hope you will have lots of fun visiting our beautiful island. Are you looking for more budget-friendly things to do in Curacao? Be sure to check out the other blogs on this website to expand your bucket list!