Curacao is a tropical paradise that offers a wide range of activities for visitors, but one of the most popular is swimming with dolphins. The island's clear waters and warm climate provide the perfect setting for a magical encounter with these intelligent and friendly animals.
Swimming with dolphins in Curaçao is a unique activity where individuals have the opportunity to interact with these intelligent and friendly marine mammals at the Curaçao Dolphin Academy. There are several activities to choose from and they all provide an unforgettable experience.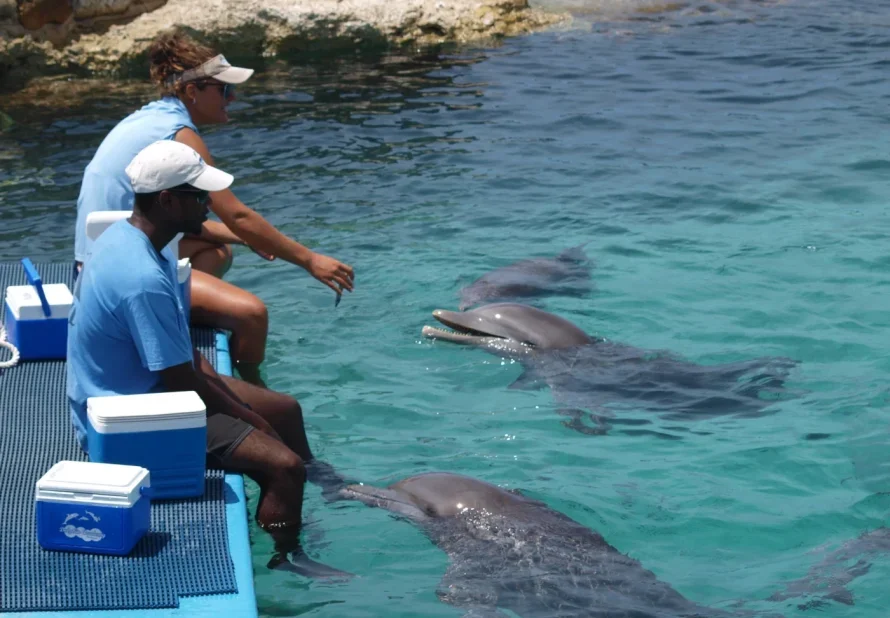 During the program, participants may have the chance to swim and play with the dolphins, as well as learn about their behavior and biology from trained professionals. It is a once-in-a-lifetime experience that allows individuals to connect with these intelligent and playful creatures in a unique and intimate way. 
In this blog post, we will take a closer look at what it's like to swim with dolphins in Curaçao, the different types of programs available, and what to expect from this incredible experience.
Where can you swim with dolphins in Curaçao?
If swimming with dolphins is high on your bucket list, the Dolphin Academy is the place to be. 
The Dolphin Academy offers a variety of dolphin encounters, including shallow water interactions and deep water swims. They also have a unique program where you can train and work with the dolphins as a dolphin trainer for a day.
The Dolphin Academy is located on the premises of the Curaçao Seaquarium, near the popular Mambo Beach boulevard. 
How much does it cost to swim with dolphins in Curaçao?
The costs to swim with dolphins can vary depending on several factors such as the type of program, and the duration of the encounter. 
Generally, prices for a standard dolphin encounter, such as a swim and playful interaction, can start at around $194.00  per person. More advanced programs, such as a Dolphin Scuba Encounter or a Open Water Dolphin Dive, cost around $295,00 per person.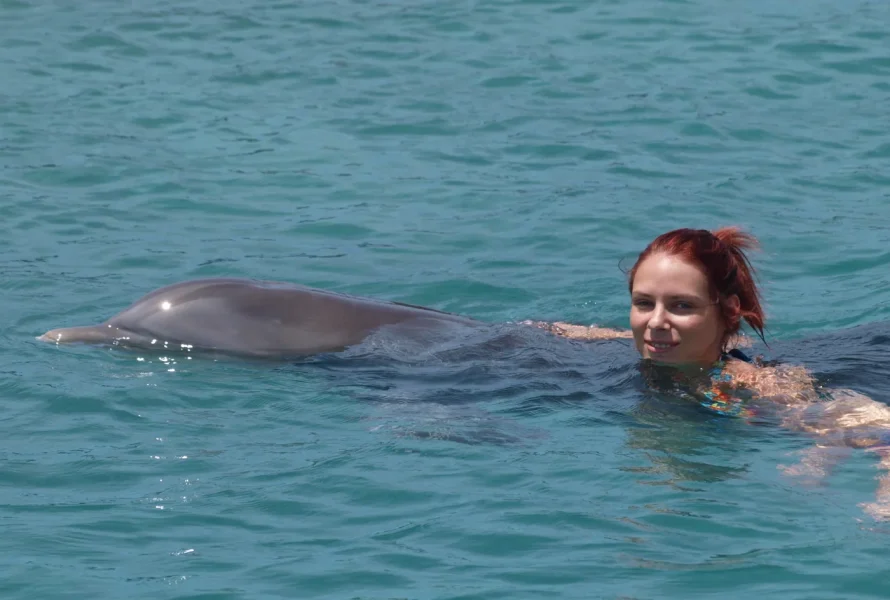 What kind of experiences do they offer?
The Dolphin Academy offers a large variety of activities you can book during your vacation in Curaçao. We've listed some of their most popular experiences:
Dolphin Encounter

Dolphin Swim

Dolphin Snorkel

Dolphin Scuba encounter

Open Water Dolphin Dive

Assistant Trainer Course

Dolphin Indepth Course
For more information about the several experiences and prices you can check the official website of the Dolphin Academy.
My experience at the Dolphin Academy
I did a dolphin encounter a couple of years ago and it was simply amazing. I was fascinated by the many opportunities exist to interact with them. Dolphins are very intelligent creatures and i believe that we still know so little about them.
During the activity, my brother and I were assigned a dolphin. It was very intimate and we had plenty of time for swimming and playing. I was most amazed by the dolphin's skin. Its skin was smooth, soft and firm at the same time.
The trainer had explained us some tricks that we could perform together with the dolphin. When we twisted our fingers around, the dolphin swam a circle. And when we clapped our hands flat on the surface, his fins splashed the water on top of us. It was truly incredible!
Where to book the swimming with dolphins experience?
It is advisable to book a dolphin encounter activity well in advance. This way you are assured of a spot on your preferred dates.
Ask at the tour desk at your accommodation if they can make a reservation for you. It is also possible to make a reservation yourself on the Dolphin Academy website.
Don't forget tho bring your badingsuit, sunscreen and a towel to dry yourself after the swim. All regular experiences include dree admission to the Curaçao Sea Aquarium.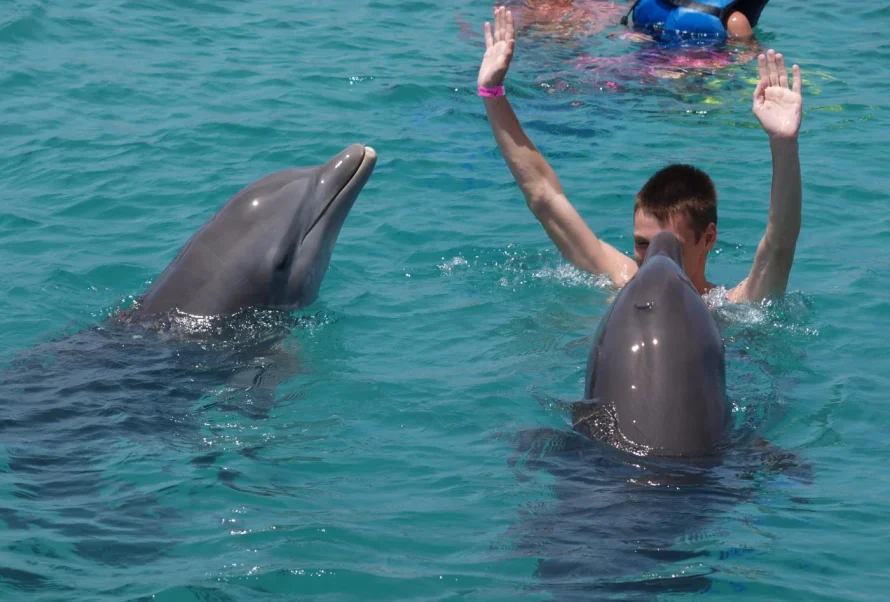 Conclusion
Swimming with dolphins is a unique and incredible experience that can create lasting memories for years to come. 
From the awe-inspiring sight of a dolphin leaping gracefully out of the water to the gentle feeling of their skin under your fingertips, the experience of swimming with dolphins is truly unforgettable. 
From my perspective, swimming with dolphins is a great way to learn more about the animal itself and their behavior. It's also important to be mindful of the welfare and respect their natural environment.
Swimming with turtles in Curaçao
Did you know that you can also swim with sea turtles in Curaçao? One popular spot for turtle encounters is the Playa Grandi, which is known for its clear turquoise waters and easy access to the water. 
Visitors can snorkel close to shore to see the turtles swim next to them. It is a thrilling experience to watch them gracefully swim through the water. More information about swimming with turtles can be found in our latest blog. Simply click on the previous link to get to the blogpost.