Curaçao has many beautiful beaches that are visited daily by cruise passengers. Most visitors take a taxi or book a shore excursion to one of the more popular beaches. However, there is a question I often get asked: can you also walk to a beach from the cruise ship?
It is possible to walk to a beach from the Curaçao Cruise Port. However, it is not recommended because of the poor infrastructure and the warm tropical climate. In Curaçao, little consideration is given to pedestrians on the road. There is often no sidewalk. In addition, the nearest beach is so far away that walking is not recommended due to the warm temperatures.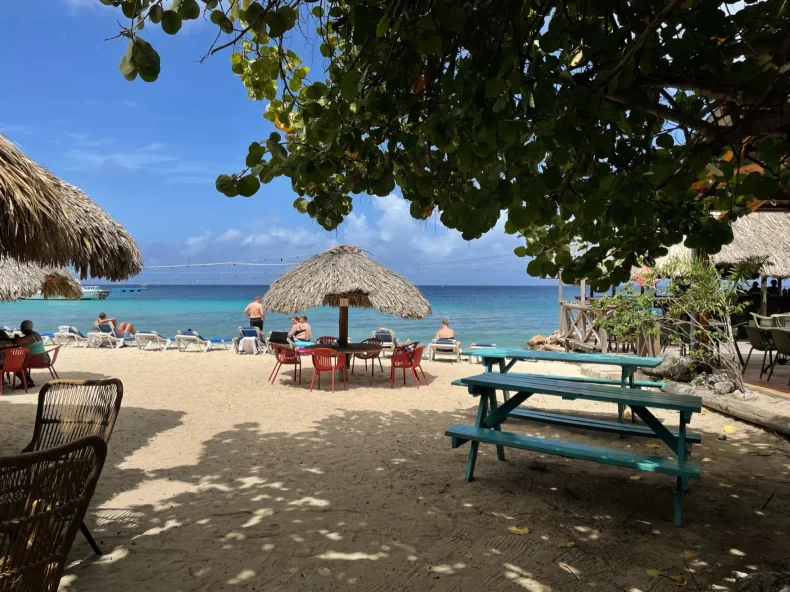 Walk to a beach from the Curaçao Cruise Port
If you do decide to walk to a beach, you should first look at the options. Only four beaches are (in terms of infrastructure) walkable from the cruise ship. They are the tourist beaches Pirate Bay and Mambo Beach and the public beaches of Marie Pampoen and Piscadera (Parasasa beach). Both beaches are about an hour's walk from the cruise terminal. The distance is just over 5 km or 3.11 miles. 
Parasasa Beach

 
Parasasa Beach is a quiet public beach where you will only meet a few local people. You don't have to pay an entrance fee here, but there are no facilities either. The World Trade Center and some major hotels such as Mariott and Dreams are just around the corner. 
Pirate Bay

 
From Parasasa Beach you have to walk another 10 minutes to the Pirate Bay. Pirate Bay is a tourist beach with a restaurant/beach bar and some amenities. You can rent sunbeds and order cold drinks at the bar. This is a nice place to snorkel. 
Playa Marie Pampoen

 
This public beach is located in the Marie Pampoen district, a suburb of Willemstad. Playa Marie Pampoen is a recreational area that is still in full development. You can lay a towel and you can also bring your food and drinks. There are two restaurants at the end of the beach. 
Mambo Beach

 
A little further down the road is the famous Mambo Beach. This is Curaçao's biggest tourist beach where you can find several beach clubs, restaurants, and shops. The range of restaurants is large. I often find it difficult to choose, because there are so many choices. Beach beds are available at the beach clubs.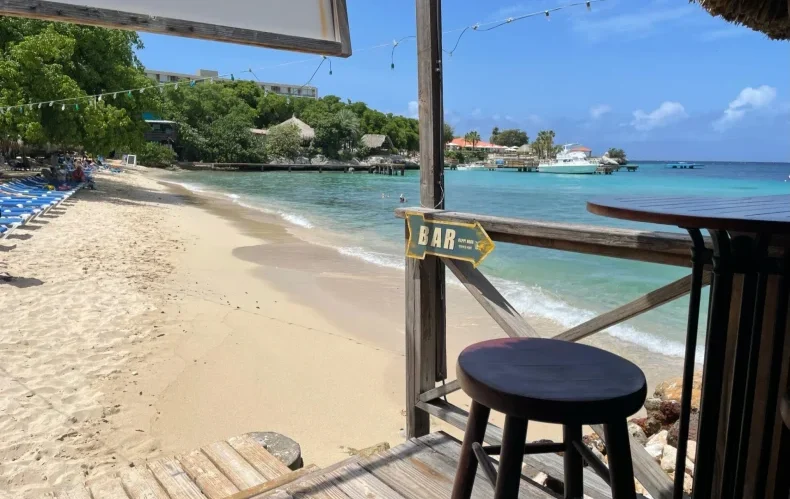 Walking to Pirate Bay

 
The route to Pirate Bay near Piscadera is not difficult. It is, however, a long distance. From the cruise terminal, walk towards the roundabout at Baden Powell Weg. At the roundabout, turn left and walk along the sidewalk next to the Pater Euwensweg. Walk straight for a few miles until you pass the Corendon Mangrove Resort. At the Aqualectra building, turn left towards the coast. Turn right and take the path along the sea. This road, John F. Kennedy Boulevard, will take you to Piscadera.  
At the end of the road, you will arrive at Parasasa Beach. You can choose to stay here or walk to Pirate Bay. Walk straight ahead on the Piscaderaweg and take the third exit to the left. Pirate Bay is then on your left. 
Read: 10 Best Things to do at Pirate Bay Curaçao
Walking to Mambo Beach

 
Mambo Beach is in the opposite direction of Pirate Bay. The route to this beach is a lot more interesting and fun. You will pass various sights. 
Walk right from the Cruise Ship into Otrobanda and take the pontoon bridge towards Punda. Walk straight on through Breedestraat until you reach Wilhelminaplein. You will recognize the square by the 'Dushi Curaçao' sign where you can take nice pictures.  
From this square, you walk straight ahead into the Pietermaai district. Along the way, you will encounter the most beautiful colored houses. At 'Botika Juliana' you take the Penstraat. From here it is a long way straight ahead. First, you will arrive at Playa Marie Pampoen. Mambo Beach is a 15-minute walk down the road. 
Read: Mambo Beach: The Best Boulevard in Curaçao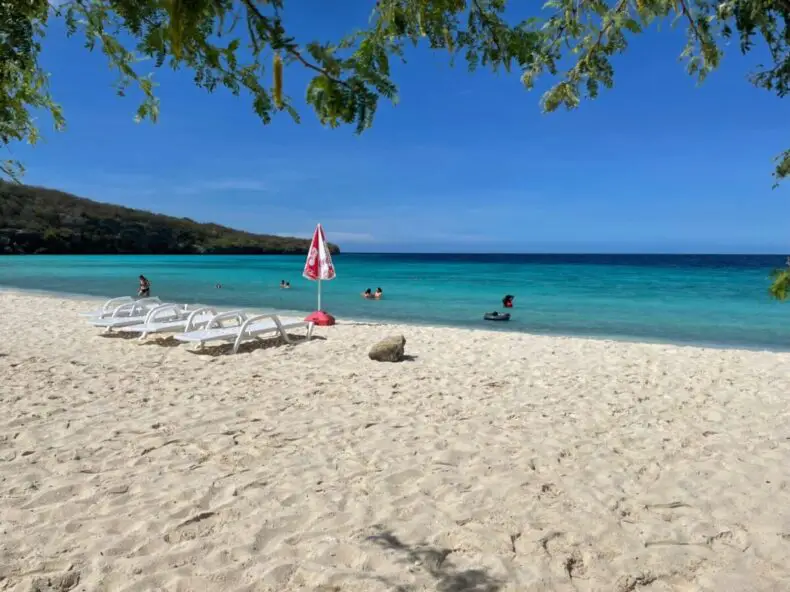 Why we don't recommend walking to a beach from the Cruise Port

 
It is possible to walk to a beach from the cruise port. However, we recommend not doing this. This has several reasons.  
First, Curaçao's infrastructure is not well adapted to pedestrians. You will find areas where there is no sidewalk, and this can create dangerous situations.  
Secondly, it is dangerous to walk a distance of 5 km in such high temperatures. Only do this if you are used to this and take enough water with you to prevent dehydration. 
As a third argument, I want to say that you lose a lot of time from your precious day. If you are only going to be on the island for a few hours, it is advisable to organize your time as smartly as possible. It's a shame if you lose a lot of time walking from the cruise ship to the beach. 
Fourthly, on both the route to Mambo Beach and the route to Pirate Bay you take some roads where there is little traffic. These are quiet streets where people with bad intentions see an opportunity when they encounter tourists. This is not to say that Curaçao is a dangerous place for tourists, but just like in other places, you have to be streetwise.  
So yes, you can walk to a beach from the Curaçao Cruise Port, but we don't recommend it.
Alternatives within walking distance

 
Would you like to swim and relax on a beach bed within walking distance of the Cruise Port? Then a visit to Saint Tropez Ocean Club is for you.  
Renting a sunbed or Cabana gives you access to the deck and infinity pool all day long. This includes the use of changing rooms, toilets, and showers. 
In between swimming and sunbathing you can have lunch or dinner in the restaurant area. They also have an excellent cocktail menu!  
Important: There is no access to the ocean from this place. 
Saint Tropez Ocean Club is a 20-minute walk from the Cruise Port.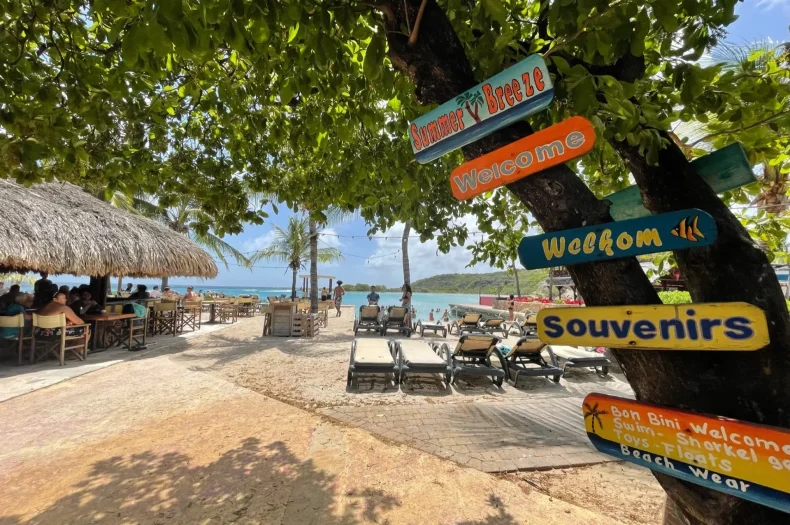 How to get to the beaches

 
Would you like to visit one of the many beaches in Curaçao? Then I advise you to take a taxi or book a tour. 
It is best to take a taxi to beaches within 15 km from the Cruise Port. 
Do you want to visit beautiful beaches such as Porto Marie, Cas Abao, or Grote Knip? Then I advise you to book a tour.  
Shore Excursions to the beaches are combined with various activities. Think of swimming with sea turtles, visiting the Hato Caves, or a tasting tour at the genuine Blue Curaçao liqueur factory. For more information and examples of tours, please refer to our Tours & Excursion page. 
Conclusion

 
It is possible to walk to a beach from the Curaçao Cruise Port. However, we do not recommend this. Walking long distances in Curaçao can lead to dangerous situations.  
Visiting the beaches is usually done by taxi or using a shore excursion. These are safe and efficient options to visit one of Curacao's many beautiful beaches.