Cas Abao is one of the most popular beaches in Curaçao. This is because of the cream-colored sand, that flows beautifully into the turquoise-blue sea. Not to mention the wavy palm trees and the amazing view over the majestic rock formations. It is everything you expect from a Caribbean paradise- and maybe more. The best part? Cas Abao is only a half-hour drive from the cruise ship! 
The best way to get to Cas Abao from the Curaçao Cruise Port is by car. You can either take a taxi or book a shore excursion that includes a visit to this beach. It is not possible to walk to Cas Abao from the cruise ship.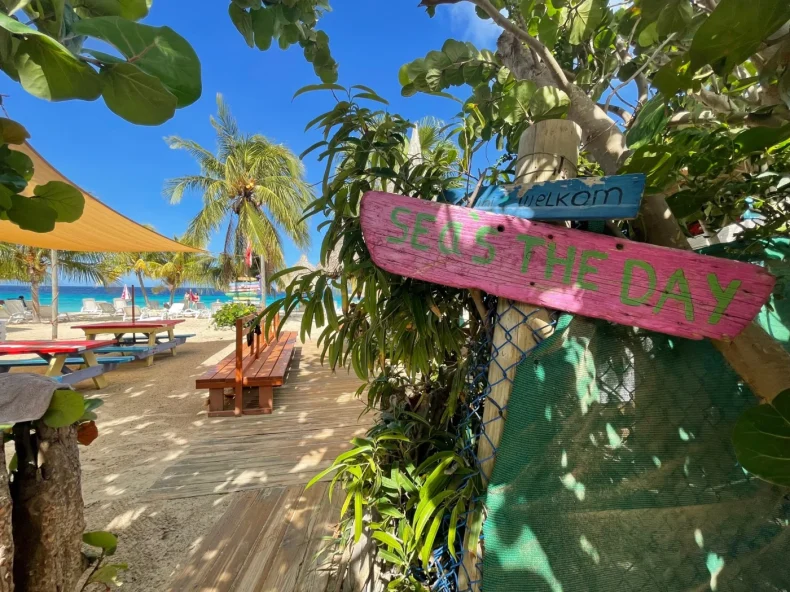 How to get to Cas Abao from the Cruise Port

 
You can visit Cas Abao Beach by taxi or by taking a shore excursion. Booking an excursion will in most cases be cheaper than the taxi fares. In addition, the return trip to the cruise port has already been scheduled. Cas Abao Beach is located in an area where not many taxis pass. If you choose to visit Cas Abao by taxi, it is important to plan a return trip with a driver. 
How far is Cas Abao from the Cruise Port?

 
Cas Abao Beach is not that far away from the Cruise Port. It's about a 35-minute drive from the Mega Pier Cruise Terminal in Otrobanda to the entrance of the beach. We are talking about a distance of 28 kilometers or 17.4 miles.  
The ride to the beach will take you into the Curaçao countryside. You will encounter a lot of dry scrub and cacti along the way. Several mountains and hills characterize the landscape. It is a beautiful picture and you will not get bored during the ride. 
Directions to Cas Abao Beach

 
Drive on Baden Powellweg and take the third exit at the roundabout. You are now driving on the Pater Euwensweg. Continue straight ahead and follow the Helmin Magno Wiels Boulevard. Keep following this road until the end. After you have passed four roundabouts, take the third exit at the fifth roundabout to Weg Naar Westpunt.  
Keep following this road for about 15-20 minutes. After passing the village of Tera Kora, take the second exit to the left. This road is called the Kaminda Monica Kapel Matheeuw. From this road, you can follow the signs 'Cas Abao'. The exit to the beach is on the left. A large sign points the way. You can hardly miss it.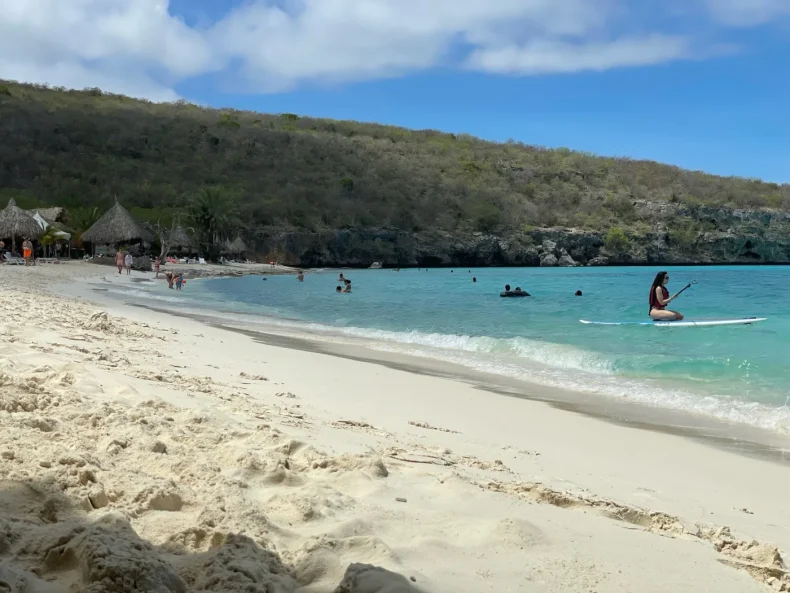 Things you need to know about Cas Abao

 
Cas Abao is one of the largest beaches in Curacao. This powder-fine sandy beach is a place where locals and tourists alike love to spend their day. Cas Abao is a private beach. This means that you have to pay an entrance fee to gain access. If you book a shore excursion, this price is usually included. 
Entrance fee

 
The entrance fee to visit Cas Abao is calculated per car. This can be confusing if you are visiting the beach by excursion or taxi. That is why the entrance fee for the beach is often included in a shore excursion. 
To enter the beach, you have to pay an entrance fee of 6.00 USD or 10,00 ANG, – per car. On Sundays and holidays, this amount is 7.00 USD or 15,50 ANG. This amount applies to a maximum of 4 passengers. Each additional visitor pays NAFL 2.50 extra.  
Facilities at the beach

 
Cas Abao is a commercial beach and therefore there are various facilities on this beach. 
There is a beach bar and restaurant where you can enjoy nice cold drinks, snacks, and a simple lunch meal. 
You can also rent beach beds on this beach. If you rent a beach bed you will receive a complimentary shower coin. The price for a beach bed is ANG 5.00 or USD 3.00. 
You can also find a massage hut, and a diving school, and you can rent various water sports items such as kayaks and sup boards. 
An extensive overview of all facilities can be found in our latest blog: Cas Abao Beach: Everything You Need to Know. 
Book a Shore Excursion to Cas Abao

 
Most cruise passengers choose to book a beach-hopping excursion that includes a visit to Cas Abao. We've selected the perfect shore excursion that takes you to the Shete Boka National Park, Kleine Knip Beach, The Flamingo Sanctuary, Cas Abao Beach, and Playa Grandi (swimming with sea turtles) This includes pick up and return at the cruise port. 
By booking a tour or excursion through Viator, using the link on our website, you will support Exploring Curaçao at no cost to you. 
Viator is a TripAdvisor company. You will be redirected to their website when using the link or widget. 
Beaches to visit on a shore excursion

 
There are many beaches close to the cruise ship and all are less than an hour's drive from the Curaçao Cruise Port. Besides Cas Abao you can also visit popular beaches like Playa Grandi (turtle beach), Kokomo Beach, or Grote Knip. 
Will you be visiting our beautiful island by ship and would you like to get more detailed information about the beaches near the Cruise Port? I recommend you to read our blog post: 10 Best Curaçao Beaches Near the Cruise Port. This article has helped many cruisers to find the beach that is the best fit for them.  
We would like to wish you lots of fun during your visit to Curaçao!