Although Curaçao has a dry and warm climate, it also has an annual rainy season. We can imagine that rainy weather makes your holiday less enjoyable. That is why it is wise to take the rainy season into account when you book your holiday. 
The rainy season in Curaçao is not that severe and mostly occurs during the months of October through January. During this time, there is an average of about 12 to 25 cm or 5 to 10 inches of rain per month, with most of the rain falling in the months of November and December.
During the Curaçao rainy season, the rain usually falls in short, intense bursts and is sometimes accompanied by thunder and lightning.  
Despite the rain, the temperatures remain tropical warm during the rainy season and the humidity makes it all feel like a warm blanket on your skin.  
The rainy season brings a break from the otherwise dry and arid climate. The dry vegetation that grows all around will turn into lush greenery, which gives the island a refreshing tropical look.  
When is the rainy season in Curaçao?

 
The rainy season in Curaçao typically begins in October and ends in January. During this period, the island experiences short periods of heavy rainfall and strong winds. The rain and wind can cause some disruption to daily life, including power outages and floods in lower areas like Saliña and Mari Pampoen. 
How is the rainy season like in Curacao?

 
From our own experience, the rainy season on Curaçao can be different every year. There are years when it doesn't bother us much and there are years when it rains cats and dogs.  
We often experience short heavy rain showers that sometimes last only 10 minutes. This type of weather is most common during the rainy season. However, there are also days when it rains continuously, although these are not very frequent. 
Temperatures during rainy season

 
Temperatures do not deviate much from the average during this time of year. I would say a temperature of 29 degrees or 84 fahrenheit is normal during rainy season. Some days can be slightly colder, but the temperature in Curaçao remains tropically warm even during the inclement days. 
Tropical waves in Curaçao

 
Curaçao does not have a hurricane season, but during the rainy season we may have to deal with a tropical wave or a hurricane spur. These tropical waves bring strong winds and violent thunderstorms.  
If a tropical wave is announced, you must bring in or secure all loose items. The wind has an unprecedented force and can easily take various objects with it. 
Floods in several areas

 
Some lower areas experience flooding during the rainy season. This is usually because these neighborhoods are located in a valley and the water drainage on the island is not optimal.  
If there is a lot of rain after a long dry period, the dried out Curaçao soil has a harder time absorbing the water. As a result, the streets are flooded. 
The neighborhoods of Saliña, Marie Pampoen, Santa Rosa and Janwe are most affected by the flooding. The water can come up to your knees and in some places the roads are barely or not passable.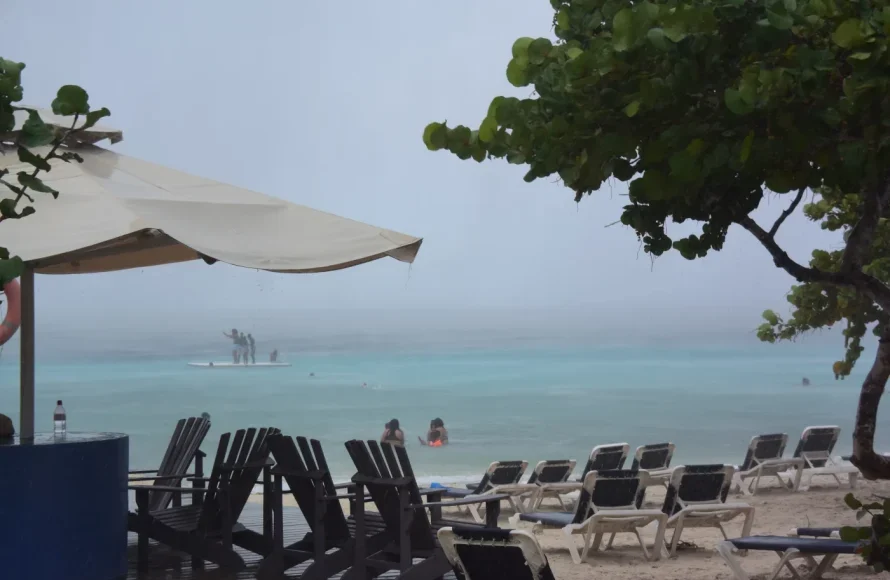 How will the rainy season affect your vacation in Curaçao?

 
Generally speaking, the rainy season has little effect on your holiday. The rain showers often only last 10 minutes and they do not occur everywhere on the island. 
If the weather forecast says it's going to be rainy weather, it doesn't mean that the showers will last all day and that it will actually rain all over the island.  
It often happens that it rains in Willemstad, while at Grote Knip you can fully enjoy the sun. This is just an example, but it is often true. 
There are days where it rains continuously, and if you're on vacation just in that week, that's incredibly annoying. 
I wouldn't let the rainy season stop me though. The chance of it raining all day is very small and there are plenty of indoor activities on Curaçao for those days. 
Conclusion

 
The rainy season in Curaçao occurs during October until January and is nothing to worry about if you plan your trip carefully. Although the average rainfall for this time of year is about 5 to 10 inches, most of the rain falls in short, intense bursts and the temperature remains tropical warm.  
The rain can cause some disruption to daily life, including power outages and floods in lower areas like Saliña and Marie Pampoen.  
Despite this, the tropical vegetation will turn into lush greenery, giving the island a refreshing vibrant look.  
Therefore, if you plan your holiday carefully and take the rainy season into account, you can fully enjoy your vacation on Curaçao without any worries.