Let me introduce you to the Truki Pan, a well-known aspect of Curaçao culture and the solution for many late-night cravings. What is a Truki Pan and where can you find the best one? In this post we will talk about popular dishes, locations and where to score the best saté ku batata!


What is a Truki Pan?

 
A Truki Pan (Truk Di Pan) is a food truck alongside the road where you can pick up various grill dishes. 
The trucks have become a well-known phenomenon in Curaçao over the last couple of decades. The word Truki pan means 'bread truck' and these food trucks serve various grilled meat with fries, rice, or bread. It's basically a barbecue on wheels. 
The food trucks operate from 9 AM until 4- or even 5 in the morning. Some chefs also open their trucks during the day, but the classic Truki Pan was designed to offer a late-night bite on the way home from a social event.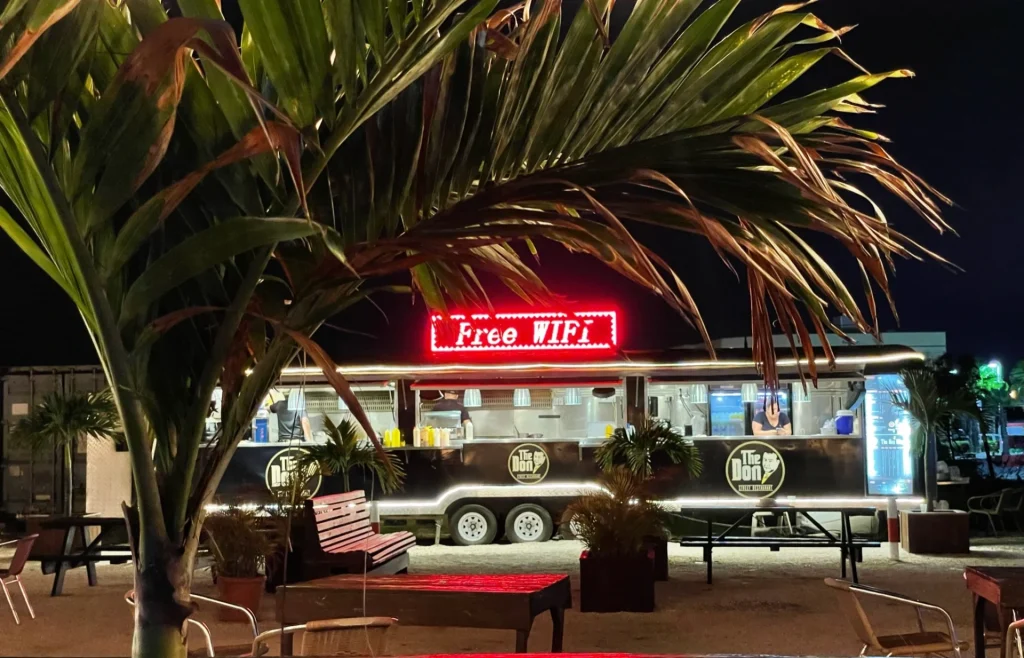 The ambiance

 
When we first lived in Curaçao, the food trucks where nothing more than a takeaway place with cheerful Caribbean music. It was considered normal to sit on a half-built wall or large boulder to eat your meal. The hood of your car could act as a table.  
nowadays, many food trucks are dignified open-air restaurants with a terrace and lively decor. It's a big improvement, but the classic ambiance of simplicity has made the Truki Pan what it is today. 
Where to find a Truki Pan in Curaçao?

 
You can find these food trucks all over the island, mostly next to the main roads or busy squares. Nowadays they are also located at popular nightlife scenes or tourist areas. You can find a couple of Truki Pan restaurants in Saliña or next to the Franklin D. Rooseveltweg in Santa Maria. Driving to Jan Thiel? Chances are big you will spot one of these trucks alongside Caracasbaaiweg.  
Popular Truki Pan food

 
You can imagine that someone pursuing a healthy lifestyle has little business here. A Truki Pan is all about late-night comfort food and there are plenty of dishes to choose from in this range.  
The classic Truki Pan serves various barbecue dishes with fries, bread, or rice as a side dish. You can then choose your sauces as a topping. Peanut sauce is a popular option. 
Some food trucks sell Mexican food like burritos, tortillas, and tacos.  
A popular dish of Dutch origin is the so-called Kapsalon, English translation: Hairdressing salon. It is a unique name for a dish because cutting hair has nothing to do with it. 
Kapsalon was invented by a hairdresser who had the dish put together at a Shawarma shop nearby his salon. It became an instant success and nowadays Kapsalon is sold everywhere in the Netherlands and many countries beyond.  
Classic dishes 

 
Let's explain to you a bit more about the classic dishes we've mentioned before. The typical barbecue-style dishes can be found in almost all food trucks. We've put together the classic menu with translation so next time you know exactly what to order: 
Chicken in peanut sauce (saté ku batata)

 

Pork chop

 

Tenderloin (lomito)

 

Chorizo

 

Ribs

 

Rib eye steak

 

Conch (karko)

 

Shrimps

 
You can add a side dish to the meat or fish. The most commonly served side dishes are French fries, fried rice, funchi hasá (fried corn dough), yuka and bread.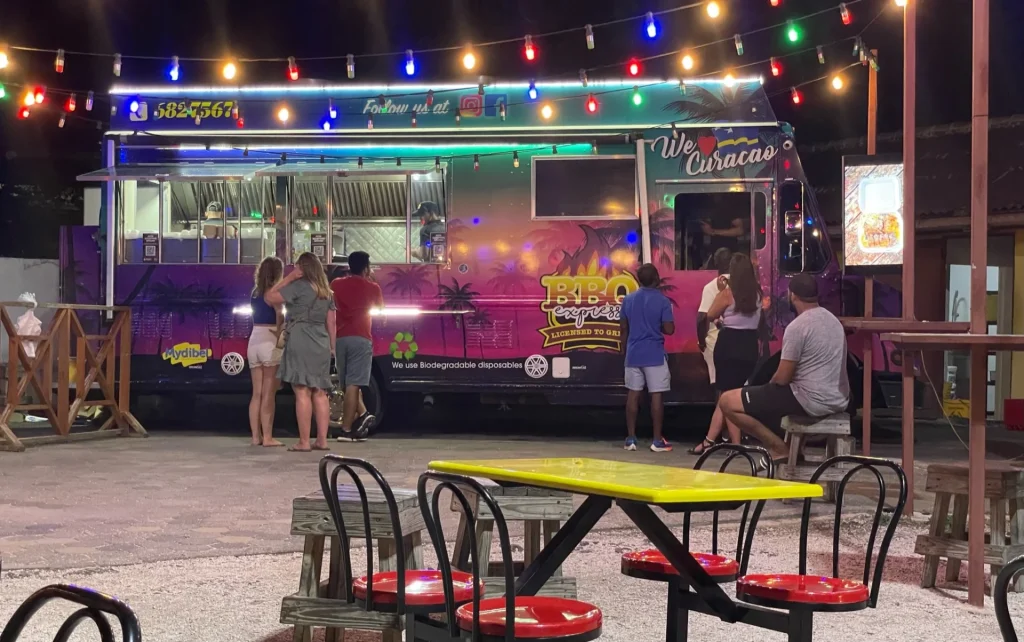 The best Truki Pan in Curaçao

 
Curaçao has a vibrant nightlife and it's therefore not surprising that Truki Pan's can be found near various entertainment venues and busy roads. 
Which one is considered the number one food truck on the island? It's difficult to say. Each food truck has its menu and specialties. They all serve delicious food and I've never had a bad experience with any of them. 
Many people consider BBQ Express at Caracasbaaiweg as the best Truki Pan in Curaçao. It is located near Jan Thiel and perhaps the most famous one in Curaçao. They have an extensive menu and so something for everyone to choose from.  
Update: They've teamed up with several other food trucks and a full service bar to provide a broader spectrum of amenities and options to choose from. You can find this truk'i pan court 500 meters further down the road.
In my opinion, many of the small trucks are just as good. They may not have such an extensive menu, but their food is delicious!  
We usually visit the food trucks on Rooseveltweg or in Saliña. These are not in the tourist area, but worth the detour. I would only visit the Franklin D. Rooseveltweg if you live or stay in the area. This street is located on the other side of Willemstad, close to the airport, and is, therefore, a bit further away.