Life may take you down many paths, but my favorite ones lead to the beach. A day at one of the free public beaches in Curacao is a day well spent. Nothing beats a lazy afternoon swimming in crystal blue water and lounging in powder-white sugar sand.
There are beaches where you have to pay an entrance fee, but there are also a lot of free beaches in Curaçao. Those are my cup of tea. Let me tell you why I prefer the public beaches in Curacao over the paid private ones.
Public free Beaches in Curaçao
The island offers a wide variety of beaches. From vibrant commercial beaches to cozy deserted paradises- and everything in between. Many free public beaches in Curacao are among the most beautiful beaches on the island.
This is where the island feeling comes to life.
You can bring your food and drinks. In fact, many people take a cool box and barbecue with them.
Most public beaches are the ones with cream-colored sand. Especially the ones you find near Westpunt and Bandabou. In this blog, I will share 15 Free beaches to visit in Curacao. They are all amazing and unique in their own way. 
Grote Knip beach
Grote Knip is the most famous public beach in Curacao. You will recognize the view of the bay from travel magazines and Instagram photos.
With creamy-white sand and a turquoise sea, Grote Knip beach is paradise on earth. This beach can get quite busy on weekends and in the high season, but it's a must-visit.
You can buy snacks and a cool drink from several vendors. It is also possible to bring your own coolbox. Grote Knip has everything you need for a cheap day out with family and friends.
Kleine Knip
Did you know that there is also a beach called Kleine Knip?
This public beach is a few minutes drive from Grote Knip. Kleine Knip is a sandy beach located in an intimate small bay. Hence the name: Kleine means small or little. If you find Grote Knip too busy, you can indulge yourself here.
Playa Jeremi
Playa Jeremi is a quiet and small public beach that is very popular among the locals. There are no umbrellas on this beach and you cannot buy food or drinks. This is a beach where you can enjoy the tranquility and the beautiful surroundings. The water is crystal clear, making it the perfect place for snorkeling.
Daaibooi beach
Daaibooi is a beautiful sandy beach with a friendly atmosphere. It's a nice place to snorkel and if you're hungry at lunchtime you can buy fries and a cold drink in the snack hut. You can also bring your own grill! I mean, there's nothing like barbecuing at sunset, right?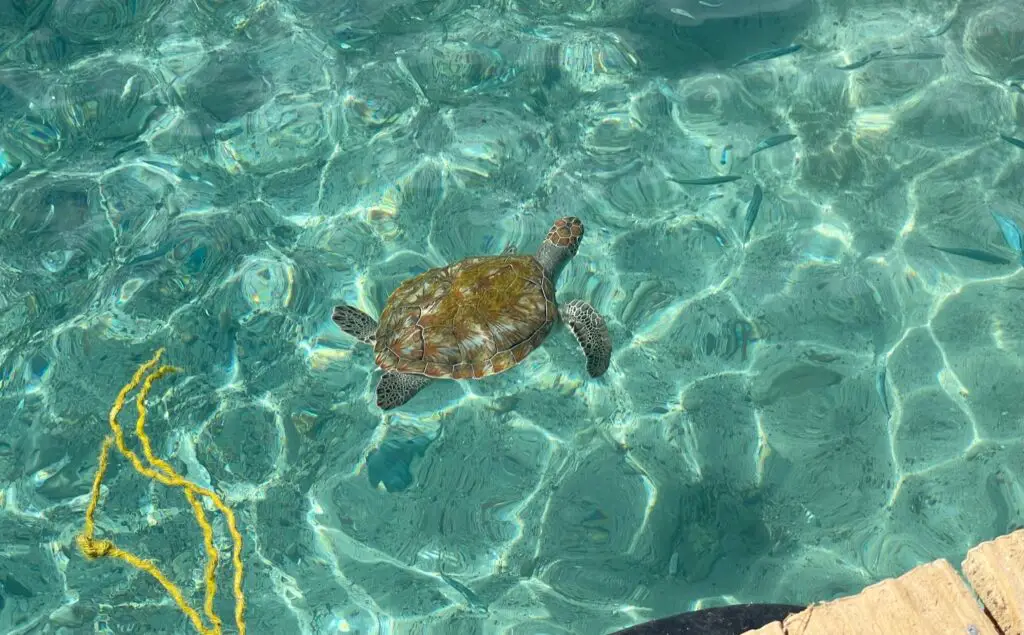 Playa Grandi
Playa Grandi, also known as Playa Piskadó, is the famous turtle beach of Curacao. Visit this beach early in the morning to avoid the crowds. After an hour of snorkeling with sea turtles, you can easily drive on to one of the other beaches nearby. In our latest blog, you can find more information about swimming with sea turtles in Curacao.
Playa Forti
You have to visit this public beach if you like to take a plunge. I mean literally. Because at Playa Forti it is possible to go cliff jumping! Next to the restaurant, on the edge of the cliff, you can find a plateau.
This is where local daredevils and adventurous tourists gather to jump off the famous Playa Forti cliff. You can relax on the beach and enjoy the view. This is a great public beach to include in your beach-hopping tour! Cliff jumping is at your own risk.
Playa Kalki
Are you looking for a beautiful beach that has not yet been discovered by the tourist crowd? Playa Kalki is the right beach for you! This beach is not inferior to the more famous public beaches.
Playa kalki is small and cozy. There are not many facilities, so it is recommended that you bring your own food and drinks.
Playa Wachi 
Playa Wachi is a small public beach near Boka Sint Michiel. This beach is centrally located on the island. It is about a 15-minute drive from Willemstad to Playa Wachi. This public beach is a hidden gem. You will hardly encounter any tourists there.
Boka Sami beach
Not far from Playa Wachi you can find Boka Sami beach. The two beaches are a few minutes away from each other, so it is very nice to visit both. Boka Sami Beach has a relaxed and laid-back vibe. You will get to know the real Curacao atmosphere.
There are some restaurants, terraces, and a Snek nearby. Spending a day at Boka Sami makes you realize that the best things in life are in fact for free.
Playa Lagun
Playa Lagun is breathtakingly beautiful. This public beach is located in a picturesque cove with one of the most beautiful views you have ever seen. This is the only bay in Curacao where the water is a kind of greenish-turquoise.
Playa Lagun is a great place for snorkeling. The marine life is particularly well represented along the cliff edge. You may even encounter a sea turtle during your swim. Playa Lagun is one of my favorite public beaches in Curaçao. 
Playa Santa Cruz
Between two mighty mountains and many rocky outcrops, one can find the sandy beach of Playa Santa Cruz. The public beach is cozy and easy accessible for anyone who wants to spend a pleasant day at the beach.
Playa Santa Cruz is the home of Captain Goodlife. He has a cabin on the left side of the beach. Here you can eat, drink and go on excursions to the deserted beaches of Playa Pretu and Playa Hulu.
It is also possible to visit the Blue Room. Don't forget to take your snorkel. There is plenty to see below the surface.
Playa Santu Pretu
I would like to introduce you to the most unique public beach in Curacao: Playa Santu Pretu. The literal translation immediately reveals why this beach is so special. Playa Santu Pretu means The Black Sand Beach.
The bay is mostly deserted, and the sand is rugged and black. Wild nature at its purest. It is a beautiful place to ease your mind. Playa Santu Pretu can be reached on foot via Playa Santa Cruz.

Tugboat Beach
Speaking about unique beaches: Tugboat Beach should not be missed. A sunken tugboat can be found in a shallow and calm bay surrounded by tropical ocean life.
It's about a 10-minute swim to the tugboat wreck, which is located on the left side behind the rocks. I can also recommend snorkeling around the dock close to the beach. You can find a unicorn-rainbow of corals and fishes around the pillars. 
Read: Tugboat Wreck: The Best Snorkeling Spot Near the Beach
Directors Bay
For sunbathers looking for a quiet retreat near Willemstad, Directors bay is the place to be. This public beach offers a get-away-from-it-all atmosphere while still delivering the fun and vibrant island spirit.
The main reason to visit Directors Bay is the underwater world. The shallow waters are home to many colorful fish and corals. There are no facilities available, so bring your own food and drinks.
Read: Directors Bay: A Quiet Piece of Paradise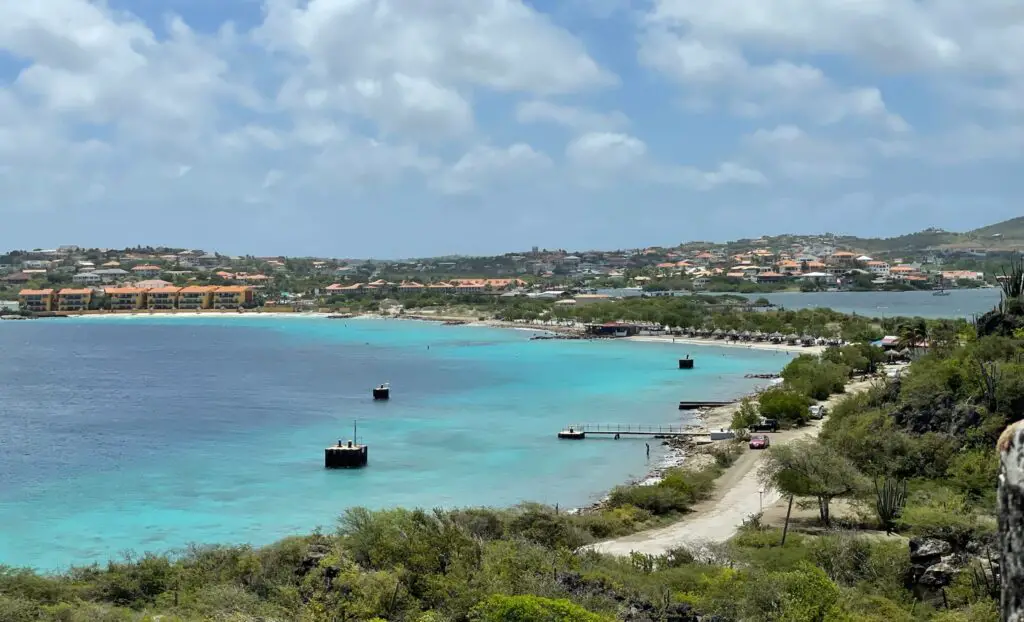 Caracas Bay
When you arrive at the Caracas bay peninsula, you can find the beach of the same name on the right-hand side. This public beach is loved by locals. Not only for swimming during the day but also to celebrate a party in the evening.
There are few facilities, but most people bring their own beach chairs and cooler. For a meal and a drink , you can take a seat at Pop's place where kome krioyo (local food) and the catch of the day is served. Caracas bay is the perfect beach for the real Curacao experience.
The best public beaches in Curaçao
As a tourist, you want to take the maximum amount of joy out of your trip. So are you planning on visiting one of these free public beaches in Curacao, but finding it difficult to make the right choice? These would be our top 3:
Grote Knip
Tugboat Beach
Playa Lagun
Looking for even more at the shore? Explore our social media where we post Curaçao news and Beach inspiration on a daily base. Do you have questions regarding the public beaches in Curaçao, or want to know more about the island? feel free to slide into our DM or contact us via the website.